A Noise Within (ANW), the acclaimed classical repertory theatre company, brings its hit production of Michael Frayn's hilarious farce Noises Off to its new Pasadena theatre for a brief run from Friday, January 6 to Sunday, January 15, 2012, reprising for eight performances only the comedy that played to sold-out houses at its former Glendale venue during the 2009-10 and 2010-11 seasons.
The hysterically wild three-act play by English playwright Frayn, Noises Off  will have your sides splitting with laughter.
Company Co-Founders/Co-Artistic Directors Geoff Elliott and Julia Rodriguez-Elliott co-direct the production, in which Geoff Elliott also performs.
The splendid original cast returns, and features Shaun Anthony (Tim Allgood), Apollo Dukakis (Selsdon Mowbray), Geoff Elliott (Lloyd Dallas), Jill Hill (Brenda Blair), Mikael Salazar (Garry Lejeune), Lenne Klingaman (Poppy Norton-Taylor), Emily Kosloski (Brooke Ashton), Stephen Rockwell (Frederick Fellowes) and Deborah Strang (Dotty Otley).
BACKSTORY:

First staged in 1982, the play premiered at the Lyric Theatre, in Hammersmith, London. It opened to universally ecstatic reviews and shortly after transferred to the West End's Savoy Theatre, where it ran until 1987 with five successive casts.

According to wikipedia, the idea for it was born in 1970, when Frayn was standing in the wings watching a performance of Chinamen, a farce that he had written for Lynn Redgrave. According to the playwright, "It was funnier from behind than in front and I thought that one day I must write a farce from behind."  The prototype, a short-lived one-act play entitled Exits, was written and performed in 1977. Reportedly at the request of associate Michael Codron, Frayn expanded the play into what would become Noises Off.

In theatrical stage directions, the term 'noises off' specifies sounds that are meant to originate offstage. A Noise Within's lively production is a joyfully out-of control version of this very British and ingeniously constructed farce.
In Act One we see the hapless cast rehearsing the play that is due to open the next night, as they all head on tour around the country. The temperamental director Lloyd Dallas (Geoff Elliott) is frustrated by the fact that no one seems to understand that this is the dress (meaning final) rehearsal and not the technical rehearsal. The muddled actors are still forgetting their lines and entrances and tempers are beginning to fray.
For Act Two the set has been reversed and now we, the audience, are backstage, along with the cast, for the same Act we previously saw being rehearsed. By now the play has dissolved into a shambles with missed cues and fluffed entrances. Trousers and skirts keep falling down and plates of sardines keep getting thrown about. In Act Three, the cast and production are now well into their touring season and the set has been reversed once again. Now we are the unlucky 'new' audience for the performance that further unravels before our very eyes.
A well-staged farce requires a tremendous amount of skill from the cast. There are split-second entrances and exits, lots of slamming doors, gags with props, people's trousers falling down at inappropriate moments and plenty of pratfalls. Frayn's side-splitting play provides all this and more. By incorporating all the backstage shenanigans, love triangles and so forth, the comedy is cranked to its fullest potential. As the fictional tour wears on, so does a crescendo of sexual jealousies and in-fighting amongst the cast.
The cast of A Noise Within's production of Noises Off all do a fantastic job with this demanding play. The British accents are decent (though, curiously, almost all are lower class ones) and the play proceeds at a cracking pace. While some of the pratfalls were a bit weak (giving this critic the impression a couple of the actors were fearful of breaking a hip,) Mikael Salazar shines with his standout performance as the belligerent cockney Garry, especially when brilliantly executing a comic tumble down the stairs, complete with legs windmilling.
One unexpected treat is the complicated set change that occurs during both intermissions and is fun to watch at least once. Despite a loss of buoyancy towards the end, Noises Off is a rollicking night in the theatre and should not be missed.
All production photos taken by Craig Schwartz.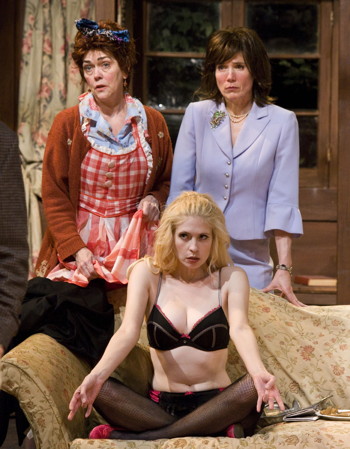 3352 East Foothill Blvd.
Pasadena, CA 91107
 ~
Playing on the following dates:
Friday, January 6, 8pm
Saturday, January 7, 2 pm
Saturday, January 7, 8 pm
Sunday, January 8, 2pm
Friday, January 13, 8pm
Saturday, January 14, 8pm
Sunday, January 15, 2pm
Sunday, January 15, 7pm
TICKET PRICES:
$46 (Friday and Saturday evenings and Sunday matinees)
$42 (Sunday evenings, Saturday matinees)
Group rates and special rates for school groups available
To purchase tickets or for a full season brochure, call (626) 356-3100 or
visit their website.
To enhance the theatre-going experience, A Noise Within offers comprehensive study guides for every production, each with a synopsis, director's notes, general theatre lore, links to other resources and detailed information about the playwright, characters, setting, period, costumes, scenic design, music and more. The Noises Off Study Guide, along with those for previous A Noise Within productions, are available on-line here.