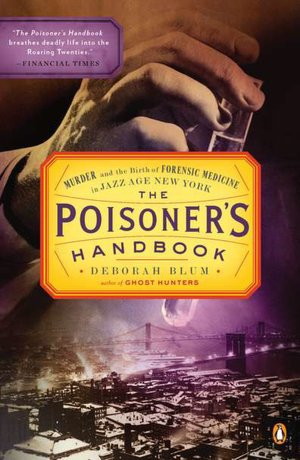 The LA Weekly published submissions from several of its writers based on 'Favorite book you read this year.'
Click this link and scroll down to see my choice.
OR you can just read it here!
From Pauline Adamek:
"Branching out into non-fiction saw me reading and re-reading a fascinating tome I learned about on NPR entitled The Poisoner's Handbook: Murder and the Birth of Forensic Medicine in Jazz Age New York, by Pulitzer-prize winning journalist Deborah Blum. (Penguin Press, February 18, 2010.)
It's an excitingly written and wholly enthralling account of two forensic pioneers in early 20th-century New York, namely the monumentally important careers of Dr. Charles Norris, Manhattan's first trained chief medical examiner, and Alexander Gettler, its first toxicologist.
Blum's book charts the exhaustive work this pair did to discover tests for common poisons that could be used as evidence during court murder trials. The author discusses the chemical makeup, toxic effects and early-20th-century uses and sources of various substances including chloroform, methyl alcohol (special focus on the numerous deaths resulting from the prohibition era), cyanide, arsenic, mercury, carbon monoxide and thallium.  The chapter on radium is especially illuminating and chilling!"