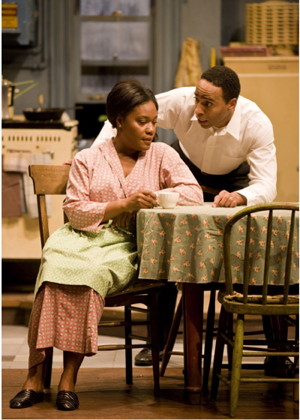 Ebony Repertory Theatre's highly successful production A Raisin in the Sun, is being handsomely re-mounted at the CTG's Kirk Douglas Theatre in Culver City.
At the helm of this powerful piece of American theatre is Phylicia Rashad, the critically-acclaimed and award-winning singer and actress (with Broadway credits) who is perhaps best known for playing Clair Huxtable on the long-running TV sitcom The Cosby Show.
Rashad makes her Los Angeles directorial debut with the Ebony Repertory Theatre's production of Lorraine Hansberry's classic family drama. And what a debut; Rashad directs her talented cast with a sure hand, extracting performances of complexity and depth while orchestrating the emotional drama that unfolds.
Centering on a black family's experiences in the Washington Park Subdivision of Chicago's Woodlawn neighborhood during the mid 1940s, A Raisin in the Sun made its debut on Broadway in 1959. The title of Hansberry's play comes from the poem "Harlem" (also known as "A Dream Deferred") by Langston Hughes.
Similar to the poem that inspired the play, Hansberry's themes include the subjugation of the black community, African-American racial consciousness and history and the urgent need for social change to resolve the injustices faced by the residents of black urban communities. It's a sobering and potent snapshot of life and the kind of oppression that existed before the early achievements of the Civil Rights Movement.

***
A Raisin in the Sun portrays a few weeks in the life of the Youngers, an African-American family living in Chicago's Southside sometime between World War II and the 1950s. When the play opens, the Youngers are about to receive a life insurance check for $10,000. Each of the adult members of the family has an idea as to what he or she would like to do with this money. The matriarch of the family, Mama, wants to buy a house to fulfill a dream she shared with her deceased husband. As the play proceeds, the Youngers clash over their competing dreams.

By the stirring conclusion of this poignant play, the future of this tight-knit family seems uncertain and slightly precarious, but they all seem to be optimistic and determined to pursue a better life. The prevailing sentiment is that they can succeed if they stick together as a family and resolve to defer their dreams no longer.
The performances from this cast are uniformly excellent, especially in the tender family moments such as an endearing exchange between the Mom, Ruth (Deidrie Henry) and her sometimes smart-alecky kid Travis (Brandon David Brown) when she makes him kiss her goodbye before school. The highly acclaimed actress Kim Staunton is a force of nature as the formidable Matriarch of the family, holding it all together and making key decisions that affect them all. Importantly, she holds her peace until her son Walter (Kevin T. Carroll) finally takes a stand in one of the play's pivotal and gratifying moments.
Hansberry's play vibrates with the yearning for a better life and, at times, the tension is palpable. But she lightens the mood with several droll and funny exchanges throughout and this deft variation of tone elicited plenty of laughter, murmurs of approval, gasps, groans and sighs and even hilarious audible comments from the appreciative opening night audience. Again, Rashad's direction of this fine play was of a high caliber, even creating impact from a character leaving the stage.
While Act One seems to be heading for tragedy, thankfully this play ends on a truly uplifting note of great promise for this family you have grown to love. Hansberry's timeless message informs and resonates with modern audiences.
~~~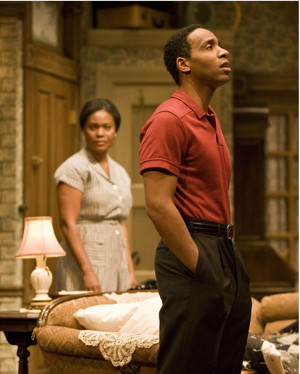 A Raisin in the Sun
CTG – at Kirk Douglas Theatre
9820 Washington Blvd.,
Culver City, CA 90232.
Performances:
Runs through February 19, 2012.
Select Tuesdays and Wednesdays at 8:00 p.m.,
Thursdays and Fridays at 8:00 p.m.,
Saturdays at 2:00 p.m. and 8:00 p.m.,
Sundays at 1:00 p.m. and 6:30pm
Running time:
Approximately 3 hours, including a 15-25 minute intermission
TICKETS:
range from $20.00 — $50.00 (depending on the performance date & time)
Box Office:
Tickets are available by calling (213) 628-2772, online here, in person at the Center Theatre Group box office at the Ahmanson Theatre or two hours prior to performances at the Kirk Douglas Theatre box office.
About the Ebony Repertory / Wren T. Brown, Founder and Producer:

Ebony Repertory Theatre, established in 2007, is Los Angeles' only African-American, professional theatre company and is committed to bringing diverse, high standard, professional performing arts to Los Angeles, making the Nate Holden Performing Arts Center one of Los Angeles' leading cultural destinations.

Ebony Repertory Theatre is the resident company and operator of the Nate Holden Performing Arts Center, which is located at 4718 West Washington Boulevard, Los Angeles, CA 90016.