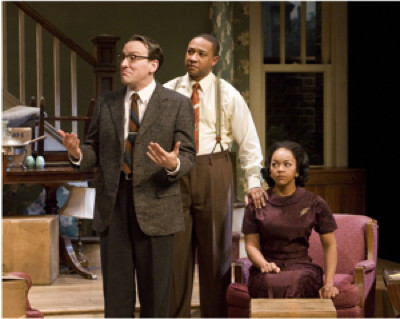 LA is truly fortunate at present to have two interrelated plays and productions concurrently on its stages.
This matched pair of plays consist of director Phylicia's Rashad's handsome production A Raisin in the Sun and director Pam McKinnon's Clybourne Park – the former a presentation of Ebony Repertory Theatre Company now at the Kirk Douglas Theatre, the latter a Playwrights Horizons production at the Mark Taper Forum.
Clybourne Park is Bruce Norris' satire of race relations spun from Lorraine Hansberry's family drama A Raisin in the Sun; both plays earned a Pulitzer prize for Drama. Set in 1959 (Act One) and then in 2009 (Act Two), Clybourne Park imagines the other side of Hansberry's poignant drama about a black family struggling to get ahead.
The entire original Playwrights Horizons' off-Broadway cast, along with their original director Pam MacKinnon, reunites for this Los Angeles staging that launched the 45th season at the Center Theatre Group/Mark Taper Forum. The cast of Norris' Pulitzer Prize-winning comedy consists of a slew of familiar-faced actors; Crystal A. Dickinson, Brendan Griffin, Damon Gupton, Christina Kirk, Annie Parisse, Jeremy Shamos and Frank Wood.
In Act One we meet Bev and Russ (Christina Kirk and Frank Wood) who are in the throes of packing up their two-level home and moving out of the white middle-class Chicago neighborhood of Clybourne Park. It's the late fifties and as this white couple is of a certain class, thus they have a black maid named Francine, played by Crystal A. Dickinson. While husband and wife exchange some jovial, frivolous banter, we gain insight into their differing personalities. Russ is idiosyncratic and somewhat taciturn. As Bev, Kirk is a riot of stylized mannerisms and quirky affectations. When she tries to force a gift (of an unwanted household item) onto her maid, who also does not want it, Francine shares an exasperated and sardonic glance with the audience at Bev's oblivious insistence. Here, and later, Norris deftly displays the deference and discomfort of the black 'help' within their white employers' home.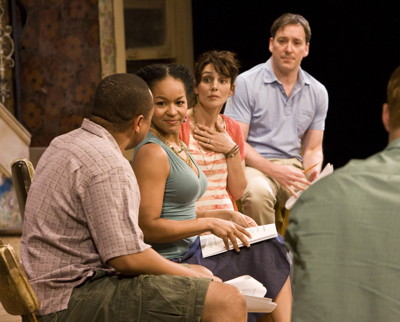 It's moments such as these that accumulate to create a prickly and unsettling tone throughout the play as conversational niceties give way to raw racism. Decidedly non-politically-correct, challenging and frequently squirm-inducing, Clybourne Park is a play that brilliantly captures the awkwardness of the overly-polite conversation and veneer of civility that so quickly can fall away.
Bev and Russ receive a visit from their local vicar, as well as a neighbor and his deaf, pregnant wife; the neighbor informs them that the family buying the house is black, and pleads with the couple to sell the house to the church instead, for fear that area property values will fall if black residents move in. It becomes apparent that the black family moving in are the Youngers, the protagonists of A Raisin in the Sun, and the neighbor, Karl, is Karl Lindner, the minor character from that play who attempts to bribe the Youngers into abandoning their plans to move into the neighborhood. As arguments ensue about the potential problems of integrating the neighborhood, both couples awkwardly call on Russ and Bev's black housekeeper – and her husband – to support their opposing views. Russ finally loses his cool and throws everyone out of the house, saying he no longer cares about his neighbors after their callousness and cruelty to his son Kenneth when he returned home from the Korean War. By the conclusion of this Act, it is fully revealed why Bev and Russ are moving out.

Act II: 2009

Set in the same home as Act I, the same actors reappear playing different characters. In the intervening half century, Clybourne Park has become an all-black neighborhood now gentrifying. A white couple seeking to buy and renovate the house is being forced to negotiate with local housing regulations with a black couple representing a neighborhood organization. The discussion of housing codes soon degenerates into one of racial issues, revealing resentments from both parties.
The brilliance of Norris' play lies within the contrasting of these two scenarios, each fifty years apart. Within the brittle, overly polite conversations lies a cringe-inducing PC tap dance. Occasionally we the audience get to laugh long and loud at some extremely outrageous exchanges. The play's final scene is a heartbreaking coup-de-grace that left this critic saddened and breathless. Clybourne Park is above all a guilty pleasure – catch both of these fine productions if you can.
Production photos by Craig Schwartz.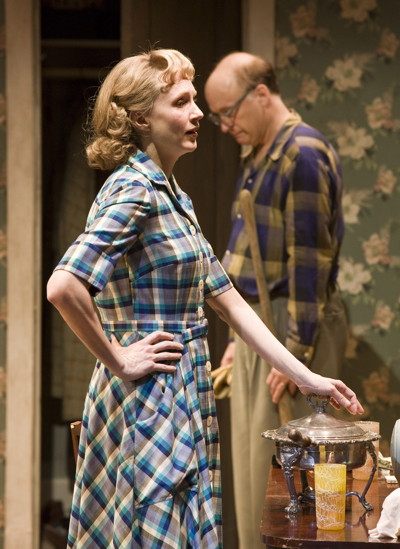 Clybourne Park
Mark Taper Forum,
134 North Grand Ave.,
Downtown LA.
Runs:
Through February 26, 2012.
Performances:
Tuesday through Friday at 8 p.m.;
Saturday at 2:30 and 8 p.m.;
Sunday at 1 p.m. and 6:30 p.m.
No performance on Mondays.
Exceptions: No public performances February 21 through 24 (student performances only).
Ticket Prices: $20 to $70 (Ticket prices are subject to change.)
Tickets are available by calling CTG Audience Services at (213) 628-2772, in person at the CTG box office or on-line here.

Hot Tix: $20 each may be purchased in advance or, subject to availability, on the day of performance at the box office (no checks).
Groups: (213) 972-7231.
Deaf community: Information & charge, TDD (213) 680-4017.