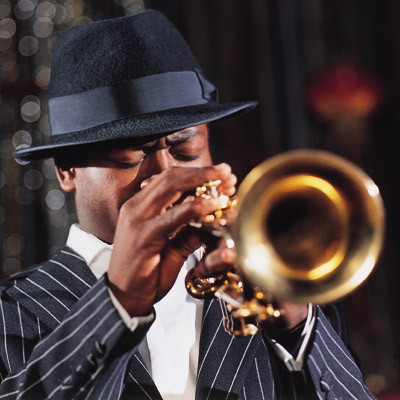 Currently tearing up the tap-dance floor, late night on Saturdays in Vitello's downstairs back bar in Studio City, is a triple-threat phenomenon named Chantz Powell. Immaculately bedecked in a three-piece suit, topped with a stylish fedora, Chantz sings, croons, scats, dances and blasts his trumpet like there's no tomorrow. If you don't keep your eyes glued to this magnetic performer you just might miss him execute a lightning double back flip finishing with the splits as he then glides back up to the microphone.
This kid has talent and energy to burn as he effortlessly zips through numerous jazz standards, sprinkled with a few of his original songs, in the course of an almost 90 minute late night set. Wow!
With a voice like silky hot chocolate, and backed by two superb musicians —  Julian Le on keyboards and Raymond Roosevelt on jazz drums — Chantz gives killer renditions of Fever, Moondance, I Feel Good, Do Your Thing, What a Wonderful World (to name a few of the tunes) – starting off slowly then increasing to a breakneck pace of pure joy as the music flows in, through and around him. He sings like a dream, tap dances like a pro and plays the trumpet both loud and sensitively as if he's been doing it his entire life, which, in fact, is the case. (Well, he also studied Business Economics at UCLA.)
Now in his early twenties, the New Orleans-born, LA-raised artist has been playing trumpet since he was seven.
When Chantz was about six years old, his mother Glinda ("Gee-Gee") took him to see the Spike Lee movie, Mo' Better Blues, which was about the dramatic life of a trumpet player, and from that moment on, he started begging for a horn.

He has said, "I can't remember asking for the horn or getting it, it's always been there, part of me. I don't know which is my favorite thing – singing, tap dancing or trumpet playing – that's why I do all three. But I know when I feel low I grab my horn and start to play."
It's hot, it's jazzy, it's late nights on Saturdays – only a few performances remaining this month.  And best of all, it's FREE!  So get yourself down to Vitello's next Saturday night for a performance you won't soon forget!
To learn more about this dynamic entertainer, visit his myspace site or go here.
Chantz Powell
'Late Nite Downstairs' at Vitello's Jazz and Supper Club
4349 Tujunga Ave
Studio City CA 91604
Saturday evenings at 10 pm-midnight throughout February, 2012.
This is a FREE event!
NO COVER
Just go and have a ball!!