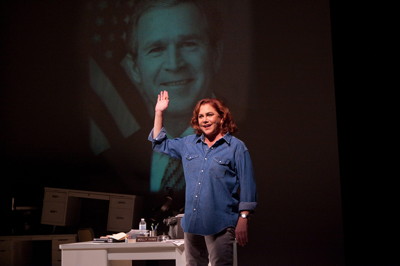 Kathleen Turner strides onto the largely bare Geffen stage in her skinny black jeans, denim over shirt and props her ruby red cowboy boots onto a crowded work desk next to a manual typewriter and reclines. "This is writing," she drawls with a Texan accent. "Ahm lettin' mah ideas steep, as opposed to stew."  Upstage, a jumble of desks and office chairs are the only other things on the stage besides an old AP wire machine.
So begins Red Hot Patriot: The Kick-Ass Wit of Molly Ivins – the funny and insightful play by twin sister playwriting duo Margaret and Allison Engel. Directed by David Esbjornson, Red Hot Patriot captures the renowned red-headed reporter's indomitable character by weaving personal anecdotes with her colorful take on national politics.
Turner sizzles as the brassy Texan reporter whose liberal journalism skyrocketed her to the national stage. From writing Elvis Presley's New York Times obituary to becoming the most widely-read self-proclaimed "pain in the ass to whatever powers come to be," Ivins – often described as a modern-day Mark Twain – made rabid fans and enemies alike with her sharp-tongued humor and unabashed political criticism.
At 57, Turner isn't so much the husky voiced, leggy sex-pot who seduced William Hurt in Body Heat and charmed Michael Douglas in several movies during the eighties. But sporting a red curly wig, this formidable actress is still magnificent and can certainly command the stage with what is essentially a one-woman show. (Turner is periodically joined on stage by an office 'copy boy,' played wordlessly by Matthew Van Oss.)
Alas, the character of the fabulously witty Molly Ivins is only obliquely sketched. You come out of the play with only a slight understanding of who this important liberal journalist and author was, and why she mattered. One thing is clear, though – she certainly was a journalistic thorn in the side of both the Bush administrations. She understood their crony-capitalism and lambasted it as often as possible.  She says she "sounded the alarm, column after column," during Bush Jr's six years as Governor of Texas.
But you do gain an insight into her incisive mind. This is the woman who dubbed 'Dubya' "Shrub," who observed that writing was 75% thinking, 15% typing and 10% caffeine, confessing "Writing is hard!" Funny quips include, "Men drink for all kinds of reasons. But if you're a Texan, you don't need a reason," and "If I was my own Editor, I would have fired me by now."
At times, the monologue alludes to Ivins' life-long rage triggered by the horror and senselessness of the Vietnam War. As she puts it, "The Shrub provided plenty of material and gravestones."  Here the script refers to the 350,000 Iraquis killed during the war.
Later in the play Turner's character quietly touches on Ivins' alcoholism and battle with breast cancer, ingeniously introduced as newsflashes ticking through on the onstage AP wire machine.
Despite its lackadaisical pace and serious themes, Red Hot Patriot is a lot of feisty fun.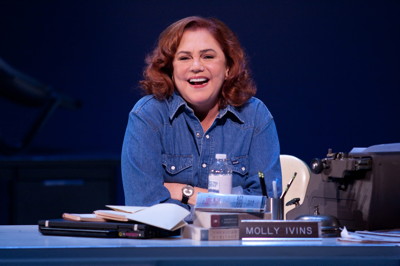 Red Hot Patriot
Geffen Playhouse
10866 Le Conte Ave., Westwood.
Performances:
Runs until Sunday, February 19, 2012

Dates and times:
Tuesday – Friday 8:00pm;
Saturday 3:00pm & 8:00pm;
Sunday 2:00pm & 7:00pm;
No performances Mondays.
Running time:
Approximately 80 minutes, no intermission.
Tickets:
Range from $65 — $85.00, plus booking charges.
Box Office:
Purchase here or call the box office on (310) 208-5454
ABOUT THE GEFFEN PLAYHOUSE

The Geffen Playhouse has been a hub of the Los Angeles theater scene since opening its doors in 1995. Noted for its intimacy and celebrated for its world-renowned mix of classic and contemporary plays, provocative new works and musicals, the Geffen Playhouse continues to present a body of work that has garnered national recognition. Named in honor of entertainment mogul and philanthropist David Geffen, who made the initial donation to the theater, the company is helmed by Producing Director and President of the Board Gilbert Cates, Artistic Director Randall Arney, Managing Director Ken Novice and Chairman of the Board Frank Mancuso. Proudly associated with UCLA, the Geffen Playhouse welcomes an audience of more than 130,000 each year, and maintains an extensive education and outreach program, designed to engage young people and the community at large in the arts. For more information, please visit their official site.