Christopher Grimes Gallery in Santa Monica is currently presenting an exhibition of new paintings by Scott Short. Expanding upon a precise and highly laborious art making technique, Short's new works continue to investigate the dialectics of representation and the relationship between the mechanical and hand-made.
These elaborately rendered paintings begin with simple colored construction paper that the artist copies then re-copies numerous times on a black-and-white photocopying machine. The resulting image is photographed and projected onto a large primed canvas, where Short begins a meticulous rendering of the original using black oil paint. Randomness and acts-of-faith play a part in Short's adherence to the copy machine's unpredictable translations of patterns and abstract marks.
Short states that the exhibition's title derives from Aristotle's "Law of the Excluded Middle", the principle "that for any proposition, either that proposition is true, or its negation is." In addition, "The Excluded Middle becomes a "Truth" that is beyond our sight and expression, the recognition that the ambiguity lies in the "facts" themselves. While we may realize the fallacy of black and white thinking, the structures we have created remain inescapable, and for our everyday purposes, we are left to express the truth we conceive through the lies of our own making."
Currently based in Vallauris, France, Scott Short received his MFA and BFA from Ohio State University. His work has been included in the 2010 Whitney Biennial and in group exhibitions entitled "Gerhard Richter and the Disappearance of the Image in Contemporary Art" at the Centro di Cultura Contemporanea Strozzina, Palazzo Strozzi, Florence, Italy and at the Gladstone Gallery, Brussels, Belgium. He also had a solo exhibition at The Rennaissance Society at The University of Chicago for which a catalog has recently been produced.
For more information about Scott Short, please click here.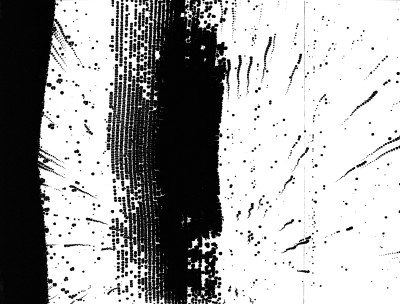 Scott Short: The Excluded Middle
Christopher Grimes Gallery
916 Colorado Avenue
Santa Monica, CA
Exhibition dates:
January 14 – March 3, 2012
Hours:
Tuesdays – Saturdays 10am – 5:30pm
Gallery contact:
phone (310) 587 3373
fax (310) 587 3383