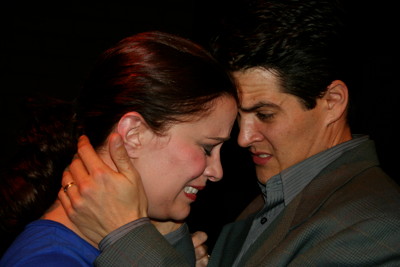 Hello readers,
Here is a link to this week's review of JP Miller's emotional drama from the 1960s, Days of Wine and Roses, now playing at the Lounge Theatre in Hollwyood.
Click here and scroll down to find it.
~ OR ~
You can just read it here!
 GO  DAYS OF WINE AND ROSES
​J.P. Miller's 1958 teleplay (later a play and then a feature film) was groundbreaking in its dramatization of the problems of alcoholism. It was the first time many got to see what goes on inside those mysterious Alcoholics Anonymous meetings.
Since it hasn't been staged locally for about 20 years, it also may be the first time many L.A. audiences will see this heartbreaking tale. The story and dialogue seem as fresh as ever, with only the retro costuming of Rebecca Hayes' pared-down production indicating its 1960s setting. Framed by our main protagonist Joe Clay's (Nathan Bell) first speech at an AA meeting, we flash back to the intoxicated night he met his tipsy wife, Kirsten (Tara Battani), and trace their marriage as it implodes from drunken binges. The cast of five elevate the emotional material with their raw, honest performances. Zoe Rae Calamar is especially devastating as the central couple's sweet little girl, unable to comprehend the drama swirling around her.
The Lounge Theatre, 6201 Santa Monica Blvd., Hlywd.; Fri.-Sat., 8 p.m.; Sun., 2:30 p.m.; through Feb. 19. (323) 960-7862, plays411.com/wineandroses. (Pauline Adamek)