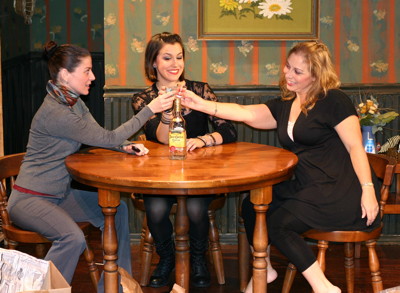 In the classic late 40s movie All About Eve, Bette Davis as Margo Channing utters the famous line, "Fasten your seatbelts, it's going to be a bumpy night!"
That's pretty much the tone of Kimberly Demmary's bittersweet dramedy about sibling rivalry. Seatbelts Required is amusingly subtitled '(or the play I wrote to piss off my sisters)' and that's precisely what got me interested in seeing it. While it's always tempting to assume that personal writing is autobiographical, the question is often how much of their story is true and how much is embellished or fictionalized?
More on that point later.
Demmary's play is about three warring sisters. The trio shares a mother, though each has different fathers. They come together shortly after their mother's death ostensibly to distribute her belongings. Predictably it doesn't take long at all for some bad blood to resurface and some old recriminations to be flung about, but no one is expecting the deeper, darker stuff that ultimately resurfaces.
Directed by John Barker, the three young women each give high caliber performances, especially considering the emotional depths they are required to plumb. The women (played well by Cynthia Manous, Elizabeth Kimball and Chelsea Pitillo) exchange wry reminiscences about their mother that hold a sting, such as, "She was good at tearing people down," "She was the best…"
Eventually a portrait emerges of a matriarch who was a master-manipulator, who played favorites and pitted the girls against each other – and worse!  The eldest and the youngest are at each other's throats for most of the play, and we see how differently each was raised and treated by their mean and cruel mother.
Sometime in Act Two the trio hit the tequila bottle and it all gets a bit incoherent, but that's when a few skeletons get let out of the closet. Then this tale goes deeper and into more murderous territory than mere sibling rivalry…
In a first-person article published by LA Stage Times, Demmary explains that the play sprang from a writing challenge and explains, "…it wasn't until I was in the re-write process of the play that I finally noticed the similarities between what I had written on the page and my own life." She also adds later, "I'd like to hope that there is no family in the world that is this messed up."
Props to Demmary for creating an authentic, cathartic and ultimately uplifting slice of life tale that will resonate with anyone who has fought bitterly with his or her sibling.
All Seatbelts Required production photos by Brian Graves.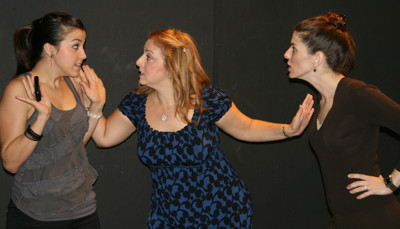 Seatbelts Required
4735 Lankershim Blvd.
North Hollywood, CA 91602
(in the NoHo Arts District)
Performances:
Runs until February 12, 2012.
Fri—Sat, 8 pm;
Sun, 2 pm.
Running time:
Approximately 2 hours, including a 15 minute intermission.
TICKETS:
$15.00; $12.00 Seniors/Students (cheap!)
Box Office:
Purchase tickets by calling (818) 506-3903 or just show up to the theatre.