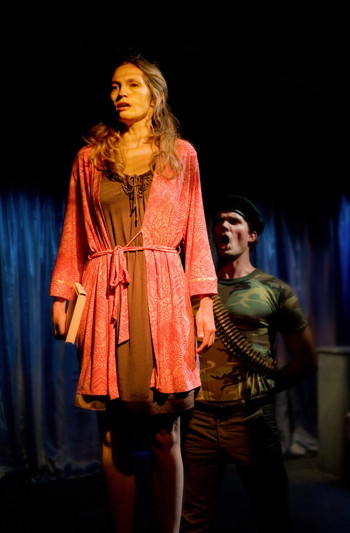 Strange and tender, God's Ear by Jenny Schwartz unfolds like a haunting case of déjà vu where relationships become a string of idioms, kind of like Dr. Seuss in couples counseling.
Amanda Saunders and Paul Caramagno (Mel and Ted) lead the show with incredible performances as a couple devastated by tragedy and struggling to make sense of what has become of their shattered and seemingly meaningless lives. After the loss of their son, they are faced with the monotony and repetition of grief's demise. As their relationship declines, they drag with them their daughter Lainie (played by Alana Dietz in a true and touching performance). Lanie consistently and innocently reminds her mother of her existence, and impressionably listens and learns. Saunders and Caramagno, both thick with depth, each take the time and talent to lead us through the pathos of this play.
Conversations bleed into the next, days repeat in front of our eyes from line to line, strange characters make appearances in the fantasy world that makes up this realistic portrayal of the impact of trauma. Among those characters is Andrea Grano in a painstakingly perfect portrayal of the sad and constant 'other woman' Lenora, whose airport dwellings are the obstacles of a married couple's life and whose own relationships are the beatings and battle of a woman probably only looking to love and instead finding broken men who linger in airport bars. One of those lost souls is Troy Blendell, charming and magnetic as Guy. We also meet the Tooth Fairy played by Tara Karsian, a hard-edged comic queen with a heart of gold, in a small yet beautifully realized role and Jeremy Shranko as the buried GI Jo and cross dressing airline stewardess offering comedy and depth in just the right places.
Schwartz' writing is clever and layered, although at times it seems to trip over its own trickery. Much like the works of David Mamet, one can get lost in the wordy text.  Certain scenes even sound like an acting exercise or an Abbot and Costello routine. Director Rory Kozoll, however, does an exquisite job steering the way for the audience to have a clear relationship with the play. With a great deal of work and attention to detail, this cast and crew have created a meaningful night of theatre.
The Echo Theatre Company is indeed a strong one.
Production photos by Megan J. Carroll.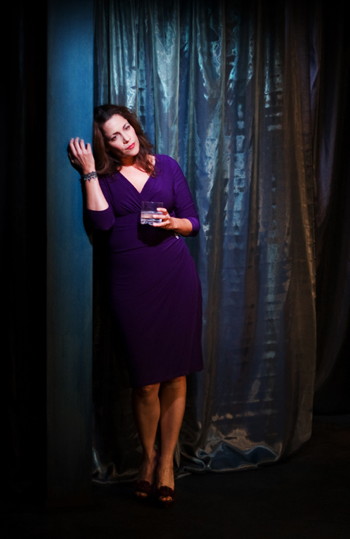 God's Ear
Echo Theatre Company at the Zephyr Theatre
7456 Melrose Ave
West Hollywood 90046
Performances:
Runs through February 19, 2012
Fri & Sat at 8pm;
Sun at 7pm
Running time:
90 minutes, no intermission.
Tickets:
$25.00
Box office:
Call (877) 369-9112, or purchase online here.
 About the Company:

The Echo Theater Company is a group of actors, writers, directors, and producers dedicated to developing and presenting the work of playwrights on all levels.