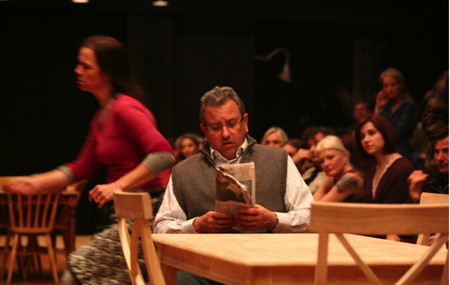 "Nothing much has changed, except people lock their doors at night now."
Considering it's generally required reading on the school curriculum, and frequently staged by amateur as well as professional companies, it's a safe guess that most local readers and LA audiences will be familiar with Our Town, the compelling play written by Thornton Wilder in 1937 and set during the early years of the 20th century.
Not this critic. I went into director David Cromer's innovative and intimate production knowing nothing at all. Nothing about the plot, the characters, the premise – nothing. All I knew was that Helen Hunt was cast in the role of Mr. Morgan, a role usually played by a male. Radical!
I was rewarded by a superlative production of a superb and classic drama.
Oscar, Emmy, and Golden Globe-winner Helen Hunt who plays the stage manager and narrator of the drama, is backed by a talented supporting cast of around twenty actors.
Written by Thornton Wilder, Our Town explores the lives of people living in a small, quintessentially American town (specifically a small New England town) as depicted through their everyday lives (particularly George Gibbs, a doctor's son, and Emily Webb, the daughter of the town's newspaper editor and George's future wife). Covering a 13 year period, Wilder uses the actions of the Stage Manager to create the town of Grover's Corners for the audience. Scenes from its history between the years of 1901 and 1913 play out. The play is divided into three aspects of the human experience: Act One – Daily Life, Act Two – Love / Marriage and Act Three – Death / Loss. It was first produced in 1938 and received the Pulitzer Prize for Literature.
For his production, David Cromer has made many innovative choices to enhance the intimacy of the experience. The play is generally staged with little scenery, no set and minimal props. Some of Cromer's unique touches include modern costuming for the characters, so that we can identify with them minus the distancing effect of period (turn-of-the-century) dress.
The majority of the audience of close to 400 is seated on bleachers in rows facing opposite each other (some are seated on and beneath the balcony, at one end of the long, school hall-like room of the Broad). There are pathways between the first and second rows of the audience, who are seated at floor level, permitting characters to boisterously run back and forth (from imaginary house to house) behind the audience. Most notably, from the top of Act One the lights are brightly illuminating the whole space, so that the audience can observe the reactions of those seated opposite them. Gradually, the lights dim by the end of the Act, and the lighting is quite different (though still uniform) for the remainder of the three-act play. There is little music, just some simple piano themes composed by and played by the Choir Organist (Jonathan Mastro in a stand-out performance as Simon Stimson).
It's an immersive experience, yet a resolutely unsentimental one.
Hunt's job, as Stage Manager, is to set the scenes and describe the location and action at times. She explains the layout of the little town, pointing out hitching posts, horse blocks and train tracks, to animate our imagination, but what she doesn't do is excite our involvement. Her tone is too brisk and matter-of-fact to be sufficiently engaging.
But even minus any shred of sentimentality, the story itself hooks you in. I was unprepared for the surreality of Act Three, as well as an astonishing reveal that is best left unexplained for maximum impact.
Despite expensive ticket prices, David Cromer's production of this iconic American classic is well worth experiencing.
Production photos by Iris Schneider.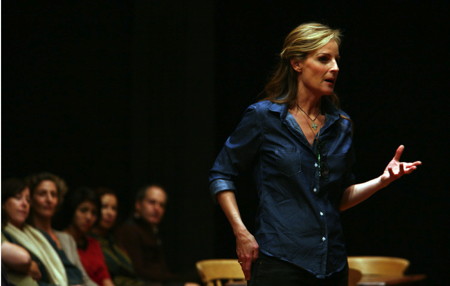 Our Town
1310 11th Street,
Santa Monica, CA 90401
Performances:
Runs until Sunday, February 12, 2012
Running time:
Approximately 2 hours, including 2 x 15 minute intermissions
TICKETS:
$50.00—$150.00
*** Evening shows start at 7.30pm
TU/WED/THUR: $50-$100;
FRI/SAT 2pm Matinee: $65-$125 and
FRI/SAT Evening: $85-$150.00
SUN 2pm Matinee
Box Office:
Purchase tickets here or call (310) 434-3200
Parking is FREE.
About The Broad Stage:

Under the leadership of Director Dale Franzen and Artistic Chair Dustin Hoffman, The Eli and Edythe Broad Stage at the Santa Monica College Performing Arts Center opened its doors in Santa Monica in October 2008.

Inspired by Italian 'horseshoe' theaters, yet conceived in an absolutely contemporary vernacular, The Broad Stage is an artist's dream and an audience's delight. Unlike any performance space in the country, it is sublimely intimate with 499-seats and strikingly grand at the same time – allowing eye contact with artists from the boxes to the back row -forging a new kind of artist and audience experience in Los Angeles. Theater, dance, film, jazz, operas, musicals, symphony, chamber orchestras and world music are presented on one of the city's largest proscenium stages. The space was conceived as a global theater and community hub and was designed without compromise to embrace the artistic process from inspiration to opening night.

In addition to The Broad Stage, The Edye Second Space, a smaller black box theater, presents new, developing and innovative work in theater, music and dance as part of the Under the Radar Series. Featuring younger, innovative artists and chamber pieces and plays, programming at The Edye is intentionally spontaneous, reflecting the dynamic nature of the space and allowing the latest, most exciting artists to be booked on short notice.

The Broad Stage ARTS INSIGHTS education and outreach program offers opportunities for cultural exposure through six initiatives. These include Student Matinees, In-School Workshops, Master Classes, Open Rehearsals, Family and Community Events, and Conversation Pieces. ARTS INSIGHTS currently reaches 12,000 students and diverse community members annually through over 30 free and low-cost events.