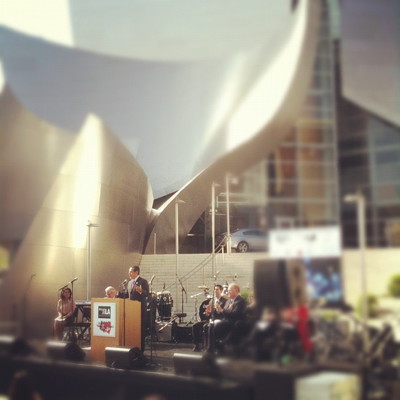 Discover the Arts in Los Angeles, the longest running and largest arts campaign in the City, launched its three-month campaign with a lively press conference, held Tuesday on the steps of Music Center's iconic Walt Disney Concert Hall.
The Honorable Mayor Antonio Villaraigosa spoke about the importance of the arts to LA's cultural and economic life at Los Angeles Arts Month's launch celebration.
Now in its fourth year, this three month-long, LA-based Arts festival – the Wells Fargo-sponsored Discover the Arts program – offers huge discounts of up to 50% off on museum admissions, gift store items and more at 50 cultural institutions across Los Angeles. The City's longest and largest arts campaign is designed to make the arts accessible to all.
Mayor Villaraigosa enthusiastically kicked off the festival, asking the assembled audience of press and arts aficionadi, "Where do you find the soul of a city?" then immediately and poetically answering it with, "In the words of its writers and in the stanzas of its poets… in the singers and musicians… and the kaleidoscope brushstrokes of its artists. This is a city-wide celebration of our expansive and artistic soul."
"Our city's creativity also drives our city's economy," said Mayor Villaraigosa. "Each year, almost twenty-six million tourists visit L.A., and each year almost half of them have the time to visit and spend money in our theaters, museums, concert halls, and galleries." Mayor Villaraigosa went on to add that those tourist visitors bring a staggering $115 billion in annual revenue to LA.
Councilmember Paul Krekorian spoke of LA as being "the most diverse big city of any on planet earth," adding that "As a cradle of so much creativity and innovation, we've been a place that creates new things that they rest of the world follows. The Arts matter to this city and who we are as a city."
"This is Wells Fargo's fourth year partnering with LA INC. to present the Discover the Arts campaign to make the arts accessible to all," said John Sotoodeh, Wells Fargo L.A. Metro/Orange County Regional Banking president. "The goal of Discover the Arts is to create greater awareness, appreciation and demand for arts and culture experiences among LA residents and visitors alike."
A quintet of musicians from the Los Angeles Chamber Orchestra (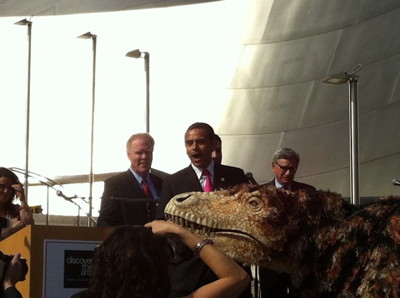 The discounts run from now through April 30, 2012, and are expected to bring in hundreds of new visitors to museums and various events around town.
Participating institutions include the Museum of Tolerance, Cirque du Soleil, the L.A. Philharmonic, MOCA and the Natural History Museum.  (Full list below.)
Following the press conference, a select group was taken on a tour of the city's historical El Pueblo de Los Angeles district, just north of Downtown LA.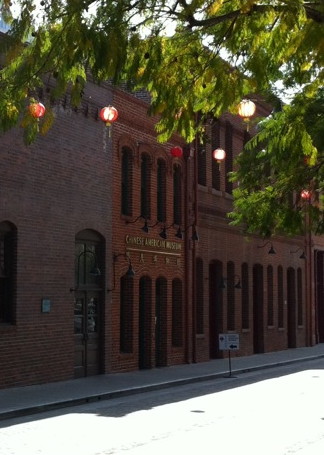 Chinese American Museum (CAM)
Symbolically housed in the oldest and last surviving structure of Los Angeles' original Chinatown, the 7,200 square foot Chinese American Museum (CAM) embodies both a cultural and physical link to the past and a promising point of entry for the city's multicultural future.
Current exhibitions include Breaking Ground: Chinese American Architects in Los Angeles (1945-1980)  which showcases the architectural achievements of four pioneering Chinese American architects whose contributions were critical to the development of Los Angeles' urban and visual landscape between 1945 and 1980.
Thoughtfully curated by Long (Michael) Truong, the exhibit focuses on the lives and work of Eugene K. Choy, Gilbert Leong, Helen Liu Fong, and Gin Wong, architects who played pivotal roles in the development of Mid-Century Modern and Googie Architecture movements unique to California's Post-War architectural renaissance.
Breaking Ground is part of Pacific Standard Time. This unprecedented collaboration, initiated by the Getty Foundation, brings together more than sixty cultural institutions from across Southern California for six months beginning October 2011 to tell the story of the birth of the L.A. art scene. Pacific Standard Time is an initiative of the Getty. The presenting sponsor is Bank of America.
Additional funding is provided by the MetLife Foundation's Museum and Community Connections program.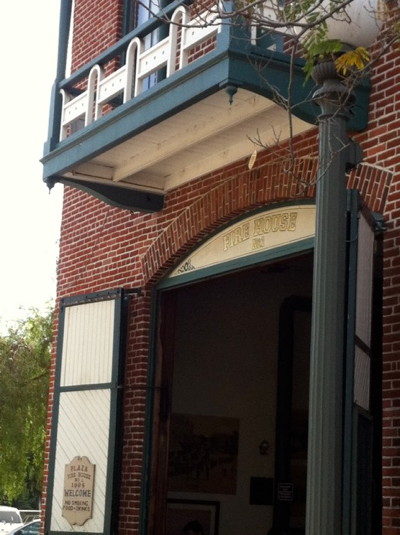 Did you know the very first fire station in Los Angeles is still standing?!
The Plaza Firehouse was the first building in the city designed to house fire fighting crews and their equipment.  The architect was William Boring of Boring and Haas, and the contractor was Denis Hennessy.  There is a small balcony on the Plaza façade, above which is a small, wood-shingled tower topped by a pole sporting a weather vane in the shape of a fire helmet.
A volunteer city Fire Department was formed in 1871.  The first occupants of the Firehouse when it was built in 1884 were called the Volunteer 38s (this being the number of men in Engine Company No 1.)  Another volunteer company, Engine Company No. 2 was an arch rival.  Each company competed to be first at a fire.  Both were equipped with an Ahrens steam engine, paid for jointly by the City and the County of Los Angeles.
When the fire alarm sounded crew members slid down the brass pole from their quarters on the second floor, hooked up the horses, scrambled into their places and were off.  Upon their return, the fire engine was turned around 180 degrees on an ingenious turntable and the horses returned to their stalls.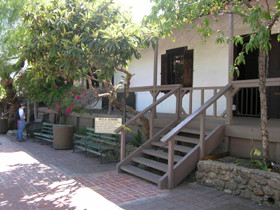 Avila Adobe.
We took a tour of the oldest house still standing in Los Angeles, the Avila Adobe (ca. 1818).
The oldest building in the city, the adobe was the home of Don Francisco Avila, mayor (alcalde) of Los Angeles in 1810.  After his first wife died, Avila married Encarnacion Sepulveda in 1822.  He died ten years later.  In 1847, during the Mexican-American War, Commodore Robert Stockton commandeered the adobe for two weeks as his military headquarters.  The family moved away in 1868 and after that the adobe served as a restaurant and a boarding house.
By 1928 it had fallen into disrepair and was saved from demolition by influential socialite, Ms. Christine Sterling.  Now restored, the building depicts the Californio lifestyle of the 1840s prior to the American occupation.
We were also shown the site of an infamous mural that Ms. Christine Sterling commissioned and which is now in the process of being restored for public viewing just off Olvera Street.
In 1932, two years following the opening of Olvera Street, during his six-month stay in Los Angeles, prominent Mexican muralist David Alfaro Siqueiros painted a mural entitled América Tropical on the south wall of the Italian Hall where the Plaza Art Center was located.  The 18 x 80 foot masterpiece allegorically depicts the struggle of indigenous cultures against imperialism.
Its central figure is a crucified indigenous peasant tied to a double cross while an American eagle—a symbol of U.S. imperialism—perches menacingly above. In the background, a crumbling Mayan pyramid overrun by vegetation, signifies the destruction of indigenous cultures, as the figures of an armed Peruvian peasant and a Mexican farmer crouch on a wall, ready to defend themselves.
Highly controversial since its unveiling, América Tropical was entirely painted over with whitewash by 1938. A historic partnership between the City of Los Angeles and The Getty Museum will allow for the construction of a viewing platform and interpretive center so that the public may once again enjoy one of the city's most-prized artistic treasures.
During conservation, a same size likeness of the mural is being displayed on a banner over the original and is visible from Olvera Street.
More information is available on the Siqueiros Mural Project here.

Institutions participating in Discover the Arts include the following:
Annenberg Space for Photography, the Aquarium of the Pacific, Autry National Center, California African American Museum, California Science Center, Center Theater Group, Chinese American Museum, Colburn School, Craft and Folk Art Museum, Fowler Museum at UCLA, Geffen Playhouse, Getty Center, Getty Villa, The GRAMMY Museum(R) at L.A. LIVE, Hammer Museum, Heritage Square Museum, Hollywood Museum, Huntington Library, Art Collections & Botanical Gardens, IRIS, a Journey Through the World of Cinema(TM) from Cirque du Soleil(R), Japanese American National Museum, LA Stage Alliance, LACMA, Los Angeles Chamber Orchestra, Los Angeles Conservancy, Los Angeles Master Chorale, Los Angeles Philharmonic, LA Opera, MAK Center for Art and Architecture, Museum of Contemporary Art, Los Angeles, Museum of Latin American Art, Los Angeles Museum of The Holocaust, Museum of Tolerance, Music Center, Natural History Museum of Los Angeles County, NOHO Arts District, Pacific Asia Museum, Page Museum at the La Brea Tar Pits, The Paley Center for Media, Pasadena Museum of California Art, Petersen Automotive Museum, REDCAT, Santa Monica Museum of Art, Skirball Cultural Center, The Ronald Reagan Presidential Foundation & Library, USC Fisher Museum of Art, Valley Performing Arts Center, Wells Fargo History Museum, Wende Museum & Archive of the Cold War, Zimmer Children's Museum.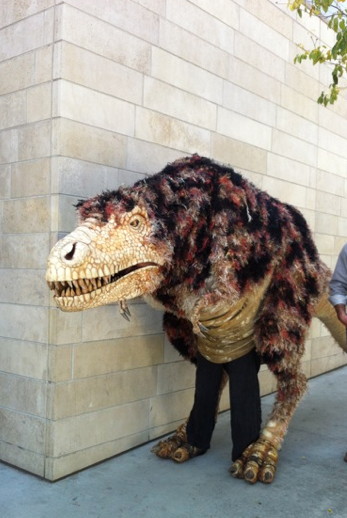 Beginning in February, when visitors book an overnight stay on hotels.com at participating Los Angeles hotels, they will receive a Discover the Arts discount voucher that will give them up to 50% off admission, gift store items and more at 50 cultural attractions across Los Angeles.
Discover the Arts discount cards can be found at Wells Fargo branches across Los Angeles, Ralphs locations across Southern California, Amtrak stations, Metro and Metrolink and also online here.
Runs from February 1—April 30, 2012
Across Los Angeles.
For more information and a complete list and description of all participating venues and offers, visit the official site.