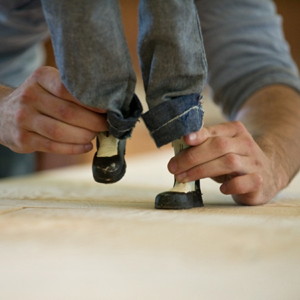 Gentle readers,
Here is a link to this week's review of Who's Hungry, with a handful of performances remaining this weekend at Highways performance space at 18th Street Arts Center in Santa Monica.
Click here and scroll down (right down) to find it.
~ OR ~
You can just read it here!
WHO'S HUNGRY? Using an assortment of toy cars, miniature trees and puppets, including Delft figurines, shadow puppets and a 2-foot-high manipulated Bunraku figure that spews expletives, Dan Froot and Dan Hurlin's experimental tabletop drama attempts to humanize the increasingly common experience of homelessness and hunger.
Ironically presented on a long banquet table, five individual stories of Santa Monica's down-and-outs are ingeniously acted out in miniature, each loosely sketching a downward trajectory toward destitution and rescue. These oral histories are sometimes heard as a prerecorded voice-over from the subject, at other times spoken by one of the four barefoot dancers gracefully manipulating the props and puppets.
The whimsical show is sparsely accompanied by appropriately quirky music that includes vaguely derivative melodies, an instance of tuneless singing and simple percussion played live by a trio of musicians, including composer Amy Denio.
The meandering, occasionally baffling tales offer some insight but little resolution, and peter out after an hour's presentation.
Highways, 18th Street Arts Center, Santa Monica; Fri.-Sat., 8:30 p.m.; Sat., 5 p.m.; through Feb. 4. (Pauline Adamek)