For its fifth intimate concert of the second season, Le Salon de Musiques program will feature Poulenc Flute Sonata with piano and Arnold Bax Elegiac Trio for Flute, Harp and Viola and Faure Piano Quartet N.1 in C Minor Opus 15 with Steven Vanhauwaert on Piano, Marcia Dickstein on Harp, Pamela Vliek on Flute, Tereza Stanislav on Violin, Victoria Miskolczy on Viola and John Walz on Cello.
This month's concert will be held on February 26, 2012 at 4:00 pm at the Dorothy Chandler Pavilion, Fifth Floor.
The performance is accompanied by Champagne, food by Patina and informal conversation introduced by musicologist Julius Reder Carlson. Tickets are $65.00 and $45.00 for students (including concert and refreshments) and are available on line at their official site or by calling  (310) 498-0257.
All concerts presented by Le Salon de Musiques are held from 4 – 6 pm one Sunday of every month through May 20, 2012.  Composers for this season range from Brahms, Mozart, Schubert and Schumann to Tchaikovsky, Grieg, Bax, Myaskovsky and Arensky. Highlights of the season include a Baroque program with a pantomime for two dancers with music by Rameau, Duphly, Gluck, Grety and Lully. Award winning Cellist, Antonio Lysy and Cellist John Walz, Violinists Phillip Levy, Tereza Stanislav and Julie Gigante, Violist Robert Brophy, Soprano Elissa Johnston, Pianists Steven Vanhauwaert and Rina Dokshitsky, are a part of this exciting second Season.
Created by French pianist/melodist Francois Chouchan, the salon series was inspired by Marie Antoinette during 1780 when the Salon de Musique was erected at the Petit Trianon Domain within the vast gardens of the Chateau de Versailles. Chouchan has once again invited some of the most prestigious internationally renowned artists to join in this series, many of whom have performed with the LA Philharmonic, Los Angeles Opera, Los Angeles Chamber Orchestra and Capitol Ensemble.
By removing the stage, Le Salon de Musiques offers a more personal touch to listeners eager to familiarize themselves with Chamber Music. The goal is to bring together an audience of disparate backgrounds…music lovers who believe that this form of melodic artistry brings out the best in humanity.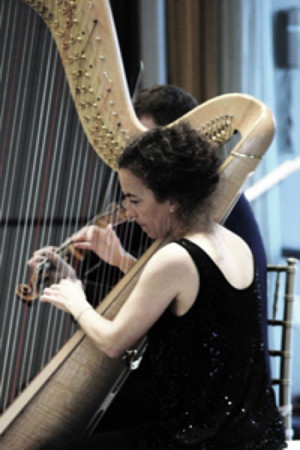 Le Salon de Musiques
February 26, 2012 at 4:00 pm
Poulenc Flute Sonata with piano and Arnold Bax Elegiac Trio for Flute, Harp and Viola and Faure Piano Quartet N.1 in C Minor Opus 15 with Steven Vanhauwaert on Piano, Marcia Dickstein on Harp, Pamela Vliek on Flute, Tereza Stanislav on Violin, Victoria Miskolczy on Viola and John Walz on Cello.
Where:             Dorothy Chandler Pavilion – Fifth Floor
135 North Grand Avenue
Los Angeles, CA 90012
Tickets:       $65.00
$45.00 Students
There is a 10% discount if tickets are purchased for three or more concerts
And a 20% discount for a full season subscription
Contact:             (310) 498-0257 or visit their official site.
ABOUT THE MUSICIANS:
Producer and French pianist/melodist François Chouchan: From the Conservatoire National Supérieur de Musique de Paris (instructed by Yvonne Loriod-Messiaen and Germaine Mounier) to the Viotti International Piano Competition in Italy, his outstanding talent has been recognized all over Europe. Not only has Chouchan performed as a soloist with orchestras and Chamber Music groups in many countries, but he has also been invited to play during Master Classes by musical icons such as Mstislav Rostropovich, Nikita Magaloff, Gyorgy Sebok and Magda Tagliaferro. In Los Angeles, where Chouchan has resided since 2007, he has performed at the LACMA Museum for the "Sundays Live Series", at UCLA's Schoenberg Hall, at Cal State Long Beach and Cal State Northridge (with the Music Guild). He has also appeared at the First Presbyterian Church in Santa Monica, Zipper Hall, the Brandeis Institute, and for the Ermitage Foundation.
In 2010 Chouchan formed Angeles Concerts Artists Corporation and is produced Le Salon de Musiques, his first series of music concerts. For more information on Le Salon de Musiques you can go to the official site.
Steven Vanhauwaert – Piano
Praised by the Los Angeles Times for his "impressive clarity, sense of structure and monster technique", Steven Vanhauwaert studied piano in Brussels at the Royal Conservatory, and continued his musical development in Los Angeles at the USC Thornton School of Music.
Over the years, Steven has garnered a wide array of accolades and has toured throughout Europe and the US, both solo as in chamber music groups. He has appeared in major venues with orchestras such as the Pacific Symphony, the Flemish Symphony, the Concord Jazz Ensemble, the Eastern Sierra Chamber Orchestra and Prima la Musica, amongst others. In 2010 he is scheduled to make his China solo debut.
As a member of the Felici Piano Trio, Steven has given recitals and masterclasses all over the US, has been a frequent guest in festivals around the world, and has appeared in all the major concert halls of Europe. Steven's performances are regularly broadcast on K-MZT, K-CSN, K-USC, WHKB, W-UOT, K-UAT and KLARA."
Marcia Dickstein – Harpist
Dickstein is attracting new audiences to the harp in chamber music and solo with orchestra. To date she has inspired composers from classical, film and jazz/fusion genres worldwide to write over 100 new works. As Founder/Artistic Director of The Debussy Trio she has performed throughout the United States, Europe and Japan, over NPR radio and on commercial and public TV. Important concerts include appearances in Copenhagen, Prague, Geneva (Switzerland), San Francisco, Kennedy Center (Washington, DC) and solo with orchestras in Louisville, Glendale and Seattle. Recordings are available at www.fatrockink.com and on the Klavier, First Edition, Harmonia Mundi, Koch and RCM labels.
Ms. Dickstein's has played on over 350 film scores such as Toy Story I-III, Matrix I-III, Alice in Wonderland, Royal Tennenbaums, Minority Report, Memoirs of a Geisha, Horton Hears a Who, Indiana Jones 4; CD solos with Roger Wagner & William Hall Chorales; CDs Chamber Music of Arnold Bax and The Debussy Trio's 3 Friends, a "best pick" by Gramophone Magazine of London. Adjunct Professor of Harp at Cal State University/Long Beach, Cal Poly San Luis Obispo and Westmont College (Santa Barbara), Ms. Dickstein is also Teacher/Artistic Director of the Central Coast (CA) Harp Workshop. She holds Master Classes throughout the USA and maintains a private studio in Los Angeles. Her transcriptions and scholarly editions of solo and chamber music for professional and student level harpists are published by Fatrock Ink of Los Angeles.
Pamela Vliek Martchev – Flute
Martchev was born in Merrick, NY, and received her initial musical education in the public school system of Long Island. From age 13 on she went to Manhattan School of Music for the Pre-College Division and then her Bachelor of Music Degree. Her teachers included Harold Jones, Kathleen Nester, and Linda Chesis
During her time in NY she won prizes in many competitions, was a featured artist on WQXR's Young Artist Showcase, and played at many venues such as Carnegie Hall, the United Nations, and the White House for President Clinton. After her schooling she went on to perform extensively in Europe as 2nd flute of Philharmonie der Nationen under conductor Justus Frantz.
Since moving to CA in 2000, Ms. Martchev has played with the Riverside, Redlands, Pasadena, San Diego Chamber, San Diego Symphony, and the Los Angeles Philharmonic. She has played under such conductors as Esa-Pekka Salonen, Edo de Waart, Charles Dutoit, John Williams, Marin Alsop, Bramwell Tovey, Leonard Slatkin, Rafael Frühbeck de Burgos, and Gustavo Dudamel. She is the resident flutist on the Jacaranda Music Series in Santa Monica, and has also been the principal flute of the Boulder Philharmonic in CO since 2002. Pamela can be seen in the movie "The Soloist," and can be heard on multiple movie scores including An Unfinished Life, Spiderman 3, Sleepover, When In Rome, Dear John, and Bedtime Stories. She is featured on Billy Child's 2006 Grammy winning CD "Lyric," and can also be heard on his latest release: "Autumn: In Moving Pictures." She is currently the flute teacher at Riverside Community College and San Diego State University, and is married to bassoonist Valentin Martchev.
Tereza Stanislav – Violin
Los Angeles Chamber Orchestra, James Matheson's Violin Sonata (2007), Bruce Adolphe's Oceanophony (2003), Gernot Wolfgang's Rolling Hills and Jagged Ridges (2009) and the West Coast premieres of Steve Reich's Daniel Variations and Gernot Wolfgang's Jazz and Cocktails. She is featured on a new recording of the Wolfgang on Albany Records and the Reich on Nonesuch label.
Tereza holds a Bachelor of Music from Indiana University where she studied with Miriam Fried, and a Master of Music from the Juilliard School where her teachers were Robert Mann and Felix Galimir. As Concertmaster of the Festival Lyrique d'Aix-en-Provence in 1999, she received intensive orchestral and chamber music coaching from the late Isaac Stern. Tereza also completed quartet residencies at the Britten-Pears School in Aldeburgh, England, at Northern Illinois University under the tutelage of the Vermeer Quartet and at Rice University.
Tereza enjoys participating in educational outreach and has collaborated with educator Robert Kapilow of NPR's program, "What Makes It Great?" and musicologist Robert Winter of UCLA. Tereza was invited to perform at the 2002 G-8 World Summit held in Kananaskis, Canada where she performed for Presidents Jacques Chirac and George W. Bush, and Canadian Prime Minister, Jean Chretien. In 2000, Tereza was awarded the highest grant from the Canada
Council for the Arts in the category for Professional Musicians (Individuals) in Classical Music. She is active in the film scoring industry in Los Angeles and in 2009, co-created the new music series, In Frequency.
Alto Violist Victoria Miskolczy: Australian born Victoria Miskolczy has been Associate Principal Violist of the Los Angeles Chamber Orchestra since 1989. She has also performed in many festivals such as the Ojai Festival, the Oregon Bach Festival, the Mostly Mozart Festival and at the Hollywood Bowl, Sydney Symphony, Pacific Symphony, Pasadena Symphony and Long Beach Orchestras.
Victoria has been a member of the Capitol Ensemble, amongst her many local chamber music credits, and also performs for the Los Angeles Chamber Orchestra's Conversations Series and Musicales. In addition she has performed solo recitals to acclaim throughout Australia, the United States and Canada. Victoria is also a commercial musician and has played on hundreds of motion picture sound track scores for composers such as John Williams, James Horner and Jerry Goldsmith and on recordings with such popular artists as Barbra Streisand, Madonna and Michael Jackson.  Victoria is a part-time faculty member at the University of Southern California.
John Walz – Cello
John Walz is a celebrated soloist and chamber music artist, known for his dazzling virtuosity and elegant musicianship. A student of the legendary French cellist, Pierre Fournier, he has appeared as soloist with more than 150 symphony orchestras on 4 continents. His performances of 25 different concertos include both standard showcases and rarities like Martinu's Concerto #1 and William Schuman's Song of Orfeus. In 1979, John, along with pianist Edith Orloff, founded the Pacific Trio. Now performing with violinist Roger Wilkie, this renowned ensemble has played more than 900 concerts throughout North America and Europe. In addition to his solo and chamber music duties, he is currently the principal cellist with the Los Angeles Opera, a position he previously held for 20 years with the Long Beach Symphony. John is on the faculty of the Idyllwild Arts summer program and Academy.
STAY CONNECTED TO LE SALON DE MUSIQUES:
Twitter: