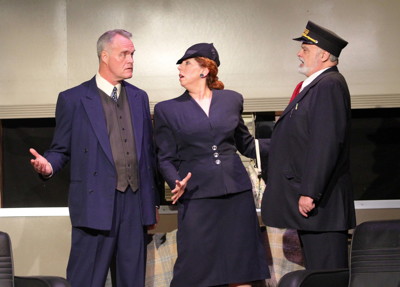 Now playing at the Sierra Madre Playhouse is a very funny play featuring a great cast and a superb set (designed by Adam Smith).
Twentieth Century, by Ben Hecht and Charles MacArthur (adapted by Ken Ludwig), is one of those all-time classic pieces of comedy theatre. First staged on Broadway in 1932, it was adapted for a critically acclaimed film adaptation of the same name two years later. Importantly, alongside Frank Capra's five-time Oscar-winning It Happened One Night, also released in 1934, Twentieth Century is considered to be a prototype for the screwball comedy.
The fast-paced, zany Hecht-MacArthur comedy is set in the opulent cars of the luxury train Twentieth Century Limited, journeying from Chicago to New York's Grand Central Terminal. Traveling on the sumptuous conveyance is Oscar Jaffe (Arthur Hanket), an egomaniacal Broadway impresario who has fallen on hard times and, following a series of theatrical flops, is desperately in need of a hit. When Jaffe learns his former paramour and protégé, temperamental actress Lily Garland (Stephanie Erb) – who abandoned him for a successful Hollywood career – is also coming aboard the train, Jaffe strives to get Lily to sign a contract and star in his next flamboyant opus, thus hoping to resurrect his failing career. He's not above a few lies and elaborate fakery to achieve this coup, which also would mean foiling his nemesis, rival theatre producer Max Jacobs (Grant Baciocco – brilliant in several roles).
Jaffe is aided and abetted by his long-suffering aides, assistant and general dogsbody Ida Webb (Kimberly Lewis) and Irish heavy/press agent Owen O'Malley (Alan Brooks).
Causing uproar en route is a daffy 'god-botherer' Mrs. Myrtle Clark (Beth Leckbee) who is merrily plastering 'Repent!' doom-and-gloom stickers all over the opulent train, much to the dismay of the train's crew. In fact, one of the biggest laughs on opening night was Leckbee's hilarious and unflappable spontaneity when encountering a broken prop. Brava!
As the play's director Michael Lorre so helpfully explains in the program notes, "…a screwball comedy is a fast paced, crazy farce with enough meat on its bones to actually convey a message of common sense over frivolity," adding that "Class issues play heavily in a screwball comedy."
He's right, of course, and this fine version of a hilarious play definitely resonates with those intentions Lorre has outlined.
Twentieth Century is one of those plays that you hope is done right, because when it is, it really rockets along, fueled by a scintillating script that requires first-rate comedic timing and delivery. Happily, this cast is more than up to the challenge and deliver a wonderful evening of laughs and giggles. As Jaffe, Arthur Hanket is especially great at maximizing the comedy of his, at times, preposterous character. Additionally, the entire cast is brilliant at simulating the arrival of the train into each imaginary station by lurching and staggering in unison — it's great stuff!
Featuring a lively storyline peppered with lines such as, "Forget about acting [Lily] – you're a star now!" there are enough pot-shots in Twentieth Century leveled at showy theatre types, vainglorious producers, conceited divas and nutcase religious fanatics to keep the laughs rolling.
Photo credit: Lia Peterson.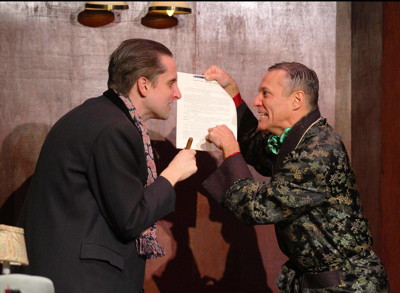 Twentieth Century
Sierra Madre Playhouse
87 W. Sierra Madre Blvd.
Sierra Madre, CA 91024.
***Ample free parking behind theatre.
Performances:
Runs until March 17, 2012
Fri. & Sat. at 8 p.m.,
Sun. at 2:30 p.m.
Running time:
Approximately 2 hours, including a 10 minute intermission.
TICKETS:
$25.00 general; $22 seniors (65+) and students (13-17); $15 children 12 and under.
Box Office:
Purchase tickets here or call (626) 355-4318