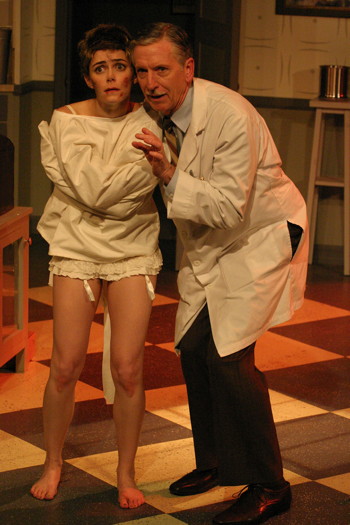 English playwright Joe Orton's madcap farce, What the Butler Saw, gets a fairly standard treatment by The Odyssey Theatre Ensemble, and is now playing until Sunday, March 11, 2012.
Unfortunately this tired old play, with its undressing, cross-dressing and copious sexual innuendoes circa the Benny Hill era of British humor, simply doesn't hold up. While I can't really fault the production nor the performers, this production of Orton's 1969 send-up of the mental health profession (including jabs at government, religion, literary aspiration, heterosexuality and homosexuality) simply lacks the breakneck speed or contemporary cultural relevance that gets audiences excited about watching a light-hearted farce.
Directed by Alan Patrick Kenny, the entire cast of six tireless players runs, jumps, hides, twitches and generally gambols about nicely. Nor is this simply any old farce. Even with the injection of Orton's dark but farcical cynicism into the classic British tradition of comedy based on sexual frustration, illicit seduction, confusion and mistaken identities, What the Butler Saw simply does not provide sufficient laughs with its mostly stupid plot progression and nonsense. The innuendo-laden and 'racy' dialogue just comes off as stilted and (not so delightfully) absurd.
Playing the horny/cheating Doctor's sexy nymphomaniac wife is Melinda Parrett who gives the best performance of the night, thanks to her steely intensity, commitment to the comedy and, I have to mention, her rockin' form in a corset, stockings and heels. Nice work, Melinda!
Photo credit: Enci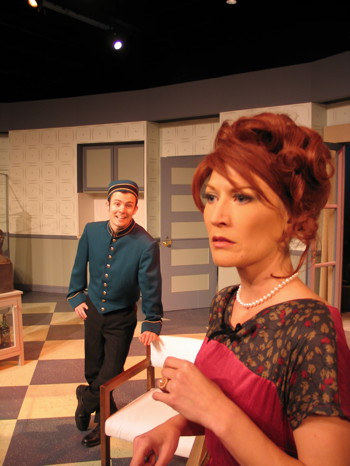 What the Butler Saw
2055 South Sepulveda Boulevard
Los Angeles, CA 90025-5621
(One block north of Olympic Blvd.)
Performances:
Runs until Sunday, March 11, 2012.
*Wednesday through Saturday at 8:00 p.m.;
Sundays at 2:00 p.m. (except Sunday Jan. 15 and Mar. 4 at 7:00 p.m. only);
(*Wednesday performances on Jan. 25 and Feb. 8 & 22 only;
Thursday performances on Feb. 2  & 16, Mar. 1 & 8 only.)
Running time:
Approximately 2 hours and 20 minutes, one intermission
TICKETS:
Wednesday through Friday: $25.00
Saturday and Sunday: $30.00
Equity/SAG/AFTRA
$15.00 on Friday
Student/Senior Discount: $5.00
(excepting Saturday nights)
Hot Tixs at curtain time $15.00 (cheap!)
"Pay-what-you-can" (min. $10.00) on Jan 20 & 21, Feb 8 and Mar. 4..
Post-show discussions available for 15 plus groups by calling box-office.
Box Office:
Purchase tickets here or call (310) 477-2055
 About the Odyssey Theatre Ensemble:

Linda Toliver and Gary Guidinger (Co-producers) have been producing the work of LA writers and actors for over two decades. During their tenure at the Zephyr Theater, which they ran until 2010, they brought in the solo work of Lynn Manning, Luis Alfaro, Michael Kearns, Amy Hill, Eric Trules, Burke Byrnes, Colin Martin, Edie McClurg, and others. They produced world premieres of Justin Tanner's Voice Lessons, starring Laurie Metcalf, French Stewart and Maile Flanagan (also in NYC), Procreation, Space Therapy, Teen Girl and Wife Swappers. Other favorites include The Last Session and The Big Voice; God or Merman?, by Jim Brochu and Steve Schalchlin, and the outrageous seasonal treat, Bob's Holiday Office Party. They were associate producers on Larry Biederman's sold-out production of La Ronde at the 2009 NY International Fringe Festival and Del Shores' Southern Baptist Sissies, The Trials and Tribulations of a Trailer Trash Housewife and Sordid Lives. They most recently produced Elliot Shoenman's sold out hit, AfterMath, starring Annie Potts.