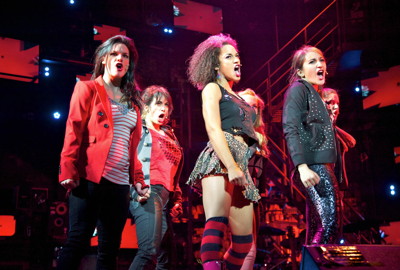 Center Theatre Group is establishing a special daily lottery program for the run of Green Day's explosive Broadway hit musical American Idiot, presented at the CTG/Ahmanson Theatre March 13 through April 22, 2012.
Patrons who enter the lottery will have the opportunity to purchase a pair of tickets at only $30.00 per ticket to sit in the first two rows of the orchestra seating section.
Additionally, those who don't win the daily lottery will be automatically included in a second chance "loser's lottery" for complimentary tickets to the final Saturday night (April 21 at 8 p.m.) performance.
Lottery registration begins each day when the CTG box office opens (Tuesday through Saturday at noon; Sunday at 11 a.m.) and continues throughout the day. The box office will randomly draw names starting 90 minutes prior to the performance(s). Patrons must be present at the time of the drawing and ID will be required.
The drawing for the "loser's lottery" will take place on Monday, April 16. The winners do not need to present and will be notified by CTG. All winners of this final lottery will receive their seats free of charge.
Go HERE to enter the lottery and for more details.
Nominated for three Tony Awards® during its Broadway run, American Idiot, tells the story of three boyhood friends, each searching for meaning in a post 9-11 world.



The national tour of Green Day's musical American Idiot, the explosive Broadway hit show, opens in Los Angeles on Wednesday, March 14 at the Ahmanson Theatre at 8 p.m. There will be a preview performance on Tuesday, March 13 and performances continue through April 22, 2012.

Original Broadway cast member Van Hughes will star as Johnny, a role in which he concluded the "American Idiot" Broadway run, along with original Broadway cast member Joshua Kobak as St. Jimmy, Jake Epstein as Will, Scott J. Campbell as Tunny, original Broadway cast member Leslie McDonel as Heather, Gabrielle McClinton as Whatsername and Nicci Claspell as The Extraordinary Girl.

American Idiot will also feature Talia Aaron, Krystina Alabado, Gabriel Antonacci, Larkin Bogan, Jennifer Bowles, Matt DeAngelis, Dan Gleason, Kelvin Moon Loh, Tommy McDowell, Jillian Mueller, Jarran Muse, Vince Oddo, and Okieriete Onaodowan.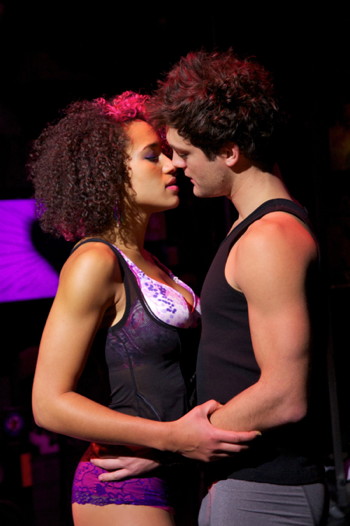 General tickets for American Idiot are available online here, also by calling (213) 972-4400, or in person at the Center Theatre Group box office at the Ahmanson Theatre at the Music Center;
135 North Grand Ave.
Los Angeles, CA 90012
Downtown Los Angeles
Tel: (213) 972-7211
 Production photos by Doug Hamilton.