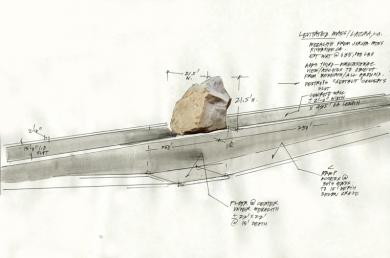 A 340-ton megalith that is to be part of artist Michael Heizer's monumental artwork, Levitated Mass, has begun its epic journey to the Los Angeles County Museum of Art (LACMA).
Levitated Mass, by artist Michael Heizer, is composed of a 456-foot-long slot constructed on LACMA's campus, over which is placed this recently located giant granite boulder.
As with other works by the artist, such as Double Negative (1969), the monumental negative form is key to the experience of the artwork. Heizer conceived of the artwork in 1968, but discovered an appropriate boulder only decades later, in Riverside County, California.
At 340 tons, the boulder is one of the largest megaliths moved since ancient times. Taken whole, Levitated Mass speaks to the expanse of art history, from ancient traditions of creating artworks from megalithic stone, to modern forms of abstract geometries and cutting-edge feats of engineering.
The impressive megalith is scheduled to travel 105 miles from Jurupa Valley in Riverside County to Los Angeles. Transport of the megalith began on the night of February 28th and is taking place over eleven consecutive evenings. The journey will end with the boulder's arrival at LACMA, 5905 Wilshire Blvd., Los Angeles, anticipated to be later tonight. (Actually, early Saturday morning, March 10, 2012, between the hours of 2am-6am.)
Due to its massive size, the boulder requires a complex and thoroughly reviewed transportation process from the quarry in Riverside County to the museum.
Its transportation, made possible by Hanjin Shipping, will take place over the course of roughly eleven nights, traveling through four counties (Riverside, San Bernardino, Orange, and Los Angeles) and twenty-two cities. The transporter carrying the boulder, specially designed for maximum safety, will travel on a
predetermined route with movement happening only at night.
For the route map and most up-to-date information regarding the transport, visit the gallery's official site.
The boulder is one component of the greater artwork, Levitated Mass, the newest monumental outdoor artwork to be installed at the Los Angeles County Museum of Art (LACMA). Michael Heizer's Levitated Mass features a 456-foot-long concrete slot constructed on LACMA's campus,
over which the 340-ton granite megalith sits. As visitors walk along the slot, it gradually descends to fifteen feet deep, running underneath the boulder before ascending back up.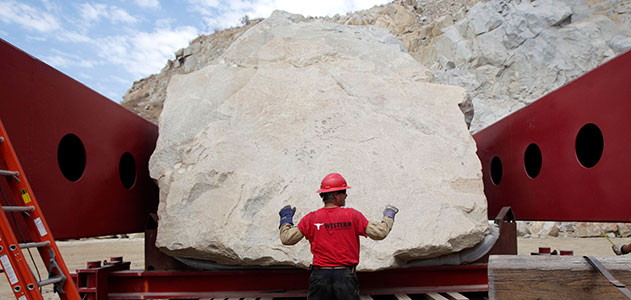 Levitated Mass
Los Angeles County Museum of Art (LACMA)
5905 Wilshire Blvd.,
Los Angeles.
Open to the public in spring/summer 2012
It will be situated north of the Lynda and Stewart Resnick Exhibition Pavilion, near the museum's 6th Street entrance.