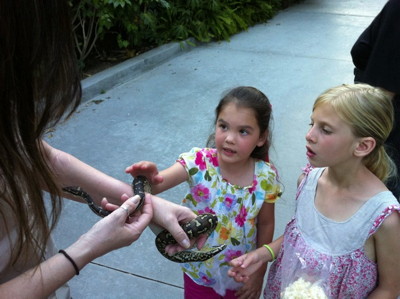 Supporters of the Los Angeles Zoo, along with their excited children, will be treated to a special interactive evening with the animals at the Zoo's annual Sunset Safari, to be held on Saturday, April 21, 2012.
Each year this exciting and interactive night for SAFARI CLUB donors is hosted by the Greater Los Angeles Zoo Association (GLAZA). Patrons of the SAFARI CLUB, which is GLAZA's premier annual giving society, get to enjoy an after-hours evening of dinner and music, as well as the opportunity to touch and observe some of the Zoo's smaller animals up close.
Important to note: The SAFARI CLUB is open to the public. Everyone's tax deductible gift, which begin at $1,500, will have an impact on many levels.
This year's event for SAFARI CLUB members showcases the new LAIR habitat (living amphibians, invertebrates and reptiles) and the popular Tom Mankiewicz Conservation Carousel.  Also featured are keeper talks, training demonstrations, animal viewings and feedings, and strolling "animal walkabouts," which include chats with keepers and the chance to observe small animals, such as harmless reptiles and majestic owls, in their keeper's hands.  An International-themed buffet dinner and music will conclude the intimate evening's festivities.
How your support helps:

Locally, SAFARI CLUB members support the L.A. Zoo, as this oasis of plant and animal life continues to flourish, educate and enrich our community.

Globally, the donations contribute to the Zoo's conservation and breeding programs, which offer hope of recovery for many of Earth's endangered species.
Sunset Safari is among the many offerings presented by the private, non-profit Greater Los Angeles Zoo Association, which was founded in 1963. This year marks more than four decades of GLAZA's success in supporting the Los Angeles Zoo and Botanical Garden's work as an educational resource for the citizens of Los Angeles, and as an international center for the conservation of endangered wildlife. GLAZA provides funds and other services for Los Angeles Zoo exhibits, conservation, capital projects, education programs, community outreach, research, and more through fund-raising and an endowment, membership, special events and more.
GLAZA currently has 65,000 member households, the second largest membership base of a cultural organization in Los Angeles. Many of its nearly 300,000 individual members have sustained their GLAZA support for more than 20 years. The Los Angeles Zoo is an international leader in the conservation of endangered species and one of the city's major cultural and entertainment resources.
SAFARI CLUB patrons are immersed in opportunities to experience the Zoo as a catalyst for change in our natural world and to come closer to the animals we all love.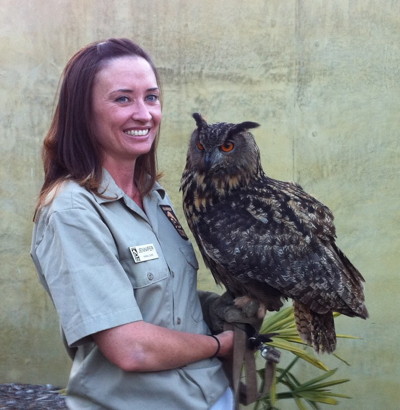 Sunset Safari
6 to 8 pm
Saturday, April 21, 2012
Los Angeles Zoo
The Los Angeles Zoo is located in Griffith Park at the junction of the Ventura (134) and Golden State (5) freeways.
For information about the SAFARI CLUB, please contact Nancy Simerly at 323 644-4717 or [email protected]