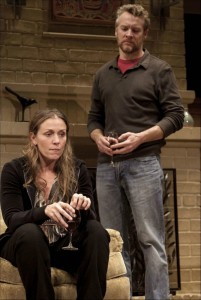 Making its West Coast Premiere at the Geffen Playhouse is David Lindsay-Abaire's Tony-award nominated play Good People.
Last year I spoke with Tate Donovan shortly after he wrapped the New York season of Good People, which made its world premier at the Samuel J. Friedman Theater. The actor originated the role of "Mike", a South-side Bostonite who has made good but whose past crops up in the guise of an old flame, Margie, who is looking for a life-line (played by Frances McDormand, perhaps best known for her lead role in the movie Fargo).
Effuses Donovan, "Yeah, it was one of the greatest experiences of my life, that's for sure."
Good People was  nominated for a Tony award for Best Play and McDormand won the Tony for Best Actress. The New York Times praised Donovan's multi-layered performance, saying he "makes Mike an artful study in willed amnesia, and the pain that surprises him when Margie summons the ghosts of their shared past is all the more palpable by not being directly expressed."
Donovan, who also appeared in David Lindsay-Abaire's other renowned play, Rabbit Hole, claims Good People is the best play he's ever been involved in, saying, "It's set in 'Southie,' which is a very poor neighborhood in South Boston. In the first scene Frances McDormand's character loses her job and she is convinced by her friends to hit up her old high school boyfriend who has become a successful doctor. There are few people who make it out of this insular, uneducated, sort of bad neighborhood. I don't mind seeing her again, but I don't have a job for her. She ends up coming to my house in the second act and she makes a lot of trouble for me."
The actor has nothing but high praise for his Tony-nominated co-star, "Frances was brilliant in this. She was perfectly cast," going on to add, "It's one of the great plays of the modern era. When you read it or see a production, it's incredibly well written. It's crazy good. He is my favorite writer; every single play he does is so different. The world, the characters, the language, the genre – it's amazing. Meanwhile, he's super funny."
Tate Donovan's Broadway credits include Amy's View (Barrymore) and Picnic (Roundabout). His Off-Broadway credits include Lobby Hero (Playwrights Horizon), The American Plan (MTC). Regional Theatre: Rabbit Hole (Geffen Playhouse); Glass Menagerie, Once In A Lifetime, Under The Blue Sky (Williamstown); Bent (Coast Playhouse); and productions at the Long Wharf and Mark Taper Forum.

Donovan has appeared in more than 25 films including Good Night and Good Luck; Neal Cassady; Nancy Drew; Ethan Frome; Memphis Belle; Love Potion No. 9; Clean and Sober; SpaceCamp and was the title voice in Disney's animated feature Hercules. Appearances on TV include "Damages," "The O.C.," "Friends," "Ally McBeal." Tate has also directed episodes of "Glee," "Weeds," "Damages," "Gossip Girl," "Nip/Tuck," "Medium" and "The O.C."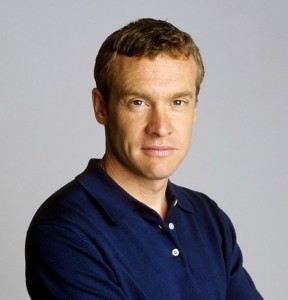 Good People is now playing at the Geffen Playhouse.
The West-Coast production cast comprises of:
Cherise Boothe, Sara Botsford, Marylouise Burke, Brad Fleischer, Jane Kaczmarek as Margie and Jon Tenney in the role Donovan originated, "Mike."
For more information on the current LA Season of Good People, visit the Geffen Playhouse's official site.
A portion of this article first appeared on LA Stage Times.