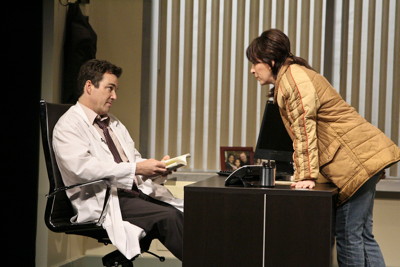 In David Lindsay-Abaire's Tony-award nominated play Good People, there are no good people. There are a handful of disgruntled working class women who are struggling to keep their heads above water, working menial, minimum-wage jobs and coping with a host of burdens. Then there's the successful doctor, Mike, who managed to escape the old neighborhood and elude the poverty cycle…
Making its West Coast Premiere at the Geffen Playhouse, Jane Kaczmarek takes on the role of Margie, while Jon Tenney plays her old flame, Mike, who has moved on and married Kate, played by Cherise Boothe. Sara Botsford, Marylouise Burke and Brad Fleischer bring the South Boston working class community to life as Margie's salt-of-the earth mates Jean and Dottie and her former boss, Stevie. (Good People was nominated in 2010 for the Tony Award for Best Play and won Best Actress for Frances McDormand, who originated the role of Margie.)
Stuck in Southie, an insular and impoverished South Boston neighborhood, and perpetually one paycheck away from destitution, Margie Walsh (Jane Kaczmarek) is bitter. She's just lost her job as a cashier at the dollar store and doesn't know how she will continue to take care of her mentally disabled adult daughter.
Margie becomes convinced by her friends to hit up Mike (Jon Tenney) her old high school boyfriend who has become a respectable middle-class doctor and left both her and the old neighborhood behind. Maybe he can help her? After all, in Margie's mind he owes her. Mike doesn't mind seeing her again, but he doesn't have a job for her. Emboldened by desperation and grasping for a lifeline, in the play's second act Margie intrudes on Mike's life and things get ugly…
"Lace curtain Irish" is a barbed, below-the-belt accusation that stings when a resentful Margie levels it at Mike. "I'm still a Southie kid at heart," he counters. Kaczmarek is good as Margie, but her garrulous, unsympathetic and spiteful character grates on our nerves as well as Mike's.
Directed by Matt Shakman, the production and all performances are solid. Of note is the stunning and versatile series of sets, intricately designed by Craig Siebels. The first is a grimy loading dock of the Dollar store where Margie is fired. It trucks offstage during the blackout to be replaced by Margie's kitchen. The third set is Mike's pristine and light-flooded doctor's office. The loading dock set doubles for a church hall bingo set. Act Two reveals a glamorous and impressive set that's altogether miles away from the 'Southie' neighborhood.
All in all, the tired themes make Good People a decent production but not really a great play.
Production photos by Michael Lamont.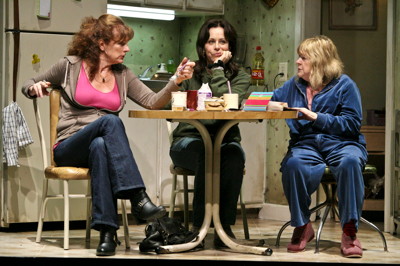 Good People
the Geffen Playhouse
10886 Le Conte Avenue
Los Angeles, California 90024
Performances:
Runs until  Sunday, May 13, 2012
Monday – No performances
Tuesday – Friday 8:00pm
Saturday – 3:00pm; 8:00pm
Sunday – 2:00pm; 7:00pm
Running time:
Approximately 2 hours, one intermission.
TICKETS:
$47 – $77.00
Box Office:
Purchase tickets here or call (310)-208-5454
You can contact the Geffen Playhouse box office in-person, via phone at 310-208-5454 or online for updated pricing and seating availability.
For more information on the current LA Season of Good People, visit the Geffen Playhouse's official site.