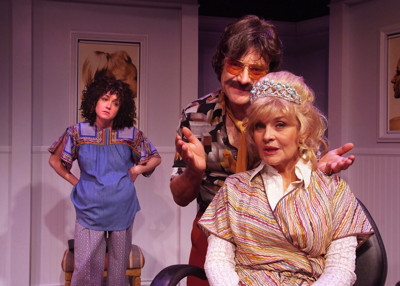 Gentle readers!
My theater review this week for the LA Weekly is of Beautified, a personal play written by Tony Abatemarco.
It's the 'Pick of the Week.'
It's a simply beautiful dramedy about Abatemarco's brother's career as a hairdresser and the friendships he forged over four decades.
Presented by Katselas Theatre Company and now playing at the Skylight Theater on N. Vermont, until Sunday July 1, 2012.
Click here to go to the LA Weekly's theater page with my review of Beautified – I also gave it a 'Go' – and then scroll down a little bit to find it.
~ OR ~
You can just read it here!!
Happy reading!
Tony Abatemarco's simply beautiful dramedy, Beautified, is both a love letter to his brother, the play's subject, and a poignant tribute to a long-term platonic relationship between a man and a woman.
Recently relocated from Long Island, in 1969, hip and cool Mike (Rob Brownstein) takes a chance and opens his own beauty parlor in Framingham, Massachusetts. The first customer to walk in is uptight socialite Candy (Karen Austin) and while the pair doesn't immediately hit it off, they soon become fast friends. Candy frequently clashes with Mike's salon assistant Sally (Joanna Strapp), openly disapproving of Sally's casual thievery.
Direct audience address charts the leaps from one decade to the other, as does the salon's name changes and shifting décor that keeps pace with each era's most outrageous fashions. Abatemarco lets his story gently reveal itself through character interaction and dialogue.
Director Jenny Sullivan does a great job coaxing genuine performances from her first-rate cast of three, while fabulous costumes (Allison Leach) and prop detail (set and lighting by Jeff McLaughlin) add plenty of amusing color. Cate Caplin's choreography for an unexpected fantasy dance sequence towards the end concisely conveys everything you need to know about Candy's allure and Mike's unrealized desire.
Beautified is a gorgeous play.
Skylight Theatre
1816 N. Vermont,
LA, 90027
Runs Fridays and Saturdays at 8:00pm and Sundays at 2pm through July 1, 2012.
Tickets are $ 29 ($17.50 -student/senior RUSH discount).
Reservations: 702 KTC-TKTS (702-582-8587) or online here.