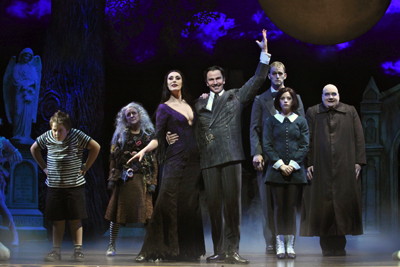 Dear readers,
Below is a link to my in-depth article for LA Stage Times where I chatted with Douglas Sills, one of the stars of the new Broadway musical, The Addams Family.
You can go here to read it.
~ OR ~
 You can just read it here!!
Happy reading!
Debonair Doug Sills Goes Gothic for Gomez in
The Addams Family
by Pauline Adamek  |  June 4, 2012
About to appear at Pantages Theatre as the dashing Gothic patriarch Gomez in the musical extravaganza The Addams Family, Douglas Sills is perhaps best known to LA audiences for his lead performance in The Scarlet Pimpernel—which he played on Broadway and on tour, intermittently from 1997 through 2000. His scintillating turn as the reckless daredevil, swashbuckler and foppish lady-killer won Sills accolades, including an Ovation Award in 2000 for lead performance (for the national tour, titled SP 4.0), as well as receiving Tony and Drama Desk nominations that year.
Originating this lead role of a clandestine superhero, Sir Percy Blakeney, marked his first Broadway appearance, in late 1997. The musical was composed by Frank Wildhorn and written by lyricist Nan Knighton.
Sills carried on performing the role in two other versions of the show. In 1998 he received a Tony nomination but lost out to that year's favorite Alan Cumming, who had wowed audiences in Cabaret. Hence, Sills portrayed the heroic dandy in SP 1.0 (the original Broadway Production), SP 2.0 (the revised Broadway production) and for several months during a national tour (4.0).
The charming Sills was one of the first cover stories for LA STAGE magazine 11 years ago. Sporting a pencil-thin moustache—not for Pimpernel but rather for a 1940s-era version of Much Ado About Nothing at South Coast Repertory—and holding his Ovation statue, Sills was photographed for the magazine's cover and inside pages in a series of playful shots.
Last month, speaking with LA STAGE Times by phone from San Diego, Sills is pleasant and forthright. "I do remember that article, and I certainly remember the photo shoot and the pictures," he says. When asked in what way the win affected his career trajectory, Sills sounds a little perplexed. "That's a hard thing, because it's hard to wonder what might have been different if I hadn't won the Ovation award," he says. "It's a difficult thing to track. It's cumulative, how many people may hear about it or how it might get into people's mind. 'Oh, Douglas is available, isn't he the wonderful guy who did Scarlet Pimpernel?' Those are very difficult things to quantify." There's a smile in the actor's voice when he adds, "It certainly made me happy."
He is candid about how the award made a slight impact on his career. "I don't think the Ovation award resulted in another job," he says, explaining that when he performs on the stage, it tends to be on the East Coast rather than in LA. "The Ovation Award is less present and less known on the East Coast. I doubt it was the antecedent to a job. It's possible that it was, but I wouldn't know it."
The actor agrees the award was a wonderful acknowledgement of his work, but says, "I would prefer it was for a job that originated on the West Coast, rather than a tour, because there are so many wonderful theaters here. But it's something that is very dear to my heart, and I am glad to have been singled out." He adds that awards are always wonderful, but comparing performances can be a perilous endeavor, noting, "It's difficult to quantify elements of artistic output."
Into the Fire
Born in Detroit, Mich., and raised in the suburb of Franklin, Sills majored in music at the University of Michigan. He continued his education at American Conservatory Theater in San Francisco.
During the 1990s, he forged a solid reputation as a stage character actor, in and around the theaters of Southern California. He toured nationally in shows such as Into the Woods and The Secret Garden. He is known for several roles, including Orin Scrivello in the 2003 Broadway revival cast of Little Shop of Horrors.
He recently starred in the Chicago tryout of the new rock musical White Noise. Regional theater appearances include She Loves Me, Peter Pan, A Little Night Music and She Stoops to Folly. Other appearances include Showboat, Mack & Mabel, The Philadelphia Story, Chess, Summer People, Mrs. Warren's Profession and many leading roles with California Shakespeare Festival. Sills has performed on recordings of The Scarlet Pimpernel and Cyrano (demo), as well as guest-appearing on numerous television shows—including PBS with the Boston Pops, Any Day Now, Party of Five, Sabrina, the Teenage Witch and Murphy Brown.
Now appearing as Gomez in San Diego and headed for LA, when asked about the last time he worked on the West Coast, Sills seems pensive before offering, "It would have been television"—meaning guest appearances on TV shows such as Numb3rs, CSI, Will & Grace and The Closer, to name a few. Though he cut his teeth on Southern California stages, he adds, "New York work tends to be easier for me to get, as I have a stronger reputation in a field that has more popularity to it."
When You're an Addams
The Addams Family is wholly based on the strange and ghoulish characters created by cartoonist Charles Addams. About half of his 150 single-panel gag cartoons appeared in The New Yorker from 1938 until Addams' death in 1988.
Ostensibly a satirical inversion of the ideal American family, the Addamses are a multigenerational collection of wealthy eccentrics who hold an affinity for all things Gothic and ghoulish, all the while unaware that general society finds them bizarre or terrifying. The cartoons sparked the creation of two live-action television series, two animated TV series, three motion pictures and now a stage musical.
Sills as the debonair Gomez and Sara Gettelfinger as the regal Morticia lead a magnificently macabre company of 25. The Addams Family features an original story touted as "every father's nightmare." Daughter Wednesday (Cortney Wolfson), the ultimate princess of darkness, is now a young adult. She has fallen in love with a sweet and clever young man from a respectable family, and she knows her parents are going to have to meet him and his parents sooner or later. At first Wednesday confides in her father about her true love, begging him not to tell Mom. Now Gomez must do something he's never done before—keep a secret from his beloved wife, Morticia. The two families come together on a fateful night when the Addamses host a dinner for Wednesday's "normal" boyfriend and his parents.
Though the plotline has shades of another musical (and French play), La Cage aux Folles, Sills is quick to point out the distinct differences. "Yeah, there are a lot of wonderful similarities, and that just demonstrates, I think, how deep that well of creativity is; there is still some stuff to be mined." As for the key differences, Sills says, "La Cage is a very dated piece. Our show is purposefully set in the 'now.' Plus, the Addamses can't pass. The premise of La Cage is they are trying to pass as 'normal.' They know they are 'other.' The Addamses are in their own home, and so they are not trying to change their aesthetic for anyone. They're not really aware of how different they are."
Down the Lane
Sills assumed the role of Gomez for the revised national tour of The Addams Family in September 2011, for its launch in New Orleans. "This play was permitted by the Charles Addams estate, only if the creators would base it on the cartoons and not the television shows or movies. So, I didn't look at those shows," he says of preparing for the role.
A previous incarnation of the musical, with an estimated budget of between $10 million and $15 million, had opened in Chicago before it ran on Broadway from April 2010 until December 2011, after 34 previews and 725 performances. The original cast featured Nathan Lane as Gomez and Bebe Neuwirth as Morticia.
After the Chicago pre-Broadway tryout, creative consultant Jerry Zaks was brought on to assist with changes. "The New York dates were already set, so Jerry had a limited amount of time to do as much work as he would have liked," Sills reports.
Changes to the show included the replacement of several songs with newly composed ones. According to Playbill, the touring version has "a new central plot conflict, new or revised or reordered songs to replace old ones, fresh orchestrations and dance where necessary."
Sills recalls, "Critical response wasn't strong—it was mixed, and I don't think it was ultimately a satisfying result for either the performers or the creators. It certainly had a following, did okay business and they ran for a long time." When the opportunity came along for a national tour, the creators went back to the drawing board.
At first Sills turned the job down, saying he no longer was interested in going on tour. "It's a very tough life, and I don't know who in their right mind would love to follow Nathan Lane," he says, laughing. Sills says there were "endless conversations about the why and the what; why were they coming to me and what were they offering and what their plans were for the project." Gradually he became deeply interested. "Suffice to say, with the blessings of my partner, Todd—nothing would have started without that—we decided I should consider it."
Sills was sold when he realized how rigorously the creators were planning to rework the show and "start from scratch" in some ways. He says, "It was exciting. I'm very glad I did it. As it turns out, the creators are really pleased with what they have been able to accomplish." He hastens to humbly observe, "I know this is very much a team effort and I am one link in the chain."
Sills adds that it's this version of the new musical that will be published and is due to open in Brazil, Australia and London's West End. "More and more shows no longer look at Broadway as the terminus, but simply one stage in what is a global business."
Earning His Stripes
Once again sporting a moustache, Sills describes Gomez as a stylish and "pretty wonderful" character. "I wear a pinstriped suit, but it's not your average pinstriped suit," he says. "They took a beautiful charcoal fabric and they hand-painted it with white, chalk-like stripes so that it looks like a sketch drawing." The effect is intended to be a three-dimensional version of Addams' cartoons.
Audiences are going to see the characters they know and love—including Lurch, Grandma and Pugsley—but in a modern setting, complete with pop-culture references such as texting and Charlie Sheen and health care. "It's a very current comedy," says Sills.
The Addams Family, presented by Broadway/L.A.
Opens June 5, 2012
Runs Tues-Thurs. 7:30pm; Fri. 8pm; Sat. 2pm & 8pm; Sun. 1pm & 6:30pm. Through June 17.
Tickets: $25-139.
Pantages Theatre,
6233 Hollywood Blvd., LA 90028.
Visit their official site, the Pantages box office or call 1-800-982-2787.
***All The Addams Family production photos by Jeremy Daniel.