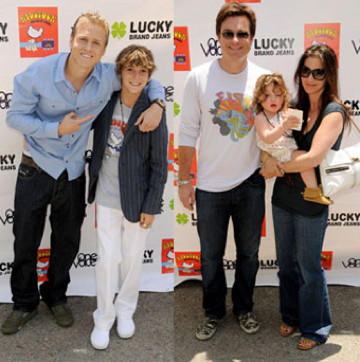 The 6th Annual Kidstock Music and Arts Festival is set to rock Beverly Hills this Sunday, June 3rd, 2012.
Hollywood harmonizes with HUDSON JEANS at this fun-filled family day of music and Art to benefit One Voice Scholars program, a charity that helps support children and encourages interest in the Arts.
Back for an encore performance, HUDSON JEANS provides the ultimate backstage pass for family fun at the 6th Annual Kidstock Music and Arts Festival. This highly-anticipated event once again brings families together for an incredible afternoon of live music, arts & crafts and fashionable festivities as well as interactive kids booths, gourmet food, photo booth and performances from the hottest pint-sized performers on the planet. Over 700 guests and families attend with proceeds benefiting the One Voice and the One Voice Scholars Program.
Headlining the festivities will be design-your-own denim with HUDSON JEANS. The brand has once again created a limited-edition run of pint-sized jeans exclusively for Kidstock! The mini musical set will have 3 unique denim styles for girls and 2 for boys to transform with commemorative iron-on patches into their own designer duds.
Patch designs include: HUDSON Union Jack logo, Kidstock logo, Union Jack guitar, peace, rainbows, love, sun & skull. Girls will be able to choose from skinny leg styles in dark denim, white & purple washes. Boys will have a hipster look – with a relaxed straight-cut style in washed denim and khaki options.
TOMS will be on-site with local artists to customize kids' shoes, Radio Disney Photo Booth, video games from Kinect for XBOX 360, "haute hair deign" by Drybar, Sprinkles cupcake decorating, prizes from Baskin-Robbins, partake in totally rad rocker tattoo stations, food stations and more.
Highlighted entertainment includes Radio Disney star Caroline Sunshine from the hit series "Shake it Up." Introducing Caroline will be… teen model, actress, blogger, brand ambassador and fashion consultant Alli Simpson. The event will also feature Radio Disney on-air personality and entertainment reporter, Jake Whetter, who will EMCEE the afternoon and the Radio Disney AM 1110 Road Crew will be on-site with interactive entertainment and prizes. IM5 – the band of five incredibly talented boys and founded by American Idol creator, Simon Fuller, acclaimed tour director Jamie King – will be rocking our stage before digitally releasing new original songs this Summer.
To check out Dana, Gabe, Will, Cole, and Dalton in action please go here to see their profiles.  Official band site here.
Other musical performances include: Jami Belushi, Ava Cardoso Smith, Flyby4, Dominic Scott Kay & Mico Olmos, Lap Band, Rhythm Child and Lucy Thomas.
THE PEOPLE MAKING IT HAPPEN:
Event Co-Chairs: Trisha Cardoso, Mary Kumble, Tracy Rappaport and Shannon Rotenberg.
Hosts Committee Members: Jen Andrews, Lainie Sorkin Becky, Kristen Bellamy, Jenny Belushi, Ana Zorn Berman, Jane Buckingham, Sira Butler, Jill Chayet, Stacy Kolker Cramer, Giada De Laurentiis, Shannon Factor, Kio Grieco, Chrisette Hudlin, Cece Karz, Helen Kinnear, Suzanne Kraus, Wendy Benson Landes, Brittany Lovett, Jennifer Malins, Sarah Moritz, Rachel Shapiro, Andrea Stanford, Hillary Thomas, Candie Weitz, Reese Witherspoon, Christina Zilber.
Guests, families and celebs: Paula Patton & Robin Thicke, Rachael Leigh Cook, Jim Belushi, Lori Loughlin, Cody Simpson, WME Agent Dan Aloni, Lainie Sorkin Becky & Dave Becky, Jane Buckingham, Ever Carradine, Chef Gia De Laurentiis, President of Production at Lionsgate Erik Feig, Barry Josephson, Greg Malins, ICM President Chris Silbermann, Jason Sloane & Embeth Davitz, Matt Tarses, Founder and Chief Executive of Hudson Jeans Peter Kim, Producer Neal Mortiz, Michael Rotenberg, Jeff Garlin and many more.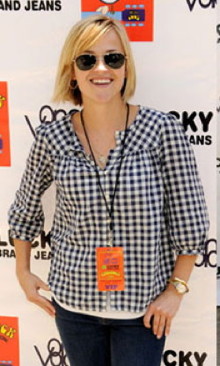 6th Annual Kidstock Music and Arts Festival
Sunday, June 3rd, 2012
Arrivals Begin/Open at Noon
Greystone Mansion
905 Loma Vista Drive/Beverly Hills, CA
BACKGROUND:
The One Voice Scholars Program mentors and prepares low-income and inner-city Los Angeles high school students for college and places them in top colleges across the United States. 100% of One Voice scholars gain admission to college. Under the guidance of One Voice 95% of their scholars graduate from college vs. the national graduation rate of 43% for low-income first-generation college students. 30% of these Scholars attend graduate school.
SPONSORS:
A great deal of appreciation to Hudson Jeans – the coolest premium denim brand who makes this event groove – and sponsors Radio Disney, TOMS, JAKKS Pacific, 3 Arts Entertainment, Baskin-Robbins, Magic Bullet, Sodastream, Creative Artists Agency, WME, UTA, Management 360, Drissi Creative Services, Twentieth Century Fox, Sprinkles Cupcakes and Wasser, Cooperman & Carter, P.C.