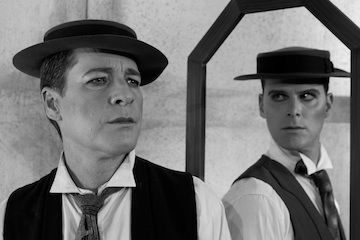 Stoneface; The Rise and Fall of Buster Keaton is now open for your ultimate viewing pleasure over at Sacred Fools.
Review by Lucy Griffin
I had quite the time Friday night basking in the theater glow of unique and inspiringly innovative, Jaime Robledo's intricate direction paired with Vanessa Claire Stewart's writing (charming as it is clever).  From the perfect costume styling by Jessica Olson to the daring moves of Andrew Amani.   From the joyful celebration of Natasha Norman's choreography to the stunning cast this show is a well-oiled machine.
It was an evening of mostly tears for me along with some hearty laughs.  Busting with the seamless magic of theater.  Both acts began with scenes fit to astonish like the effects of a circus.  Only this play focused on perhaps the saddest most gifted clown of our time, Buster Keaton, played by the stoic and beautiful French Stewart who near but broke my heart.  Joe Fria is tender and graceful playing a shadow of what Buster used to be, acting occasionally as his conscience.  Scott Leggett brings an engaging comedic twist to his touching performance of the mostly sad life of Roscoe "Fatty" Arbuckle.  Tegan Ashton Cohan playing Natalie Talmadge is lithe and beautiful, each movement of her body a studied perfection of the times. Joel Daavid's set as usual is a functioning breathing member of the ensemble.  Flawless lighting by Jeremy Pivnick and an incredible live score by the vital Ryan Johnson, making each scene seem risky and yet perfectly timed.
What I find especially exciting about Jaime Robledo is that he is just getting started.  The same goes for the lovely Vanessa Claire Stewart.  Both young in their careers yet both with résumés boasting magnificent feats (Robledo's Saturn Award winning Watson and Stewart's Broadway bound Louis and Keely) LA theatre is lucky to house such staggering talent.
What a way to honor Keaton and bring his story to life.  Bravo to cast and crew on this moving labor of love.  Here's to a successful run!
Stoneface
Written by Vanessa Claire Stewart.
Directed by Jaime Robledo.
Cast:
French Stewart, Tegan Ashton Cohan, Scott Leggett, Jake Broder, Rena Strober, Joe Fria, Erin Parks, Connor Duffy, Pat Towne and Guy Picot.
Sacred Fools Theatre Company
660 N. Heliotrope, Hollywood, CA 90004
Runs: through Sunday, July 15, 2012
(select Thursdays) Fridays & Saturdays at 8.00pm
Sunday matinees at 2pm
Running time:
Approximately 2 hours, including a 15 minute intermission
Tickets: $25.00
Available online or by calling 310-281-8337.
::STOP PRESS::
NEW DATES:
Thursday, June 14th @ 8pm
Thursday, June 21st @ 8pm
Thursday, June 28th @ 8pm
Sunday, July 1st @ 2pm
Thursday, July 5th @8pm
Friday, July 6th @ 8pm
Saturday, July 7th @ 8pm
Sunday, July 8th @ 2pm
Thursday July 12th @ 8pm
Friday, July 13th @ 8pm
Saturday, July 14th @8pm
Sunday, July 15th @ 2pm