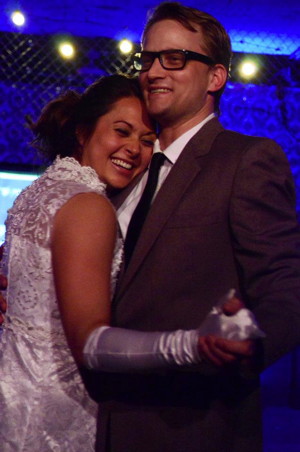 Hello readers!
My theater review this week for the LA Weekly is of The Last Day, an unusual play starring and written by Christina Joy Howard about her father's involvement in the mass evacuation during the Fall of Saigon, 1975.
Now playing at the Loft Ensemble's digs in Downtown LA, until Sunday May 20, 2012.
Click here to go to the LA Weekly's theater page with my review of The Last Day – I gave it a 'Go' – and then scroll way down to find it.
~ OR ~
You can just read it here!!
Happy reading!
 The Last Day
Inspired by her father's crucial but clandestine involvement in the US evacuation of Saigon as it was taken over by the Vietcong (signaling the failure of the Vietnam War), a young woman struggles to capture accurately his personal story as well as bridge their emotional distance.
Piecing together her father Bruce Howard's fraught and patchy memoirs and audio recordings into a play, writer/actor Christina Joy Howard adopts an unusual approach by revealing the creative process to the audience. In addition to (scripted) conversations between her and the cast, we observe reality TV-style "video confessionals" while the actors rehearse. Christina plays herself (the writer) as well as her own mother in scenes that flashback to the sixties and later the fall of Saigon in 1975.
Director Tiger Reel scores unhurried scene changes with a jukebox arrangement of mostly Brit-pop hits from the era, projecting snapshots of Christina's youthful parents and raw TV news footage on a massive and mobile screen.
Unfortunately the panic and desperation of the evacuation is vivid on newsreel but insufficiently present on stage. Despite some overzealous character acting from some of the ensemble, the two leads (Christina and Noah Benjamin playing himself and central character Bruce Howard) give excellent performances.
The Last Day
Written by Christina Joy Howard, directed by Tiger Reel.
929 E. Second St. No. 105,
Los Angeles
213-680-0392
Performances:
Saturdays, 8 p.m.;
Sundays, 7 p.m.
Continues through May 20, 2012.