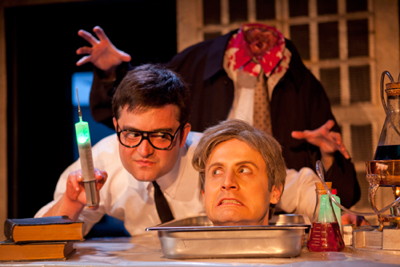 Dear wonderful Subscribers!
I'm announcing a special giveaway for existing and new Subscribers to ArtsBeatLA.com
(Tell your friends!  Become a subscriber to enter – go here to the home page and select "subscribe" at the upper left hand corner, and then follow the instructions.)
The first people to email me stand a chance to win TWO FREE TICKETS to the multi award-winning hit show Re-Animator™ The Musical. [Ticket value $30—$60.00.]
Simply reply to this email ~ OR ~ send me an email via the contact page of the website to enter the draw.
~ also ~
DISCOUNT OFFER:
Use this discount code (008) to save 50% off on select performances*** when ordering your tickets here.
Both deals are good for the first 2 weeks of performances (preview week & then opening week).
Meaning, until May 6, 2012 only.
So hurry!
***Tickets subject to availability***

Valid on performances until May 6, 2012.

Not valid with any other discount.
Greetings, Musical, Horror, Theater, Comedy and Film Fans!
Re-Animator™ The Musical has been re-animated once AGAIN!
After a highly successful premiere run last year, the show is set to start a brand new engagement at The Hayworth Theatre near Downtown Los Angeles (10-week run only; then off to New York and the Edinburgh Fringe Festival).
Re-Animator™ The Musical. opens on May 3, 2012, with performances Thursdays through Sundays:
– previews: Thu. 4/26 – Sun. 4/29 + Wed. 5/2
 – runs: Thu. 5/3 – Sun. 7/8
– times: 8:00pm [Thu., Fri., Sun.] & two shows on Saturdays: 7:00 & 10:30pm
Re-Animator™ The Musical recently swept the LA Weekly Theater Awards, winning six of its eight nominations including "Musical of the Year."  It also garnered 2011 Ovation and LA Drama Critics Circle awards.
Re-Animator™ The Musical's original cast is back for the new run, including George Wendt, who is best known as the affable Norm from the television show Cheers.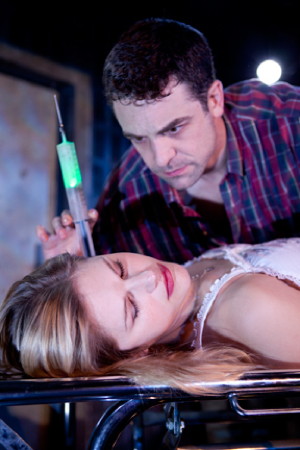 Re-Animator™ The Musical.
Limited 10 week engagement of the award-winning musical hit before leaving for runs in New York and Edinburgh.
Book by Dennis Paoli, Stuart Gordon and William J. Norris. Music and lyrics by Mark Nutter. Adapted from the story by H.P. Lovecraft. Based on the film H.P. Lovecraft's Re-Animator produced by Brian Yuzna.
The Hayworth Theatre, on the main stage,
2511 Wilshire Blvd.,
Los Angeles, CA 90057.
WHEN: Previews April 26- 29, plus Wednesday May 2 at 8 p.m.  
Opens Thursday, May 3, 2012
Runs through July 8, 2012.
Thurs., Fri. and Sun. at 8:00pm
Sat. at 7:00 and 10:30pm
ADMISSION: $35- $60. Previews $30- $55.
RESERVATIONS: (323) 960-4442.