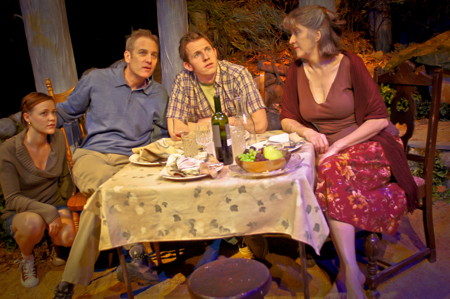 ::LAST WEEKEND::

Final extension of this successful season — this exceptional play must close Saturday, April 28, 2011.
Four dinner plates, a flash of gold at the ears, a lingering kiss, a bottle of scotch, a swipe of color on a tarpaulin… The clues are all there. In her thrilling two-act play Theresa Rebeck allows the right amount of foreshadowing. The Water's Edge marches along with a degree of inevitability, because it's certain things are not going to end well.
But no matter what we divine, the beauty of Rebeck's craft is the thrill of watching this intensely raw family drama unfold.
When a man estranged for 17 years from his (now grown) kids and wife shows up to reclaim his old family home, unsurprisingly he is not welcomed with open arms. Now a wealthy investment manager, Richard (Albie Selznick) encounters a hostile daughter Erica (Paris Perrault) – no doubt poisoned against her father by her mother Helen (Nicole Farmer), whose blistering fury is still aflame, even after so many years have passed. Of course, bringing along a much younger girlfriend Lucy (Lauren Birriel) doesn't help matters with the women. Then there's his goofy college dropout son Nate (Patrick Rieger) – a sensitive, inarticulate fellow who seems to lack ambition of any kind. There's an indication that the kids may have known that their long-absent father still provided for them, but that's all they knew of his attempts at contact over the years.
As Richard tries to bond with his kids and reason with his incensed wife, Rebeck lets an old crime resurface halfway through Act One to explain the antagonism. But that's not all she reveals in Act One, which ends with an alfresco dinner party from which Lucy has been excluded. Curiously, the tone of the play seems to have softened during our intermission, and by the opening of Act Two, the family appears to be getting along well and coalescing once again. Or are they?
Like Mauritius and Poor Behavior, Rebeck's ear for naturalistic dialogue, well-observed inter-gender argument rhythms and credible plotting is once again on display. Rebeck captures the extreme awkwardness of the early scenes but the pace soon picks up and her pointed dialogue finds its fluidity and stride. She doesn't just focus on piecing together a shattered family either, she also gives insight into the mindset of the younger girlfriend Lucy, revealing how and why she'd date a twenty-years older man. In a lesser playwright's hands this character would merely have been an incidental figure.
Company Co-Artistic director Sam Anderson directs his well-selected cast with a sure hand, and everyone gives superb performances. With its wild and lush canopy of leaves, the magnificent and detailed set, designed by Desma Murphy, beautifully recreates the back porch and sandy pebble strewn back yard, ringed by tall trees, of this idyllic lakeside home in Neponset, Massachusetts.
The Water's Edge is a powerful and thrilling drama with echoes of classic Greek tragedy. Don't miss this play!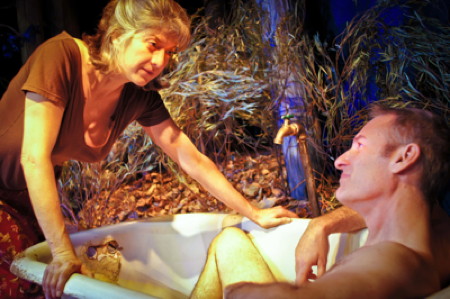 The Water's Edge
The Road Theatre Company
Located two blocks south of Magnolia Bl. in the historic Lankershim Arts Center,
5108 Lankershim Boulevard., in the heart of North Hollywood's NoHo Arts District.
Performances:
Runs until Saturday, April 28, 2012
Friday & Saturday at 8pm
Running time:
Approximately 2 hours, and 20 minutes, including a 15 minute intermission
TICKETS:
$20.00 – students and seniors
$25.00 – adults
Box Office:
Purchase tickets online here or by calling (866) 506 1248
Check their website for ***Pay-What-You-Can Nights***
ABOUT THE ROAD THEATRE:

Founded by Taylor Gilbert in 1991, The Road Theatre Company has amassed more than 130 regional theater awards and is helmed by Artistic Directors Taylor Gilbert and Sam Anderson, and Corporate Board President Ian Bryce. Celebrated for its commitment to the most meaningful and dangerous of theater missions – New Work for the Stage, The Road Theatre Company also remains committed to community service and is the resident company in charge of the Historic Lankershim Arts Center and its programming. Please visit The Road Theatre and the Lankershim Arts Center.