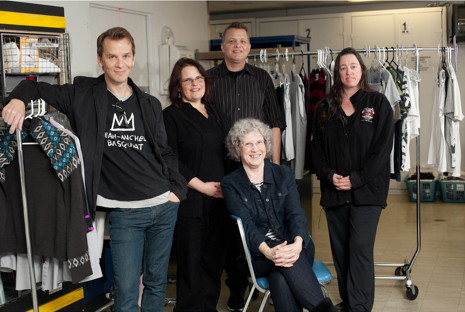 Gentle Readers,
Below is a link to my in-depth article for LA Stage Times where I sat down with a quintet of costume dressers to discuss their craft and hear their stories.
Go here to read it.
Enjoy!
~ OR ~
You can just read it here!!
Happy reading!
Dressing (Actors) for Success.
Sometimes actors are tempted to swear at their dressers, but more often they swear by them.
Costume dressers are those quiet backstage heroes who bring a unique combination of talents to their craft. In addition to basic sewing skills, these crew members must have the ability to maintain a calm and professional demeanor while assisting with dressing performers and facilitating quick changes, which are often high pressure, stressful and frantic. Eagle-eyed attention to detail is also essential to the job. But there's a deeper level of this occupation that many consider a calling.
At last year's Tony Awards, triple-threat performer Sutton Foster won the Best Actress in a Musical award for playing Reno Sweeney in Anything Goes. But what struck many viewers were Foster's heartfelt remarks about her dresser, Julien Havard. Toward the end of her thank-yous, Foster mentioned that Havard was about to focus on making his own artwork. "He has been my dresser for nine years," Foster said, sobbing, during her emotional acceptance speech. "We've done six shows together…and now he's leaving me—which is great!" In a few sentences, Foster granted us an insight into this special relationship many actors share with their dressers.
A quintet of these professionals is presently working for Center Theatre Group, but each has dressed performers all over the world. All five dressers worked on the American Idiot tour at Ahmanson Theatre and are set for CTG's upcoming production of Follies.
Who are these unsung assets to the theater? In addition to almost 20 years of experience as a dresser on Broadway, on Oscar-winning movies such as As Good As It Gets, and in fashion, Michael Gardner currently holds the position of wardrobe supervisor for the Ahmanson and works there alongside his team of dressers. Mary Basile has worked in theaters big and small and also for many years at Universal Theme Park. Gary Marthalar was songwriter-performer Barry Manilow's dresser for a number of years. Kathleen Melcher has more than three decades' experience in the business, including touring for a dozen years with Les Misérables as its wardrobe supervisor. In addition to theater work, Marisa Ward has toured internationally with rock bands including Aerosmith and Cinderella, and with Stevie Nicks.
Zip and Clip
What, exactly, does a dresser do? Gardner answers confidently and clearly, "Our job is to make sure that the costume designer's vision shows up on the performers each and every night, exactly as they've designed it." Adds Basile, "I tell people I assist the performers in and out of their costumes as needed during the performance to keep things running smoothly and keep the show going." Says Melcher, "It's also our job to make sure that the actors are all dressed and on time and ready to go onstage."
Ward points out that a lot of shows include wardrobes that require maintenance, noting, "Sometimes there's day work that needs to be done—like mending, beading, gluing, shoe painting. That's a pretty big part of our job."
Dressers need to forge a high level of intimacy and trust with their charges, sometimes fairly quickly. After all, dressers will frequently see performers at their most naked or vulnerable.
Explains Gardner, "The second-largest part of our work, because it is so intimate, is being adept at seeing where the performer is every single day," being able to tune into the performer's mental state. "That's perhaps a larger aspect of working with a star, or a person of note in the show, because there are so many pressures and expectations added to their performance alone. But that can go for anyone in a show. You can have a performer come in and they're concerned about their voice that day, or they may be harboring an injury. So you want to facilitate that so that they can stay in top shape to get on stage." Gardner says he sometimes calls the ability to quickly tune into the actor's emotional state a "psychic awareness."
Adds Marthalar, "You may be able to pick up on an actor's mood just within a few seconds of meeting or seeing them that day. You have to tap into that almost immediately. They might not want any talk or chatter whatsoever; the next day they want to carry on a 20-minute conversation with you." Says Gardner, "One day you're the brother, one day you're the dad, the mother, the errand boy…."
A large part of each dresser's skills set is handling emergencies as calmly and efficiently as possible. Gardner describes a typical scenario, "If they come off stage for their minute-and-a-half quick change, and suddenly there's a sound guy there who needs to change their mike right now, you need to facilitate everything all at once. Assist the sound man, do the costume change, get them their drink of water or cough drop if they need one, get them dried off, changed and looking good, and make them feel safe so they can continue to focus on their next scene, line or dance number and deliver their best onstage. They need to feel that trust, that you are going to be their harbor and protect them so they can do their job."
Backstage Confidential
The tricky part of a dresser's profession is so much more than dealing with an actor in various stages of undress. A high level of discretion is required. As Melcher emphasizes, "You don't take anything out of the dressing room. You are going to hear the strangest things—their personal lives, their loves—and it's all got to stay private. You're a quiet confidant."
Adds Marthalar, "Sometimes you may be in the room while your actor is discussing business with their agent or manager, carrying on personal conversations. You kind of tune it out and continue doing your job."
Experienced actors are presumably well-versed in the actor-dresser relationship. But how do they establish this level of trust? Says Basile, "If you have someone who is not used to being taken care of by a dresser, you can explain to them what it is that you do, what you are there for, and ask them about their needs. You start a dialogue with them."
"A big part of it is how you show up and physically present yourself, in your treatment of and interaction with them, right off the bat," says Gardner.
Immediately in their relationship, the actor and the dresser must learn to deal with nudity. "Boundaries also need to be set, such as what you are there to do for them and what you are not there to do," says Gardner. "That can all be established quite quickly in an intimate environment. We joke that frequently there's this natural thing that happens when you're working with someone who is naked, and it's almost as if you see their body with those black lines across them, like on a television show. When you hold that in your mind, you are giving off a natural emotional tone that lets them know, they may be naked and in close proximity, but you're protecting them because you're not acknowledging that nakedness."
Once the actor picks up on that vibe, he or she feels safer and more relaxed, and that builds the trust more readily. Adds Melcher, "If you're nervous­­—oh, it's a big star!—or if you go in there with a confidence, too, they're going to feel that right away. They will take their cues from your demeanor; the minute you walk in there, you can help set the tone."
Tools and Spools
Throughout the performance, Ward wears a short apron with two deep pockets. Inside are handy items such as a small pair of scissors, mini sewing kit, threaded needles, safety pins, sticky tape, flashlight and so on.
"I don't particularly like aprons because we have to bend down a lot," says Marthalar. He prefers to wear a vest with pockets. Gardner keeps things stashed in lots of little cubbyholes nearby where he knows he can grab what he needs. "I keep Marisa nearby, as well!" he jokes.
Then there's the instance when the performer asks for something—like an elastic band— that isn't at hand. Gardner says he often takes the MacGyver approach to theater: "If a shoe comes apart, what do I have on me right now to fix that in two minutes?" He says most astute dressers can sufficiently mend almost anything to last for a brief scene.
Disasters Averted
Although the dressers undoubtedly prefer uneventful shows, their near-misses make the best storytelling.
Marthalar recalls working on The Royal Family in 2004 at the Ahmanson Theatre. "It wasn't a musical, which means you have to pay even more attention," he says. "With a musical, they're not going to miss a song and all of a sudden be four scenes ahead." During this performance, a phone cue didn't sound, and suddenly the actors jumped ahead, omitting several pages of dialogue. "I was in the upstage quick change area. My actor came offstage saying, 'What's going on?' and I said, 'Sit down! Don't talk! Take your clothes off!'" Suddenly faced with very little time for a complete costume change, Marthalar changed his actor out of his lounging pajamas and into his traveling clothes and sent him back on stage in time for the next scene.
Melcher recalls previews of A Doll's Life in 1982 at the Ahmanson. "Everybody knew it was a doomed show from day one, unfortunately, but it was huge, and we had to try to make the actors feel like it was wonderful every single night," she recalls. "There were a lot of big ball gowns with hoop skirts, all puddled together upstage left. I was dressing the leading lady, and I was in another spot, then moved back to put her into her dress, which I had preset, and her dress was gone." One of the other cast members had come off stage and stepped into the wrong gown. "I knew I had to put Betsy [Joslyn, the star] into something, so I simply had to grab the next possible dress and put her into it, and that girl [an ensemble player] just didn't make it on stage for that scene."
Basile recalls working on an opera when disaster struck. Just as the lead was about to walk on stage, the zipper on her dress broke. Basile laughs, recalling, "I was literally walking behind her, sewing her into the dress so she could make her entrance."
Ward chuckles when she confides, "There's been more than a few times I've had to put my hands in a man's pants when sewing them. Rock stars, usually." She means Steven Tyler of Aerosmith in particular. "They're about to go on and don't have time to take them off because the pants are very tight. And they don't usually wear underwear."
Gardner recalls numerous instances of "sewing someone back into their costume at the last minute so you can send them onstage for the Jellicle Ball." He worked Cats in New York at Winter Garden Theatre and remembers several occasions when a dancer would throw his or her leg over Gardner's shoulder as he was gingerly sewing up the costume's crotch as quickly as possible.
But Gardner's Broadway debut could be his most hilarious story. "For The Scarlet Pimpernel, there was a giant scrim upstage, and all the women had just finished performing in these 6-foot-wide pannier dresses [large hoop skirts]." The massive dresses were so voluminous they needed to be hung on a fly rail and flown out when they weren't being worn. For the costume change, Gardner had to stand upstage, facing away from the audience, he and his charge hidden by the scrim. "I joked that if the scrim didn't come down, we would have to turn and wave at the audience, and I would get to take my Broadway bow." Of course one night that's exactly what happened.
"We were talking and laughing away, as usual, during the costume change," Gardner continues. "It's one of those times when everything goes into slow motion. I saw everyone to the right and left of me diving out of sight into the wings, wearing these giant pannier dresses and screaming and waving at the female singer and me. We were like, 'Whaaaaaaaat?!'" Exposed to the audience, Gardner says, he could do nothing but casually stroll off stage. Now, he says, "That might be one of my favorite theater moments ever."