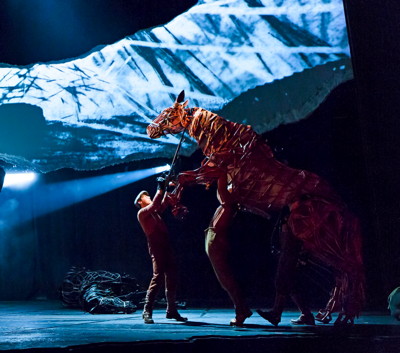 Hello dear readers,
Below is a link to my in-depth article for LA Stage Times where I chatted with the three stars of the Broadway musical, War Horse.
Andrew Veenstra plays Albert Narracott, and Todd Cerveris and Angela Reed play his parents, Ted and Rose Narracott.
You can go here to read it.
~ OR ~
You can just read it here!!
Happy reading!
Playing the Human Family Behind War Horse
"The minute the show kicks off, you're moving — it's like a freight train. You're grateful for that 15-minute intermission, just so you can catch your breath, then it powers back up again." Young actor Andrew Veenstra is describing War Horse. He plays the pivotal role of Albert in the West Coast premiere of the Tony-winning stage spectacle, opening Friday at the Ahmanson Theatre.
The play is essentially a love story between a boy and his horse. Full-sized puppets  play the horses.
Young adult fiction writer Michael Morpurgo's best-selling 1982 novel War Horse was first adapted for the London stage by playwright Nick Stafford, in association with South Africa's Handspring Puppet Company. The production received its premiere at the National Theatre of Great Britain's Olivier Theatre in 2007, then returned to the National in 2008-2009 before transferring to the West End's New London Theatre in spring 2009.
Its epic story about the sacrifices of love appealed to Hollywood filmmaker Steven Spielberg, who experienced the play in London. Spielberg worked with screenwriters Lee Hall and Richard Curtis to adapt the story as a naturalistic drama for the screen, commencing filming a mere seven months later. Spielberg's 2011 movie went on to be nominated for six Oscars (but won none).
The stage adaptation that opened in London in 2007 is probably best known for its puppet design by Basil Jones and Adrian Kohler.  Making its transfer to the States, the intricate production opened at Lincoln Center's Vivian Beaumont Theater on April 14, 2011. It went on to score five 2011 Tony Awards, including Best Play. The play's West End and Broadway productions were directed by Marianne Elliott and Tom Morris, with "horse choreography" by Toby Sedgwick.
Veenstra's Albert is the English boy who forms a deep bond with his beloved horse, Joey. At the outbreak of World War I, Albert's handsome horse is sold to the cavalry and shipped to France and to the treacherous mud-soaked trenches of the battlefields. Despite being too young to enlist in the British Army, Albert embarks on a dangerous mission to find his horse and bring him back to their idyllic home in Devon.
Once in France, Joey is soon caught up in the horrors of warfare. We follow the horse's journey as he serves in the cavalry units of both the British and German armies and befriends another army horse named Topthorn.
Now 25 years old, Veenstra's first acting experience was in the third grade. Drawn to the stage, he performed in plays and musicals throughout high school and college. He went on to study piano performance at the Eastman School of Music in upstate New York and later studied neuroscience at Brigham Young University. That's where Veenstra delved into performing in on-campus productions such as A Midsummer Night's Dream and The Seagull. "I kinda blew up a little bit. People were asking, 'Who is this guy?'" He says he lived in the world of classics for a while before appearing in new works, but he contends that "Originating a role is the best."
Following his graduation from Brigham Young with a BFA in Acting, Veenstra moved to Manhattan and has been steadily working as an actor for the past two or so years. "I've done Hamlet and Two Gentlemen of Verona at D. C. Shakespeare Theatre and I also worked on their world premiere of a David Ives play — I've been blessed to have had a lot of opportunities."
Veenstra says he was excited when he was approached for War Horse, but he had to consider the length of the touring commitment. He has initially been contracted for a year. "It's a great opportunity to tell this story to people who can't get to New York and to bring the magic that is War Horse to everyone else. It's one of those once-in-a-lifetime chances so I couldn't say 'no' to being able to play this role."
The production has been re-staged and re-blocked to suit the proscenium of the Ahmanson, as opposed to the theater-in-the-round staging at the Lincoln Center. Veenstra adds that the tour's script also varies from the New York and London productions. "It's a different show and we do it a different way."
As most people hear about War Horse and immediately think of Spielberg's film, Veenstra emphasizes the dissimilarities, insisting, "The stage play is very different from the film because of the puppets, that are just unbelievably beautiful and amazing.
"The character that I play, Albert, is a boy who lives on a farm in the south of England. He has a simple life. It's 1914, just before World War I." A bit of a loner, Albert finds solace in a relationship with a baby horse. "It's his first deep connection with anyone or anything. They become inseparable friends and grow up together. They fall in love and spend every waking minute together. As adolescents, they go through some rocky times. And then World War I hits."
Albert's father Ted Narracott, played by Todd Cerveris, sells Joey to the cavalry for the war effort and obtains a handsome fee. "Joey becomes this officer's horse and Albert has no say in the matter." The separation and the thought of his horse out there in the war zone become too much for Albert, who goes in search of his childhood companion.
Adds Veenstra, "At the beginning it's a story of the boy and his horse. After that separation happens, it becomes two stories of Albert trying to find Joey and Joey trying to survive and re-unite with Albert."
The two main horses, Joey and Topthorn, are each operated by a trio of puppeteers. There are also three separate teams of these trios. Veenstra says the puppeteers' costumes blend with the horse designs, but the production is not trying to hide the puppeteers. "They actually went a different way, by acknowledging their presence so that you then forget they are there, and that happens within seconds." He marvels, "The first time in rehearsal when the people got into the horse, immediately it became a living, breathing horse. It's absolutely incredible." Veenstra says everyone — not just the puppeteers — invest the horse with emotion. "Joey is never anything but Joey. We don't refer to him as a puppet."
Additionally, with three separate teams operating Joey, his performance changes from day to day. "At any given time he can do anything. You have to be alive and in the moment every single night," Veenstra explains.
Embarking on a grueling emotional journey has offered its challenges for the young star. Veenstra laughs when he confesses, "I cry all the time in this show!"  By the final curtain, "when it all comes together, we — like the audience — have all been on this journey. We've all been in the trenches of World War I, in the mud, seeing our friends die… This show is so special and unique."
The stage show features a large ensemble of characters and a cast numbering nearly 30.  Almost all of them whose path crosses that of Joey forge their own connections with the noble creature at the center of this tale.
Playing Veenstra's farmer parents, Rose and Ted Narracott, are Angela Reed and Todd Cerveris, who happen to be married in real life.
Speaking of the director of the touring production, Bijan Sheibani, Reed laughs as she recalls, "The casting director knew we were a couple but I think it was forgotten at some point. Bijan said on the first day of rehearsals that he didn't know when he cast us that we were married."
Jokes Cerveris, "Strangely we had great chemistry!" Celebrating their eight-year anniversary on the day of the interview, the two of them explain how they first met in grad school while they were dating other people. Five years later they re-connected at a workshop at Lincoln Center and embarked on a love affair.
This is not the first time they've been cast in the same show. They performed Lanford Wilson's two-actor Talley's Folly together in Vermont. Jokes Reed, "That was a real test of our marriage — but we succeeded!"  They also both appeared in the Ahmanson's LA premiere of the musical Spring Awakening in 2008 and in Tracy Letts' August: Osage County at the Old Globe Theatre in San Diego last year.
They both seem happy about the prospect of touring. Reed smiles as she describes the scenario. "It's fine, especially because we get to be together. We have our dog and we pile into the car and we're all together." They seem fairly proud of their dog, named Butley, who is an American Staffordshire terrier. "He's a big-headed pit bull and he's adorable and sweet," gushes Reed. "The cast loves him and he loves touring. He really is a people dog."
Besides their primary roles as Albert's parents in Devon, Reed and Cerveris are enlisted to perform other roles throughout the play. Reed says she plays three different male soldiers in the course of the two-hour show.
"Horribly wounded soldiers," Cerveris hastens to add.
Says Reed, "I change costumes about eight times. That's why it feels like such a great ensemble piece because the whole company — even Andrew, who plays an wounded English soldier at one point — double up on roles."
Cerveris says they all spend much of the show doing quick changes in the wings. "We're basically trying to portray a world war, so we need people."
Adds Reed, "We have these fabulous masks that we wear when we're wounded and so it's a little bit stylized."
After the Los Angeles engagement, the North American tour is scheduled to visit numerous cities, including Segerstrom Center for the Arts in Costa Mesa, Jan. 22-Feb. 3.
"I love it," Reed says. "When the show begins, we all get on this bullet train, and you gotta stay on it. I feel like we're all in this together."
War Horse, Ahmanson Theatre at the Music Center, 135 N. Grand Avenue, Downtown L.A. 90012. Opens Friday at 8 p.m. Tues-Fri 8 pm, Sat 2 and 8 pm,  Sun 1 and 6:30 pm, Thur 2 pm on July 5, 19, 26. Dark July 4, and no 6:30 performances on Sun July 22 and 29. Closes at the July 29 matinee. Hot Tix: $20 each may be purchased in advance or, subject to availability, on the day of performance at the box office (no checks). www.CenterTheatreGroup.org. 213-972-4400.
***All War Horse production photos by Brinkhoff/Mogenburg