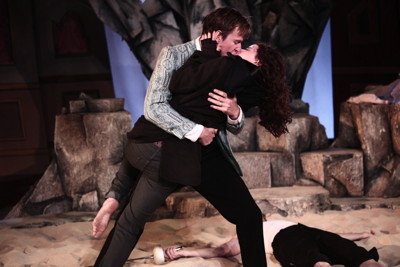 Dear readers!
My theater review this week for the LA Weekly is of Shakespeare's classic comedy 12th Night.
Click here to go to the LA Weekly's theater page with my review of 12th Night, now playing at La Cañada Flintridge and then scroll down a little bit to find it.
~ OR ~
You can just read it here!!
Happy reading!
12th Night
For their summer Shakespeare Festival in La Cañada Flintridge, Vanguard Rep offers a high altitude, open-air theatrical experience in their concrete amphitheater (cushions essential). The cast races barefooted through the central sand pit set and competes with chirping crickets while the audience is dive-bombed by massive grasshoppers and inquisitive June bugs.
Ingeniously, Vanguard Rep pares down the Elizabethan text to its essentials (poetry intact) to deliver an uninterrupted 80-minute show. Playing in rep with Juliet and Her Romeo is 12th Night – another one of the Bard's rather familiar and lightweight comedy romances centering on unrequited love, mistaken identities and a lost twin. A subplot sees a trio of drunken pranksters scheming to embarrass the pompous buffoon Malvolio (Michael Faulkner). Corey Sorenson gives a flamboyant performance as Duke Orsino while Jen Faith Brown as his initial object of desire, Countess Olivia, overdoes her giggling rapture. Original songs sung a capella by the fool character Feste (Matthew Bohrer) are delightful.
La Cañada Flintridge Shakespeare Festival
12th Night and Juliet and Her Romeo
Byrnes Amphitheater, Flintridge Sacred Heart Academy,
440 St. Katherine,
La Cañada Flintridge
Playing in rep. Thursdays—Sundays, 8:30 p.m.
Continues through Aug. 5, (818) 745-3327