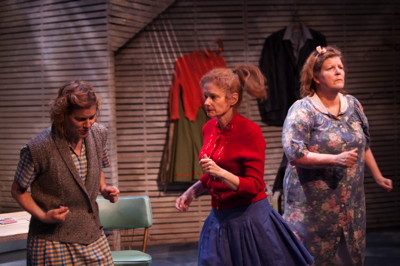 Sisters Breda (Lisa Pelikan), Clara (Casey Kramer) and Ada (Betsy Zajko) are stuck living in an isolated fishing village on the west coast in Ireland with no escape. The trio is haunted by their past memories and so to pass the time, they compulsively relive the era when their adolescent dreams were crushed and conflicting hopes for romance snuffed out. Trapped in a cyclical storytelling of their past, these women seem on the verge of mental insanity. Together they find comfort in "the pattern of things."
Every now and again (we soon come to realize it's on a daily basis) local fishmonger Patsy (Tim Cummings), bursts in with his fish delivery, eager to share gossipy tidbits, but for the most part he is swiftly shooed out the door, despite his protestations and Ada's unspoken yearning for him to stay and chitchat.
Eventually we piece together an important incident that links them all that dates back to their visit as teenagers to the exciting new dance venue, the "electric ballroom."
It takes a bit to get into the rhythm of Enda Walsh's unusual play, as well as some effort to decipher the thick Irish brogue that flavors the women's ranting, but once you do, The New Electric Ballroom certainly has its rewards. There are several moments of laugh-out-loud humor, all the more hilarious from their unexpected nature.
While there's a harsh, extreme and stylized aspect to the text, the language and metaphors recall the poetic language of Samuel Beckett and at times evoke the rhythms of Dylan Thomas; Walsh's domestic drama effortlessly taps into the rich heritage of his Irish forebears.
The cast of four, as directed by John Perrin Flynn, is uniformly good but Cummings does shine towards the end when he demonstrates a surprising talent.
Stephanie Kerley Schwartz (scenic design), Hillary Bauman (scenic artist) and Tyson Tyrrou (scenic carpenter) all deserve a mention for creating a wholly believable set of a cottage made with wooden slats. Adam Phalen's sounds design and the lighting design by Leigh Allen are also noteworthy for the sensitive way these elements ebb and flow with the poetry.
Production photos by John Flynn.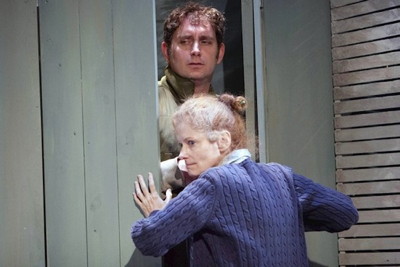 The New Electric Ballroom
5041 Pico Blvd.,
Los Angeles, CA 90019
Performances:
Runs through July 30, 2012
Saturdays at 5pm,
Sundays at 7pm
Mondays at 8pm
Running time:
Approximately 90 minutes, no intermission
TICKETS:
$30.00
Box Office:
Reservations: 855-585-5185 or online here.