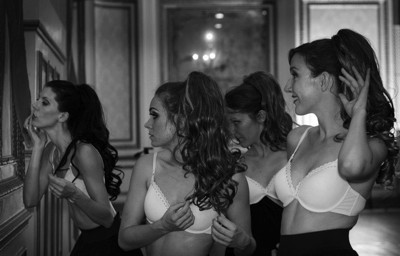 ::STOP PRESS::

CARPE NOCTEM ('seize the night') will be performed at the ASYLUM THEATRE, 6320 Santa Monica blvd, Hollywood CA, at 7.00pm on

Saturday July 28, 2012.
Feathers, sheer white chiffon, frilly can-can skirts, sequins, bling, fishnets and thong bikinis – CARPE NOCTEM ('seize the night') is an intimate evening of authentic French Cabaret dance numbers with a little comedy. Five sensual Parisian cabaret dancers, each with individual personalities, perform classic showgirl routines to the music of Max Raabe, Juliette Greco and Enoch Light, among others.
Choreographer and French cabaret dancer Lola OhLaLa brings an extensive background performing and studying in France to present a production brimming with a corps of talented and sexy dancers, all sultry smiles and seductive, heavy-lidded glances.
For forty minutes, five très jolie ingénues with masses of curly ponytails strut, dance, smile and pout their way through several dance routines, sometime lip-syncing to the classic French tunes such as Edith Piaf's I Love Paris in the Springtime.
Unfortunately the teeny tiny stage of the Underground Theatre, on North Wilton in Hollywood, definitely cramps their style and flourishes, restricting their high kicks and swirls to too tight quarters. Yet they women execute numerous flying leaps into the splits for the big, swishy can-can finale.
Photos by Jeremy Schoen.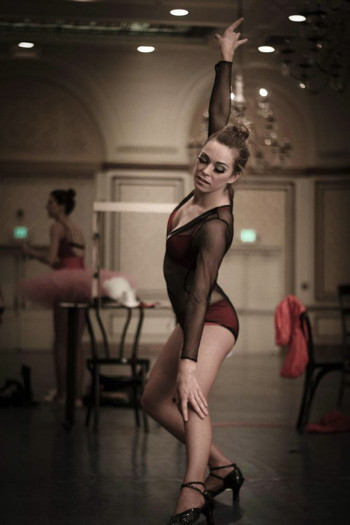 For more information on all Hollywood Fringe Festival plays, visit their official site.
What the other critics are saying:
Sharon Perlmutter over at TALKIN BROADWAY.COM, has reviewed a handful of shows so far. Click on this link to see her reviews of The Secret of Sherlock Holmes, The God Particle Complex, Speed Merchant (of Venice) and Tape.
Dany Margolies has a handful of reviews out — read them here.
And here's an updated show list of my reviews. Click on the active links in the play's title to go to its review page.
ArtsBeatLA HIT LIST:
FRIDAY, June 8
SATURDAY, June 9
NO WAY AROUND BUT THROUGH – Falcon Theater, Toluca Lake (not Fringe)
SUNDAY, June 10
JENNIFER ANISTON STOLE MY LIFE – unreviewed
FRENCH CABARET – CARPE NOCTEM
Tuesday, June 12                          
BEFORE THE RED TREES COME        916A Formosa
FRIDAY June 15
MIXED PERSONALITY DISORDERS – Theatre Asylum
POOL (NO WATER) – Flight Theatre at The Complex
FILTHY LIARS – The Complex – East Theater
SATURDAY June 16
THE NEW ELECTRIC BALLROOM – Rogue Machine (not Fringe)
WHERE THE GREAT ONES RUN – Rogue Machine (not Fringe)
4 CLOWNS: THAT BEAUTIFUL LAUGH – Open Fist Theater
MONDAY, June 18
RED BASTARD – Artworks Theatre & Studios
TUESDAY, June 19
MILLION DOLLAR QUARTET –Pantages
FRIDAY June 22
ALTARCATIONS  – Actor's Circle Theatre
LOST MOON RADIO – Fringe Central Mainstage, Open Fist Theatre Company

TAPE – Artworks Theatre
SATURDAY June 23
MISSION TO MATE – Theatre Asylum