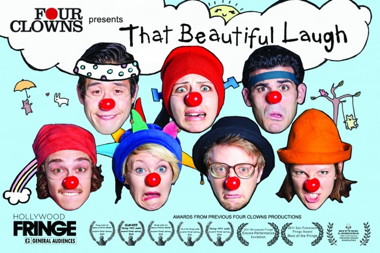 At last Saturday night's 10pm Fringe performance of Four Clowns: That Beautiful Laugh, at Open Fist Theater in Hollywood, I found myself sitting in a large audience of about 200 people all set for a hilarious good time. To the extent that they laughed uproariously at Artistic Director Jeremy Aluma's not-at-all-amusing introduction that explained that this show was the Four Clown company's first foray into children's theater. Even Aluma seemed surprised, commenting, "Wow, you guys will laugh at anything!"
And laugh at anything this crowd did.
Four Clowns: That Beautiful Laugh has a cast of seven clowns who, following an extremely brief shadow puppetry intro of a rocket ship leaving the earth, individually emerge from a trunk. As each colorfully dressed, red-nosed clown takes the stage, they become frightened by the appearance of the next clown. This entails lots of yelling and falling over. Backstage one of the unseen clowns is playing a sweet tune on a mouth melodeon. There's some business of childlike wonderment as the clowns explore their strange environment. Later they overcome their fear of the audience and try to make friends with them, clambering over seats and into people's laps.
An old man clown picks up a book and starts tremulously to tell a tale of a time when people forgot how to laugh. This is apparently the premise for the show, but after this intro is spoken, the storyline is dropped, never to return. Instead we get a lot of yelling and a series of pointless pratfalls – not even clever or skillful ones, either. At one point the clowns discover 'noise' and begin to experiment with foot thumping that almost arrives at a 'Stomp'-style percussion sketch. Almost…
Apart from the 'old man' clown (Marvin – played by Andrew Eiden) there was little delineation in personality between the seven clowns. Even their costumes and hats were confusingly similar. For example, one clown Robecca [sic] (Bri Price) wore stripey pants and a beanie whereas another wore plaid pants and a felt hat… One clown had a trumpet. Raymond Lee played a fey clown called O'Precious. Loretta (Lis Roche Vizcarra) wore a cute and multicolored 'medieval jester's' hat with tiny bells at the end of each point, but inexplicably returned to the stage minus this distinctive hat for a good portion of the hour-long show. Why?
Four Clowns: That Beautiful Laugh basically consists of random nonsense, half-baked ideas and undeveloped, messy almost-routines that lack focus. For a show for kids, I craved the simplicity of The Wiggles or Bananas in Pajamas or even the Teletubbies! At least the Troubadour Theater Company has clowns who demonstrate training and comedy skills.
One sketch involved one-upmanship as two clowns try to outdo each other with increasingly large red noses. The old man clown does a coin trick. O'Precious does a hula-hoop stunt and later does a great version of Satchmo (Louis Armstrong). A Three Stooges-style routine of inflicting pain and beating each other up does not seem suitable for kids.
None of these fragments of sketches is especially funny, nor skillful.
I did enjoy the simple 'Houdini' trick of making clowns disappear behind a blanket and the shadow puppetry sequence about 'Scarywood', but even that sequence was monosyllabically narrated by O'Precious. Lame!
Worst offence of all is the grief-stricken FUNERAL at the end of the show. Really guys?  You couldn't bring the missing-supposedly-dead clown back to life through the magic of theater?!  You honestly think a show for kids – any show – ought to have such a downbeat ending?
I may have smiled once or twice but Four Clowns: That Beautiful Laugh was not funny enough to elicit a single if Beautiful Laugh from this critic. And believe me – I love to laugh!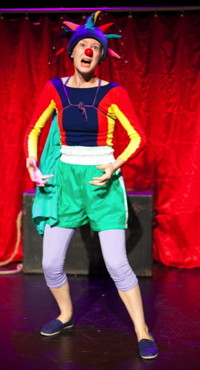 For more information on all Hollywood Fringe Festival plays, visit their official site.
Here's an updated show list of my full length reviews. Click on the active links in the play's title to go to its review page.
ArtsBeatLA HIT LIST:
FRIDAY, June 8
SATURDAY, June 9
NO WAY AROUND BUT THROUGH – Falcon Theater, Toluca Lake
SUNDAY, June 10
JENNIFER ANISTON STOLE MY LIFE – unreviewed
Tuesday, June 12
BEFORE THE RED TREES COME 916A Formosa
FRIDAY June 15
MIXED PERSONALITY DISORDERS – Theatre Asylum
POOL (NO WATER) – Flight Theatre at The Complex
FILTHY LIARS – The Complex – East Theater
SATURDAY June 16
THE NEW ELECTRIC BALLROOM – Rogue Machine (not Fringe)
WHERE THE GREAT ONES RUN – Rogue Machine (not Fringe)
FOUR CLOWNS: THAT BEAUTIFUL LAUGH – Open Fist Theater
MONDAY, June 18
RED BASTARD – Monday June 18 at 8pm
Artworks Theatre & Studios – 6569 Santa Monica Blvd., Los Angeles
TUESDAY, June 19
MILLION DOLLAR QUARTET –Pantages
FRIDAY June 22
ALTARCATIONS by Steve Julian – Friday June 22 at 5:00pm  – 85 mins
Actor's Circle Theatre – 7313 Santa Monica Boulevard, Hollywood
LOST MOON RADIO – Friday June 22 at 8:00pm – 1 hr
Fringe Central Station – Fringe Central Mainstage
Open Fist Theatre Company, 6209 Santa Monica Blvd., Hollywood
TAPE – Friday June 22 at 10:00pm
Artworks Theatre – 6567-6585 Santa Monica Boulevard, Hollywood
SATURDAY June 23
GUMSHOE – Saturday June 23rd at 1pm  (1 hour)
Theatre Asylum – 6320 Santa Monica Blvd
NATASHA MAIL ORDER BRIDE ESCAPE TO AMERICA! – Saturday June 23rd, 4.30pm – 40 mins
Complex Theatres – 6476 Santa Monica Boulevard
MISSION TO MATE (Bitter Colin) – Saturday June 23rd at 5.30pm (1 hour)
Theatre Asylum – 6320 Santa Monica Blvd, LA CA 90038