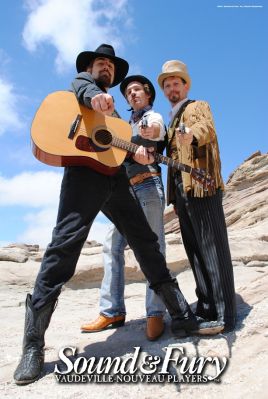 Christopher Marlowe's classic Elizabethan drama, The Tragical History of Doctor Faustus is re-imagined as a Western comedy of errors. The hilarious 'improv' trio Sound & Fury™, Richard Maritzer, Ryan Adam Wells (the Man in Black) and Patrick Hercamp as John Faustus, are best known for performing Shakespearean and classical satire. They act, they sing, they harmonize beautifully. They play guitar and kazoo and create all sorts of comedic nonsense, gamboling about the stage and riffing off each other, sometimes ducking backstage or behind a screen to execute a lightning-fast costume change or step out in drag. It's hilarious stuff!
Their latest fast-paced, one-hour show, Doc Faustus, is a vaudeville-style parody. The guys have taken that famous German legend of a man selling his soul to the devil for power and knowledge and mashed-it-up with every Western film ever made. All the best and funniest clichés are featured, including drawling Texan accents, loads of gently non-PC humor and silly racial stereotypes (Irish bar keeps, Mexican bandoliers, John Wayne, pompous governors who sound like Jimmy Stewart – or is it Jerry Seinfeld?!) and so forth. The exaggerated Italian accents definitely needed work, though, (are they Italian or are they Irish?) and the guys would do well to reacquaint themselves with the cadences of Chico Marx. Curiously, one key Mexican character, General Santa Anna from the 'Battle of the Alamo', tended to sound like Peter Lorre at times… Hmmnnnnn.
Some of Marlowe's elegant text shines through the comedic gibberish, such as "'T'is black magic that has ravished me!" while other lines, such as "I seem to have summoned a demon from the irritable bowels of hell!" are side-splittingly funny. One unexpected gag line, "Have you ever had a bladder so full your teeth were floating?" elicited an immediate and resounding "YES!" from the old lady in the front row.
Throughout the show the hard-working trio perform their arses of, bringing out lots of silly props, such as mini-hobby horses, numerous costumes, wigs and hats. Sadly, the oft-promised "old timey racist scene" never eventuated. Perhaps that was for the best.
Last night's preview performance was briefly hampered by some serious technical drama in the sound booth. The guys took it all in their stride, briefly chatting to the frazzled tech crew from the stage, with one actor even rushing up there to assist at one point. The audience was asked to create some ominous sound effects, which we all did as effectively as if we'd rehearsed it!  Pretty soon the tech troubles were solved and the show resumed its lively pace. Props to the guys for making the most of the missing sound cues and finding the humor wherever they could.
All in all a fantastic show that should not be missed!
For more information on all Hollywood Fringe Festival plays, visit their official site.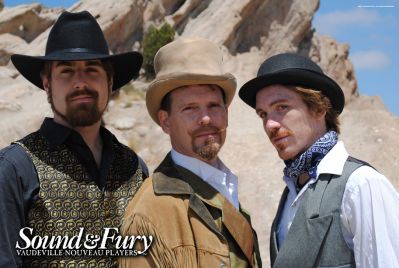 Doc Faustus
HOLLYWOOD FRINGE DATES/TIMES:
Theatre of Note
1517 N. Cahuenga Blvd., LA CA
All perfs 60 minutes.
Performances:
June 14, 10pm • June 15, 9:30pm • June 16, 11pm • June 23, 1am (late Friday) • June 23, 3:30pm.
Tickets:
$10—15.00
~~~