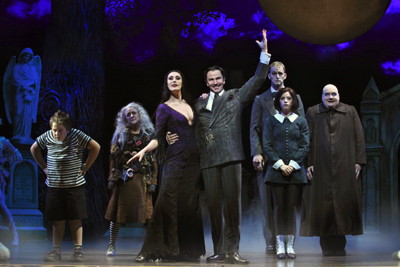 Fun, ghoulish and fantastic – don't miss this re-worked Broadway musical, now playing at the Pantages Theater in Hollywood. Despite a woefully conceived character and performance (Morticia, as played in broad and brassy 'Broadway' style by Sara Gettelfinger) this comedic show is loads of creepy, spooky fun. Excitement is high right from the moment the orchestra strikes up those familiar opening bars – da da da dum – the audience is clapping or snapping their fingers in time – bomp bomp.
It's a delicious sense of shared cultural recognition.
Based on beloved characters created by Charles Addams in his single-panel gag cartoons, The Addams Family is a comedy musical featuring music and lyrics by Andrew Lippa and book by Marshall Brickman and Rick Elice.
The Good:
Starring in this new musical extravaganza is the fabulously talented Douglas Sills as debonair Gothic patriarch Gomez Addams, and boy does he ever play Gomez to the hilt! His dashing flair with a fencing foil is on display (remember – Sills gained awards for playing the lead in The Scarlet Pimpernel about a decade ago) and his passionately romantic, 'latin lover' sensuality is always at the fore.
The Addams Family is wholly based on the strange and ghoulish characters created by legendary cartoonist Charles Addams. About half of his 150 single-panel gag cartoons appeared in The New Yorker magazine from 1938 until Addams' death in 1988.
Ostensibly a satirical inversion of the ideal American family, the Addamses are a multigenerational collection of wealthy eccentrics who hold an affinity for all things gothic and ghoulish, all the while unaware that general society finds them bizarre or terrifying. The cartoon series sparked the creation of two live-action television series, two animated TV series, three motion pictures and now a stage musical.
Sills as the debonair Gomez and Sara Gettelfinger as Morticia lead a magnificently macabre company of twenty-five. The Addams Family musical features an original story touted as "every father's nightmare." Daughter Wednesday Addams, (Cortney Wolfson), is now a young adult. She's fallen in love with a sweet and clever young man from a respectable family and she knows her parents are going to have to meet him and his parents sooner or later. At first Wednesday confides in her father about her true love, begging him not to tell Mom. Now Gomez must do something he's never done before – keep a secret from his beloved wife, Morticia.  The two families come together on a fateful night when the Addamses host a dinner for Wednesday's 'normal' boyfriend and his parents.
This plotline premise is highly reminiscent of another musical (and French play), La Cage aux Folles, but the ghoulish American family vibe and fabulous set and staging more than makes up for any perceived similarities.
Backstory:
Sills assumed the role of Gomez Addams for the revised national tour of The Addams Family in September 2011, for its launch in New Orleans.
A previous incarnation of the musical, with an estimated budget between $10—$15 million, had opened in Chicago before it ran on Broadway from April 2010 until December 2011, after 34 previews and 725 performances. The original cast featured Nathan Lane as Gomez and Bebe Neuwirth as Morticia.
Following the Chicago pre-Broadway tryout, creative consultant Jerry Zaks was brought on to assist with changes.
Changes to the show included the replacement of several songs with newly composed ones. According to Playbill, the touring version has "a new central plot conflict, new or revised or reordered songs to replace old ones, fresh orchestrations and dance where necessary."
The Bad:
I could be mistaken, but it seemed to me that Sara Gettelfinger was "doing" her Morticia predecessor, Bebe Neuwirth badly!! The way this role was written AND performed was entirely too upbeat; not nearly morbid, aloof and elegant enough.  Gettelfinger did a solo song (along with the excellent 'ghoul' ensemble) that – I kid you not – ended with 'jazz hands' – are you freaking kidding me?! This is SO NOT Morticia!
I loved everything about the rest of this marvelous show, above all the book and especially the spiky dialogue sprinkled with just the right amount of contemporary jokes and references.
This is a tremendously entertaining production and show that, if you can overlook a misstep with one cast member, you are bound to enjoy.
Don't miss this fun and delightful musical!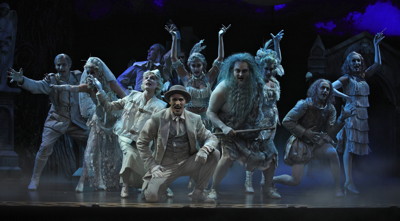 The Addams Family musical
6233 Hollywood Boulevard,
Los Angeles, CA 90028
Performances:
Now through June 17, 2012
Tues—Thursday, 7.30pm *** Note early start time ***
Friday 8pm
Saturday 2pm & 8pm
Sunday 1pm & 6.30pm
Running time:
Approximately 2 hours and 30 mins, including a 15 minute intermission
TICKETS:
$25.00 and up
Box Office:
Purchase tickets here or call (800) 982-2787