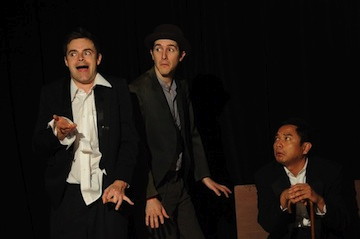 Here is another review for LA Weekly of a Fringe show that was less than impressive…
A man-baby – an everyman-type – awakens in a room and learns how to dress himself. He ventures into a park and encounters a cranky, throat-clearing fellow who just wants to read his newspaper in peace, a hobbling old man, a pretty lady and a nearsighted gardener. Our hero discovers sunlight and the joy of nature.
Written/produced by Kristopher Lee Bicknell, and co-produced by Jessica Lauren Richmond, this silent and whimsical absurdist play relies heavily on the performers' unremarkable physicality and silent movie-style recorded piano accompaniment.
Unfortunately the whole 45-minute show plays out like a clown-school improv exercise, with each actor swapping roles.
Pointless but sweet.
Before the Red Trees Come
The Actors Company
916A Formosa Ave., Hlywd.;
Fri, June 15, Sun., June 17,  Fri.-Sat., June 22-23, all perfs 9 p.m.
For more information on all Hollywood Fringe Festival plays, visit their official site.