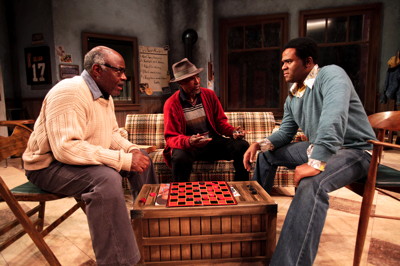 Walking out of the Pasadena Playhouse following the conclusion of August Wilson's fine drama Jitney, and I couldn't help marveling; how could Wilson have written such an accomplished play for his first attempt at play writing?
After doing some research, I discovered that Jitney was written in 1979 and first produced at the small Allegheny Repertory Theatre, Pittsburgh, Pennsylvania in 1982. Importantly, Wilson extensively reworked his first play for its second premiere in 1996.
The result is an astute and detailed character study that dramatizes the lives of men hustling to make a living as cab drivers in a poor part of town. It's also a superbly entertaining drama, its language rich with the unique idiom of the day.
Plot:
As taxi cab drivers refused to venture into the Pittsburgh Hill District during the 1970s, locals depended on the gypsy cab service provided by unofficial and unlicensed 'jitney' cab drivers. The story unfolds in Becker's (Charlie Robinson) storefront jitney station where a motley crew share stories and meddle in each other's lives. Poorly planned urban renewal threatens to tear down the station and put everyone out of work. Old cronies drop in, fights break out and lovers make up… When the boss Becker's Booster (Montae Russell) returns home after a 20-year stint in prison, it sparks a heavy and heated conversation that is long overdue. Meanwhile, the temper of one of the drivers flares after he – Youngblood (Larry Bates) – is accused by his gossipy co-worker Turnbo (Ellis E. Williams) of running around with his girlfriend's sister.
Ron OJ Parson's direction is questionable, at first, permitting his cast to speak unintelligibly into the wings during the busy opening sequence where the drivers come and go before we have had a chance to work out who's who. But then the cast finds their rhythm and gradually a portrait of their lives emerges through their incidental conversation. Additionally, an odd 'frozen moment' towards the end of the play doesn't seem to make sense within this largely naturalistic production.
Two major scenes, however, stand out – the vocal showdown between Becker and his disgraced son and the second act scene between Youngblood and his troubled girlfriend Rena (Kristy Johnson). Both these powerful scenes are directed and acted impeccably.
Dana Rebecca Woods deserves mention for the authentic seventies costuming. One loud plaid suit outfit has the audience in stitches.
Background:

Jitney is the first play August Wilson wrote in his renowned "Pittsburgh Cycle" which chronicles the African-American experience in his childhood neighborhood, decade by decade, over the course of the 20th century. Of the ten plays in the 'cycle,' Jitney is chronologically the seventh in the series. The drama won the New York Drama Critics Circle Award, the Outer Critics Circle Award and the Olivier Award for Best New Play.
Sad, funny and altogether wonderful – don't miss this play!
Production photos by Henry DiRocco.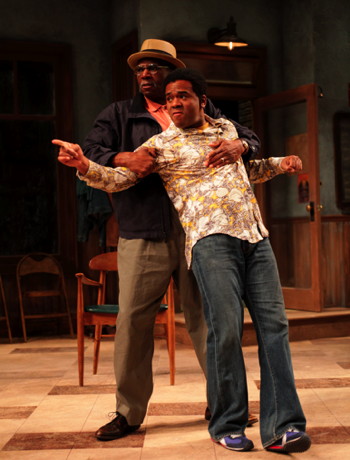 Jitney
Pasadena Playhouse
39 South El Molino Avenue
Pasadena CA
Performances:
Runs through July 15, 2012
Tuesday through Friday at 8:00 p.m.;
Saturday at 4:00 p.m. and 8:00 p.m.;
Sunday at 2:00 p.m. and 7:00 p.m.
TICKETS:
$20.00 – $60.00
Box Office:
Rush tickets are available for $15.00 one hour prior to the performance time and are subject to availability.
Rush tickets must be purchased at The Pasadena Playhouse Box Office.
Tickets are available by calling the Pasadena Playhouse at 626-356-7529
or by visiting The Pasadena Playhouse Box Office,
open Monday from 12:00 p.m. – 5:00 p.m.
and Tuesday – Sunday from 12:00 p.m. until 6:00 p.m. during non-performance dates
and Tuesday- Sunday from 12:00 p.m. – 8:00 p.m. on performance dates.
The box office is closed on holidays.
Tickets are available 24 hours online here.
Group Sales (8 or more) are available by calling 626-921-1161.
For additional information visit their official website.