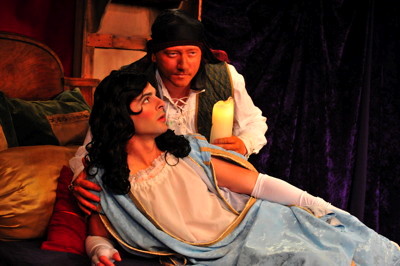 ::STOP PRESS::

Now extended until August 12, 2012

Jeffrey Hatcher's Compleat Female Stage Beauty at Crown City Theatre.
Click here to go to the LA Weekly's theater page with my review of Compleat Female Stage Beauty – I also gave it a 'Go' – and then scroll down a little bit to find it.
~ OR ~
You can just read it here!!
Happy reading!
Compleat Female Stage Beauty
In 1661, King Charles II permitted women to perform as actresses on British stages and decreed that males were no longer allowed to assume those roles. This was dismal news for the boys and young men whose theater careers consisted of portraying classical female heroines.
Jeffrey Hatcher's literate and well-researched historical dramedy explores this subject, focusing on real-life Edward Kynaston (the excellent Ben Rovner). A celebrity of the London stage, "Mr. K" has a quick tongue and an irreverent, wicked wit. He not only falls out of favor with the court but, following some well-timed public satire, also suffers a serious comeuppance from some powerful enemies.
The tonal shifts of Hatcher's ribald and, at times, sexually explicit play are beautifully orchestrated; he seems unafraid of plumbing the dramatic depths of his protagonist's plight.
Cameron Daxon is good as the ever-scribbling Samuel Pepys (the diarist and "blogger" of his day). Michelle Page has fun as the vulgar yet influential strumpet Nell Gwynn, despite a wobbly Cockney accent. Her opening scene features some delightfully handled nudity and her overacting is comedically sound, reminiscent of the character Bubble from TV's Absolutely Fabulous. Dean Cameron's ingenious set design and lavish period costumes elevate the production values, as does Zad Potter's thoughtful lighting design. William A. Reilly directs.
Compleat Female Stage Beauty
11031 Camarillo St., N. Hlywd.;
Fri.-Sat., 8 p.m.; Sun., 7 p.m.; through August 12, 2012.
(818) 745-8527
Tickets:  purchase here.