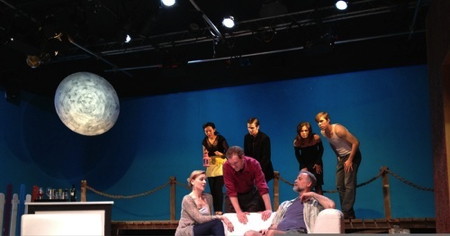 ::STOP PRESS::

Bill Sterritt and SPQR Stage Company are extending his popular original absurdist comedy, Modern Drama, now running Friday through Sunday from Aug. 3-26, 2012 at studio/stage in Los Angeles.
From the moment Bill Sterritt's play begins, with a maid character carefully pegging up the skirt of another female character to reveal lingerie, garter belt and stockings and then feather-dusting her mistress' pert behind, you know you're in for a different kind of experience – a cheeky, sexy one.
In fact, the first clue is the comfy Adirondack chairs you realize you will be reclining in while watching this one-act, 80-minute absurdist comedy. Welcome to the cabana of studio/stage!
Sterritt's witty and amusing play, described as "comedy of manners about infidelity and retribution," reads like a playful exercise in metatheatrics. Borrowing ideas from Noel Coward's Private Lives merged with Pirandello's Six Characters in Search of an Author, Sterritt has taken those themes and situations and relocated them to a posh beach side and contemporary setting. He also sprinkles his text with numerous theatrical references as a special treat for the educated. It's delicious to feel as if you are in on the jokes.
In Sterritt's domestic satire the central figure is writer Crocker (Rich Brunner) who seems happy to rest on the success of a hit play. We find him cozily ensconced in his chic Cape Cod cottage, a well-stocked bar handy, where he churns out material for the lucrative porn industry. He also seems contented enough with the status-quo of his long-term dysfunctional marriage, enjoys sparring with his intellectually-matched, sexy blonde wife Hillary (Lisa Temple) and appears unperturbed when she attempts to seduce an intrusive, uninvited visitor. That would be Gordon (Keith Wyffels), a young and ambitious industry upstart who arrives with a commission, urging the jaded playwright to write another masterpiece play with a seductive and flattering pitch.
Meanwhile, a silent quartet of characters (part Greek chorus, part dopplegangers) mime scenes from our central pair's past, haunting the marriage and gradually revealing what led to Crocker's crippling writer's block.
Sterritt directs his excellent cast to deliver broad, comedic performances that suit his high-flown and hilarious text, yet these characters are slightly distant and bloodless… Yet there's a wonderful scene in this archly witty play where Hillary relates the back-story of their marriage's early departure into infidelity.
Modern Drama stars Lisa Temple, Rich Brunner, Keith Wyfells, Veronika Kurshinskaya, Griselda Marquez, Nicholas Jenkins and Jason T. Gaffney.
 Lots of fun!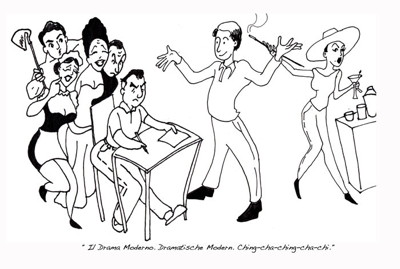 Modern Drama
studio/stage
520 N. Western Ave.
Hollywood, CA 90004
Performances:

Aug. 3-26, 2012
Fridays and Saturdays, 8 p.m., Sundays, 5 p.m.
Running time:
Approximately 90 minutes, no intermission
TICKETS:
$10.00 for general admission
*Half price entry with a postcard
Box Office:
For further information, please call: (323) 463-3900
Or check out their website here.