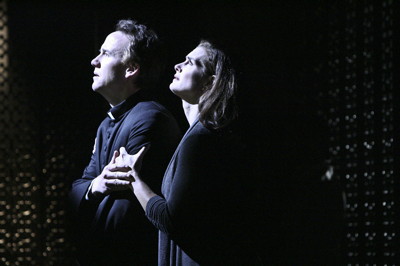 It's difficult to comprehend why the Geffen Playhouse have commissioned John Pielmeier to adapt author William Peter Blatty's legendary horror story to the stage for a world-premiere presentation. Why take a sensational novel that was cleverly parlayed into a hit movie to great effect and then – almost forty years later – limply adapt that story for the theatrical stage? Why?
Note: director William Friedkin's award-winning and terrifying 1973 screen version of The Exorcist remains one of the most famous and controversial mainstream horror movies in Hollywood history.
It's not that this timeless story has lost any of its impact. Blatty's rendition of a conflict between pure evil and pure innocence (and science vs. religion) is still shocking and disturbing. The problem is that it's impossible to view this play and not think of all the cinematic elements that are missing from this ultimately pointless staging.
Plot:

When a twelve-year-old girl shows signs of being possessed by a mysterious and powerful demon-like entity, her distraught mother seeks the help of two priests to save her daughter. Meanwhile, a young priest at nearby Georgetown University begins to doubt his faith while dealing with his mother's terminal sickness. Additionally, a frail, elderly priest prepares himself for a confrontation with an old demonic enemy.
Richard Chamberlain stars as the elder priest Father Merrin and in this pared down version of the story his role is sadly diminished. He serves as a narrator of sorts, setting the tone of the play at the onset by explaining how easy it is to believe in the devil. But in eliminating the backstory and power that Father Merrin commanded in the film (memorably played by Max Von Sydow), this character ultimately feels superfluous.
In portraying Regan's mother Chris, Brooke Shields gives a chilly, somewhat distant performance, as if she was afraid to let histrionics take over the stage. Yet extreme emotions and high drama truly should have been given free reign at some stage. This restrained interpretation is partly explained thusly; when Chris finally seeks the aid of Father Damian Karras, while we sense her desperation, we also gain the sense that she doesn't believe in exorcism anymore than he does but feels hopeless enough to try any and all measures to save her daughter.
The whole play, as directed by John Doyle, has a distant, remote feel about it, reducing the drama to a series of debates rather than an exploration of horror.
The set and costumes by Scott Pask are good, even if in the final moments of the play the altar-like set is used to spell out in an obvious fashion one of the main themes of the play, that of menstrual terror and the fear of puberty. The sound design by Dan Moses Schreier is suitably spooky. Some special effects created by master illusionist Teller are chilling.
Starring as Regan, Emily Yetter gives a convincing portrayal of a confused young girl at times and a possessed hellion at others. Bizarre contortion and gyration are used to indicate her demonic possession, to good effect.
It's hard to fault the performances. One is left with a sense of disappointment at this play's utter pointlessness.
All production photos by Michael Lamont.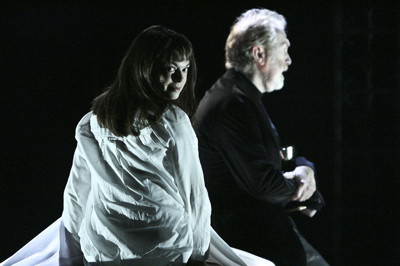 The Exorcist
10886 Le Conte Ave.,
Los Angeles
Performances:
Runs until August 12, 2012.
Tuesdays-Fridays, 8 p.m.;
Saturdays, 3 & 8 p.m.;
Sundays, 2 & 7 p.m.
Running time:
Approximately 90 minutes, no intermission.
TICKETS:
$67—$87.00
Box Office:
Purchase tickets here or call (310) 208-5454