It was a beautiful evening, with that perfect Southern California balmy spring breeze when, to launch the LA Philharmonic's 2012 summer season at the Hollywood Bowl, an intimate cocktail party was held on the stage of the Bowl to celebrate the season.
That's right, everyone – I was on the actual stage of the Hollywood Bowl, swanning about sipping soju martinis!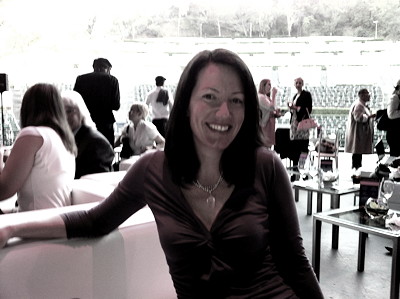 Large and comfy white leather lounges and low cocktail tables were strewn about the place. Patina and the Bowl's in house restaurant Rooftop Grill provided the elegant appetizers. It felt like being in the coolest outdoor restaurant you could imagine.
In addition to the refreshing cocktails, we sampled tasty snacks such as spicy mini bánh mì sandwiches, blue cheese and bacon sliders, tacos and french fries in paper cones.
All this while overlooking the empty seats of the Bowl. I could spot where I had been seated earlier that week for the Coldplay concert.

Venezuelan Gustavo Dudamel, the exuberant conductor of the LA Philharmonic orchestra, gave a speech, explaining how special it was for him to be here because this stage was the place where he made his debut in the States in 2005.
On Sunday August 12th, Dudamel conducts Verdi's Rigoletto. Verdi's great operatic tragedy, in a concert performance led by Gustavo Dudamel, stars Željko Lučić in his signature role as the hunchbacked court jester doomed by a sinister curse.
Coming up in August Dudamel is presiding over his first Bowl festival, Americas and Americans, which spotlights a wide range of music from North and South America.
Also over the summer the Hollywood Bowl is hosting a musical program expressly for kids called SummerSounds.
Discover Reggae, Filipino, and Latino music and cultural traditions as SummerSounds turns nights at the Bowl into weekday morning fun with vibrant musicians and dancers exploring these musical genres. Each SummerSounds program features live music and dance, plus art workshops guided by professional artists! Tickets are on sale here.
Highlights of the summer season include performances by maestro John Williams, musician and actor Ruben Blades, Liza Minelli and Placido Domingo.
On Sunday September 2nd the Bowl will host a special concert entitled The Big Picture: Paramount's 100th Anniversary. This promises to be an incredible night of nostalgia celebrating the oldest and only remaining major studio still located in Hollywood. Experience unforgettable scores from the studio's rich history, including Wings, (first Academy Award® Best Picture winner); The Godfather trilogy; the epic romance Titanic; and action-thriller Mission: Impossible – Ghost Protocol, among many other favorites.
Also coming to Hollywood Bowl:
Go here for a list of the full season.