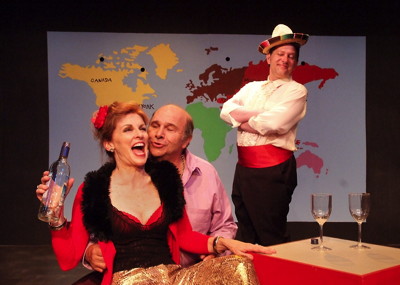 It's difficult to pinpoint exactly what is wrong with this play and production. The acting is good. The staging is fluid. The storyline is amusing. The French farce underpinnings give the show some energy. The central conceit is clever and well developed… So why doesn't this play work and why was I not having a good time?
Peter Lefcourt's new play employs a metaphor for war to good effect for his farcical comedy about marriage and mid-life crises. The theory of 'mutually assured destruction', which harks back to the Cold War era, is a doctrine of military strategy and national security policy in which a full-scale use of high-yield weapons of mass destruction by two opposing sides would effectively result in the complete, utter and irrevocable annihilation of both the attacker and the defender.
In other words, Lefcourt posits that if two people had the goods on each other, nobody would squeal.
The tight friendship between three couples threatens to implode after one fellow inadvertently catches two of the others in an illicit romance. Things get complicated when the cuckolded husband begins to suspect our hero is the transgressor. Complications, misunderstandings and unwanted sexual advances bring the whole situation to the brink of disaster.
Lefcourt's most egregious mistake is the overuse of soliloquies. At first it is our hero Arnie (Kip Gilman) who opens the play with a jovial audience address (setting up the nuclear war theory), and sighing, "I miss the Cold War. It made us feel secure." But pretty soon almost every single character is breaking the fourth wall to confide in the audience and that just starts to get annoying. And I certainly don't need to see an actor getting that chummy with the audience and practically sitting on someone's lap.
While everyone's performances are very good, Michael Caldwell stands out in numerous obsequious and bitchy roles such as a snotty waiter, a sadistic beautician etc.
Regrettably, it just doesn't add up to a great play.
Production photos by: Ed Krieger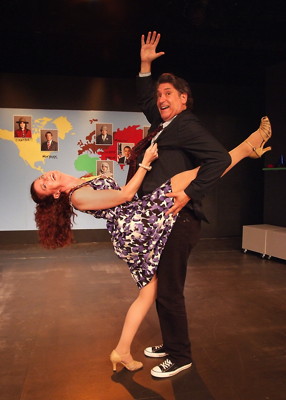 Mutually Assured Destruction
Odyssey Theatre
2055 S. Sepulveda Blvd,
Los Angeles, CA 90025
Performances:
Runs through August 26, 2012.
Fridays and Saturdays at 8pm, and Sundays at 3pm
Running time:
Approximately 2 hours, including a 10-minute intermission.
TICKETS:
$25.00
Box Office:
Purchase tickets here or call (323) 960-5772.