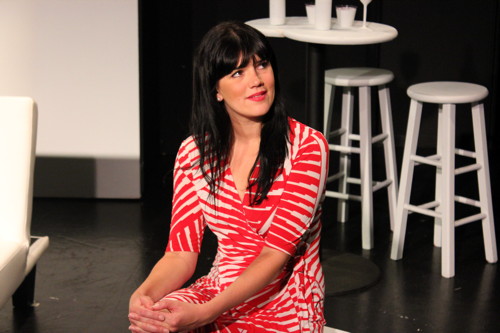 ::STOP PRESS::

Due to a sell-out season, My Romantic History has been EXTENDED!

Thursday August 2nd – 8pm
Thursday August 9th – 8pm
Sunday August 12th – 6pm
Thursday August 16th – 8pm
Gentle readers!
My theater review this week for the LA Weekly is of  Glaswegian playwright D. C. Jackson's uproarious and award-winning comedy My Romantic History.
Click here to go to the LA Weekly's theater page with my review of My Romantic History, now playing at the Renegade Theatre in Hollywood, and then scroll down a little bit to find it.
~ OR ~
You can just read it here!!
Happy reading!
My Romantic History
Glaswegian playwright D. C. Jackson's uproarious and award-winning comedy (it gained a Scotsman Fringe First Award at the Edinburgh Fringe Festival in 2010) transfers well to a New York setting, despite the jarring proliferation of casual profanity such as the 'c-word.'
Preoccupied with the chore of forced bonding with co-workers and the perils of office dating, new guy Thomas (a charismatic Henderson Wade) is beset by a number of enthusiastic females before drunkenly succumbing to the charms of Amy (a luscious Emily O'Meara). Jackson cleverly intersperses the action with brutally sardonic and hilarious asides from our cynical leading man, offering incisive commentary and cringe-inducing candor as well as a knowing yet unreliable narrative that shifts in Act Two to provide insight into Amy's version of events. Hence, his suave dude becomes a try-hard loser while her clingy desperate act suddenly has a veneer of cool.
Blending the two viewpoints, Act Three offers a different set of rewards and a satisfying narrative development. Add to that the flashbacks to their first true loves, where Jackson perfectly captures the intensity of high school romances that fail to survive the transfer to college.
Excellent and detailed direction from Alejandro Romero produces crisp perfs from the cast of seven 'twenty-somethings' and punctuates the humor with ironic song selection and witty sound effects that complement the numerous pop-culture references throughout.
My Romantic History by D. C. Jackson.
1514 North Gardner St. (cnr of Gardner/Sunset)
Hollywood CA
Thursdays and Saturdays at 8 PM, Sundays at 6PM.
Runs until Thursday August 16th – 8pm
 Review by Pauline Adamek