::STOP PRESS::
Stoneface has been extended YET AGAIN! FINAL dates are August 9th – 26, 2012, Tuesdays thru Saturdays, 8pm, with Sunday matinees at 2pm. Purchase tickets here.
Be advised – Vanessa Claire Stewart's wonderful play about Buster Keaton is not a barrel of laughs. Dealing largely with the latter, dismal years of the legendary silent film comedy star's career and failed marriages (two), many of the dramatic scenes are truly heartbreaking. That's thanks to superbly subtle and emotional performances from both French Stewart and Joe Fria as Buster Keaton (older and younger, respectively).
Yet in Stewart's inspired dramedy there are definitely laughs to be had, especially in the astonishingly accomplished sequences of silent comedy bits – one-take gags and elaborate physical routines taken straight from some of Keaton's most famous silent pictures. These segments are faithfully and expertly reproduced live on stage by this first-rate cast, beautifully directed by Jaime Robledo.
Produced by Brian W. Wallis, the evening launches with a film prelude that is a brilliant tribute to its subject matter. The main cast members (French Stewart as Buster, Scott Leggett as Roscoe "Fatty" Arbuckle and Tegan Ashton Cohan as Natalie) individually emerge from the small theater's foyer, behind the audience, and cross upstage to a large projection screen. Each character then steps into a silent, black-and-white movie-in-progress (also directed by the play's director Jaime Robledo). It's a masterpiece of planning, visual trickery and split-second timing. It's also tremendous fun!
We watch an original short film that recreates Keaton's days as a member of his parent's vaudeville act. Inducting his toddler into their act, which involves tossing the small child around like a sack of potatoes, Daddy (Joe) Keaton brutally impresses upon the tiny tot that he needs to "Freeze the puss! (aka face)"  It's a menacing and hardboiled directive, along the lines of 'When you laugh, the audience don't – see?' Young Keaton's legendary 'stone face' is thus born.
In the opening scene of Stewart's play, Keaton (French Stewart) is trussed up in a straightjacket, drying out in a sanatorium. French Stewart plays the comedy legend with a sour and pained expression on his famous 'stone' face. That's when we realize this play is not going to be all fun and pratfalls.
Not only is Vanessa Claire Stewart's play a creative and hard-hitting tribute to a silver screen legend, but it features superbly nuanced and physical performances from the entire, hardworking cast. In addition to scene-stealing turns from the two actors portraying Keaton, others who shine include Scott Leggett as a wonderfully compassionate friend Roscoe "Fatty" Arbuckle and Tegan Ashton Cohan – cute, sexy and just brilliant as one of Keaton's wives Natalie. A comedic sequence where she, a petite woman, tries to get a drunken Keaton into bed is a laugh riot. Another scene has Cohan and French Stewart duetting on a risqué song, wiggling her pert little behind with each piano chord emphasis. It's delightfully funny and so cute!
Of note is pianist and musical director Ryan Johnson's marvelous live performance throughout of the jingly piano score we associate with silent movies.
Once again Jaime Robledo's inventive staging and confident direction is on display, especially in the numerous silent comedy bits as well as his direction of the projected film segments.
Do not miss this play!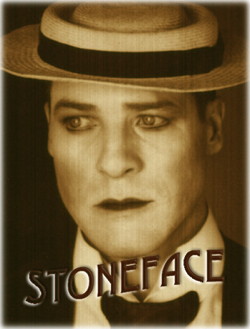 Stoneface
Written by Vanessa Claire Stewart.
Directed by Jaime Robledo.
Cast:
French Stewart, Tegan Ashton Cohan, Scott Leggett, Jake Broder, Rena Strober, Joe Fria, Erin Parks, Connor Duffy, Pat Towne and Guy Picot.
Sacred Fools Theatre Company
660 N. Heliotrope, Hollywood, CA 90004
Runs: through Sunday, August 26, 2012
Tuesdays thru Saturdays, 8pm, with Sunday matinees at 2pm.
Running time:
Approximately 2 hours, including a 15 minute intermission
Tickets: $34.00
Available online or by calling 310-281-8337.