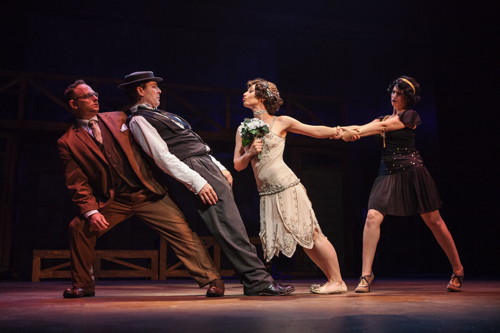 Two weekends of performances remain for one of the best shows currently playing in LA.
Stoneface is a truly brilliant play about Buster Keaton, renowned star of the silent movie screen, and this production is not to be missed! Vanessa Claire Stewart's marvelous comedy/drama has been handsomely adapted for the spacious Pasadena Playhouse stage, and newly remounted with almost its entire original cast as well as the addition of several gorgeous new sets. Stoneface will run until Sunday, June 29, 2014. See below for information regarding dates, times and tickets.
While telling the tale of one of Hollywood's greatest performers — tracing his tumultuous marriages and career highs and lows — Stoneface recreates some of Keaton's most memorable gags and stunts live on stage. Stewart's heartfelt play captures the legend of a bygone era and relates the uplifting tale of his eventual redemption.
Directed once again by Jaime Robledo, the cast of Stoneface includes French Stewart and Joe Fria as Keaton —  each ingeniously playing the comedic actor at different ages, and sometimes simultaneously. Other cast members include Jake Broder, Tegan Ashton Cohan, Conner Duffy, Scott Leggett, Guy Picot, Rena Strober and Pat Towne with Tony Award winner Daisy Eagan as "Mae." (Eagan replaces Erin Parks from the original cast lineup.) Choreography is by Natasha Norman, while Fight Choreography is by Mike Mahaffey.
One aspect that remains intact from the previous production is the clever film prelude — the delightfully creative projection design is by Ben Rock and Anthony Backman — that is a brilliant tribute to this play's silent movie milieu. The main cast members (French Stewart as Buster, Scott Leggett as Roscoe "Fatty" Arbuckle and Tegan Ashton Cohan as Natalie) individually emerge from the wings and cross upstage to a large projection screen. Each character then steps into a silent, black-and-white movie-in-progress (also directed by the play's director Jaime Robledo). It's a masterpiece of planning, visual trickery and split-second timing. It's also tremendous fun!
Also of note is pianist and musical director Ryan Johnson's marvelous live performance throughout of the jingly piano score we associate with silent movies.
In addition to this amazingly talented and hardworking cast, who strenuously tackle numerous physically and emotionally challenging roles, we see a costumed backstage crew of six, all laboring to bring the magic of this play to life with smooth and seamless scene transitions and complicated stage setting. Some aspects of the scenic design by Joel Daavid are highly ambitious… One set piece is a wall of doors flown in for a farcical scene that doesn't quite flow. But the terrifying gag of a barn wall falling to the ground and not killing Keaton (who is spared by the wall's open window) is perfectly recreated, as is the appearance of a train engine in a nod to one of Keaton's most famous films, The General.
Director Jaime Robledo admits that the budget for the Pasadena remount "added zeroes" to that of its staging at Sacred Fools in 2012, and was the largest budget he's ever had the privilege to play with, joking, "We definitely added zeros!" The imaginative director revealed, "It's by and large the design we would take forward with us," referring obliquely to the possibility of further incarnations of the production outside of Los Angeles. Robledo also gave 'props' (expressed gratitude) to Sheldon Epps, Artistic Director of the Pasadena Playhouse, for his insightful notes and suggestions for this show's ambitious restaging.
While Stoneface is not all hilarious fun and pratfalls, as many of the dramatic scenes are truly heartbreaking, its emotional core makes this a rewarding theatrical experience indeed.
Do not miss this play!
Background:
Playwright Vanessa Claire Stewart's play Stoneface opened at Sacred Fools Theatrein May, 2012. It starred (and still stars) her husband French Stewart as Buster Keaton.
The 2012 production at Sacred Fools was previously reviewed here.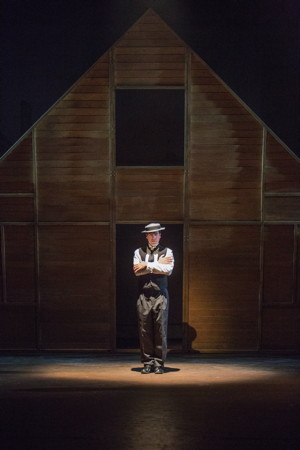 Stoneface
The Pasadena Playhouse
39 South El Molino Avenue,
Pasadena, CA 91101.
Run until Sunday, June 29, 2014.
Performances:
Tuesday through Friday at 8:00 p.m.;
Saturday at 4:00 p.m. and 8:00 p.m.;
Sunday at 2:00 p.m. and 7:00 p.m.
Tickets, priced from $34 to $74, plus premium, are available by calling The Pasadena Playhouse at 626-356-7529 or by visiting The Pasadena Playhouse Box Office, Tuesday–Sunday from 1:00 p.m. until 6:00 p.m. during non-performance dates. On performance dates the Box Office is open Tuesday–Saturday from 1:00 p.m.
–8:00 p.m. and 1:00 p.m.
–7:00 p.m. on Sunday.
For more information, visit the theater's official site.