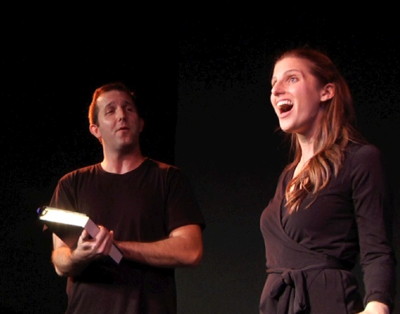 Dearest readers!
My theater review this week for the LA Weekly is of Finding Barb, written by and starring Barbara Heller, and directed by Eve Minemar.
An endearing musical, Finding Barb is now playing at the Working Stage Theater in Hollywood.
Click here to go to the LA Weekly's theater page and scroll down a bit to read it.
~ OR ~
You can just read it here!!
Happy reading!
Finding Barb
Barbara Heller has taken her personal quest for her spiritual path and turned it into an earnest and sweet musical. The show's pretty songs — beautifully sung — are composed by Avi Avliav, who performs live on electric piano, conveying sensitivity and flair. (Two songs are credited to co-composer Katie Thompson.) Heller, who wrote the book and lyrics and also stars, dominates the stage with her confessional, acting out episodes from her life alongside co-star David Scales. Scales plays every male Barb encounters, including her father, doctor, rabbis and various boyfriends. Heller's younger sister is shown on video as a hand puppet, dispensing sage advice.
Unafraid to play dorky, sometimes childish and ever hopeful, Heller brings a fearless approach to her story that proves endearing.  Director Eve Minemar has selected a bare-bones staging approach that complements Heller's courageous, unvarnished performance. While somewhat appealing, this tale is not all that compelling.
1516 N. Gardner St.,
Hlywd.;
Thurs., 8 p.m.; through Jan. 10.
(323) 851-2603