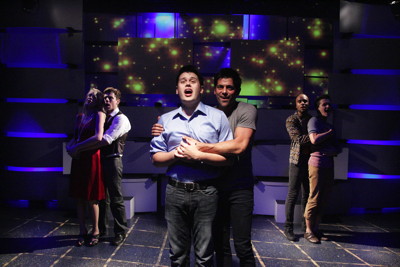 ::STOP PRESS::
Justin Love
has been extended through SUNDAY, DECEMBER 16, 2012
Fresh and fun, the marvelous new musical about gay closet-life in Hollywood, Justin Love, was eight years in development, and the dedication shows. The storyline is sweet and not-too-predictable, the songs are snappy, upbeat and enjoyable and the direction and staging by Michael Matthews is fluid. While it could be read as a sly dig at a certain high profile actor who adamantly refuses to 'come out,' the plot is far more interesting and original than easy satire. Sure, it does poke fun at certain Hollywood archetypes – opportunistic gayboys, harridan bosses and sleazy tabloid journalists – but what keeps you engaged throughout is its sweet romantic core.
Writers David Elzer and Patricia Cotter (book), Elzer and Bret Calder (story) Lori Scarlett (lyrics and music) and Scarlett and David Manning (music) have combined their respective talents to bring us nineteen catchy songs in their satire-laced bon bon.
The musical posits the premise What if Hollywood's Biggest Movie Star Had a Secret?

Justin Rush is Hollywood's biggest movie star who has it all; a beautiful, devoted wife, more money than he knows what to do with, a huge summer action blockbuster set to open – but he's finding it harder to keep his secrets secret in our TMZ, twitter-addicted, celebrity-obsessed culture.  Justin's wife Amanda, (rumored to be under some sort of 'contract'), is getting frustrated by the growing questioning of her husband's sexuality and the endless scrutiny about their 'alleged' arrangement.  When Chris Andrews, his publicist's assistant and Mitchell Matthews, her old high school sweetheart (and now tabloid photojournalist), enter their lives, things start to get complicated…
Adam Huss plays the hunky movie star Justin Rush and while he certainly looks the part, with his toned physique and sexy grin, unfortunately his voice is not up to the same high standard as the rest of the twelve-strong cast. Carrie St. Louis is great as the sweet, steadfast Amanda, Justin's girlfriend from way back until they got married. Her dilemma is that she finds herself an unwitting 'beard' to his high powered career. With a decent voice, Tyler Ledon is good as Chris Andrews, the bright-eyed innocent abroad, fresh off the bus from 'rust-belt Michigan' and excited to make it as a writer in Tinseltown. To sweet Chris, Hollywood "smells like oranges and hope!"
The first job our hero lands is as the assistant to a high-powered über-bitch-on-wheels PR agent Buck whose top client is the mega-movie star Justin. She's every cliché and tale you've ever hear about an abusive boss-from-hell who humiliates you with deplorable behavior yet keeps you around with the promise of an important recommendation.
Alet Taylor as Buck manages to hit all the right character notes and somehow skirt a clichéd performance. One running gag is her inability to remember her assistant's names (because she goes through so many) so she just calls Chris whatever name comes to mind and it's usually a girl's one.
In fact, Taylor's over-the-top harridan is hilarious and truly stole the entire show. A highlight is in the middle of Act Two when Buck and company bust out her high-energy 'cautionary' song Don't Shit Where You Eat. The lyrics will have you virtually rolling in the narrow aisles of the intimate Celebration Theatre.
David Manning and Lori Scarlett's songs are peppy and sweet and only a little same-y. Mostly the lyrics are witty, fast and endearing. Only occasionally do we hear some lyrics that are a bit 'on-the-nose,' such as Chris' lament "Dangling my life's dream in front of me makes it hard to quit." But the whole show is just bursting with optimism and fun. There are a few zingers here and there but the humor is never mean, nasty or too cynical.
Justin Love is a super-fun, escapist musical with a generally sweet and sunny disposition.
Don't miss this show!
PHOTO CREDIT: Michael Lamont.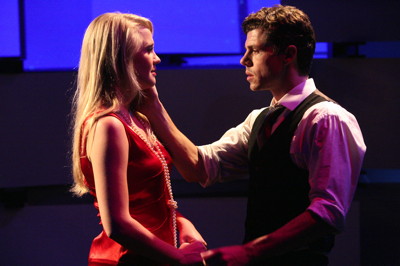 Justin Love
Celebration Theatre
7051B Santa Monica Blvd
Los Angeles, CA 90038
Performances:
Runs through Sunday, December 16, 2012
Thursdays, Fridays and Saturdays at 8pm;
Sundays at 2pm
Running time:
Approximately 2 hours, including a 15 minute intermission
TICKETS:
$34.99
Box Office:
Purchase tickets online  or call (323) 957-1884