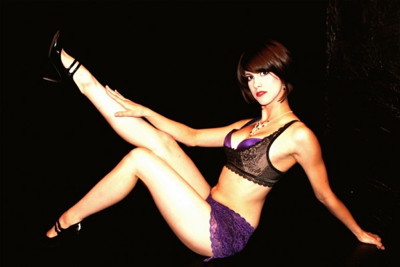 Hello dear readers! Last week my theater review for the LA Weekly was of the Christmas burlesque-style show A Down and Dirty Christmas, now playing at Zombie Joe's Underground Theatre in NoHo.
Click here to go to the LA Weekly's theater page and scroll down a little bit to read it.
~ OR ~
You can just read it here!!
Happy reading!
A DOWN & DIRTY CHRISTMAS
Zombie Joe's Underground Theatre doesn't always present grand guignol and horror fare; they also serve up kids' shows (currently playing on Sundays is The Tortoise and the Hare) as well as Christmas-themed romps featuring garter gals and sinful sirens brimming with nubile exuberance. A sextet of cutie pies bedecked with lingerie, glitter and tattoos angelically sing a carol a cappella before some spicy Latin-flavored dance music kicks in and the girls go wild.
Essentially a 55-minute show of Christmas sketches, a lesbian version of Dickens' old chestnut A Christmas Carol is the loose storyline that stitches it all together. An uber-cute showgirl/assistant hits the road after her buxom Madame director bosses her around once too often. Madame's "spirit guide" appears in the shape of a snail puppet, guiding her through Christmases past, present and future in an attempt to encourage the stern Madame to mellow out.
As Madame's holiday revue takes shape, a young male MC steps in, amusingly camping it up bigtime until he gloriously appears in drag. Director Vanessa Cate's entertaining show beautifully mixes standards such as "What are you doing New Years Eve?" and "Santa Baby" with a haunting Joni Mitchell tune and references to the beloved Peanuts comic strip.
It's candy-cane eye candy but too bad the hottest girls are tone deaf. Guess you can't have it all…
A DOWN & DIRTY CHRISTMAS
Zombie Joe's Underground Theatre
4850 Lankershim Blvd., N. Hlywd.; Fri., 11 p.m.;
through Dec. 21.
(818) 202-4120