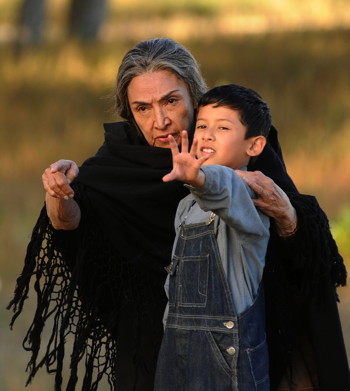 Adaptation of Rudolfo Anaya's Classic Novel Looks Pretty, Lacks Depth

Review by Deborah Klugman
Rudolfo Anaya's coming of age novel Bless Me, Ultima, was published in 1972 at a time when cultural and racial barriers were just beginning to come down. Touted by progressive educators, it was adopted in schools throughout the country, and used in middle and high school classes to provide non-Hispanic kids a gateway into Mexican-American history and culture, and invest Chicano children with a sense of pride and identity. Unfortunately, the simple eloquence of Anaya's narrative has been translated poorly in this cinematic adaptation. Written and directed by Carl Franklin (One False Move and Devil in a Blue Dress, among other films), the film version of Bless Me, Ultima is a dramatic re-enactment that plays out with little depth or nuance. Given this director's notable track record, it's a major disappointment.
The story revolves around Antonio Márez (Luke Ganalon), a young boy growing up in rural New Mexico at the end and directly following World War II. The Catholic Church exerts a strong influence in this impoverished community of farmers and cowboys; the local priest is a strict disciplinarian, who brooks no funny business in his catechism class and fiercely persecutes Antonio's iconoclastic classmate because he's a non-believer. Antonio has no such problems; he's a pious boy and a good student, and he's encouraged by his mom to be a priest.
Antonio's perception of the world profoundly alters when Ultima (Miriam Colon Valle), a grandmotherly woman with unusual healing power and insight, comes to live with them. Ultima is drawn to Antonio, whom she perceives as having the ability to understand the depth and scope of her magic. The plot intensifies around Ultima's feud with a local landowner, Tenorio (Castulo Guerra), a twisted man determined to do her harm. Antonio becomes involved after he witnesses Tenorio cold-bloodedly murder a family friend who'd come to the old lady's defense, and he himself becomes a target of the ruthless villain. Meanwhile, there's tension and unrest within his family; his brothers have come home from the war safe and sound, but their desire to re-start their lives elsewhere, independent of their parents and younger siblings, has wounded their father deeply.
Like the book, which is appropriate for young readers, the film is suitable family fare. It educates us on topics we may not know about. It has a couple of strong suits: young Ganalon is a charismatic presence on screen and a pleasure to track through the sometimes quasi-magical landscape created by Paula Huidobro's lovely, lush cinematography. The novel's multiple motifs, including the contrast between Roman Catholic teachings and Ultima's folk magic, and the portrait of the strong bonds and loving warmth in this Latino family, are involving aspects of the story.
But like a biographer smitten with his subject, Franklin approaches the material with such reverence that the film never comes to life but instead unwinds with a distant hallowedness that grows tiresome. [Given the grittiness of Franklin's prior work, one wonders how much influence producers Christy Walton and Sarah Di Leo may have had on this approach.] Instead of zeroing in on its complexities, the movie sweeps the plot along on the current of composer Mark Kilian's soundtrack, never pausing long enough or moving in close enough to allow some of the seasoned actors to work their own magic and create a genuinely compelling drama.
Bless Me, Ultima  – (106 mins. • PG-13 )
Opening in multiple venues in Los Angeles as of today, February 22, 2013.